Architecture Fringe: Uncommon Beauty
27 Jul 2018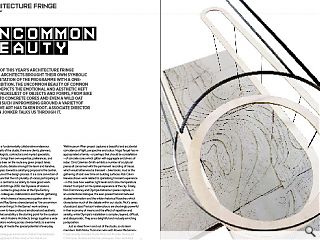 As part of this year's Architecture Fringe Hoskins Architects brought their own symbolic interpretation of the programme with a one-off exhibition. The Uncommon Beauty of Common Things depicts the emotional and aesthetic heft of the unlikeliest of objects and forms, from bike tracks to concrete cores and even a wild oat seed. On such unpromising ground a variety of evocative art has taken root. Associate director Nick van Jonker talks us through it.
Architecture is a fundamentally collaborative endeavour. Outwith the walls of the studio, there are clients, planners, engineers, ecologists, contractors and myriad specialists, each of whom brings their own expertise, preferences, and perspectives to bear on the route any given project takes. But inside the studio, debate amongst the team and iterative, collective progress towards a satisfying proposal is the central, defining pleasure of the design process. It is a core conviction of our studio culture that the rich plurality of voices participating in that discourse is central to our ability to make good work.
As part of Archifringe 2018, Vas Piyasena of Hoskins Architects has curated a group show at the Pipe Factory which involves colleagues, collaborators and friends, gathering together work which shares a loose preoccupation akin to what Charles and Ray Eames characterised as 'the uncommon beauty of common things'. In the Eames' work ordinary things were shown to have profound emotional and aesthetic significance. That sensibility is the starting point for the curation of this show in which Hoskins Architects brings together a wide range collaborators working across diverse fields, to examine through a variety of media the special potential of everyday things.
Six of our colleagues exhibit work. Robert Freudenberg's remarkable photograph of the construction site at our Weltmuseum Wien project captures a beautiful and accidental coincidence of light, perspective and colour. Hugo Target has re-appropriated a family – or perhaps that should be constellation – of concrete cores which glitter with aggregate and slivers of rebar. Chris Coleman-Smith exhibits a number of sculptural pieces all concerned with the permanent recording of traces which would otherwise be transient – bike tracks, mud or the gathering of soot over time on building surfaces. Rob Colvin likewise shows work related to spatializing transient experience – in this case how weather, light levels and colour temperature interact to impact on the spatial experience of the city. Finally, Nick Domminney and Olympia Katsarou's pieces capture, in an unintentional dialogue, the ever-present tension between studied minimalism and the wilder rhetorical flourishes which characterise much of the debate within our studio. Nick's series of postcard sized 'horizon' watercolours are shockingly powerful in their economy of means and the effect of repetition and seriality, while Olympia's installation is complex, layered, difficult, and idiosyncratic. They are a delightful and mutually enriching juxtaposition.
Just as ideas flow in and out of the studio, so do team members. Both Nicky Thomson (who with Rowan Mackinnon-Pryde recently founded Studio Niro) and Andrew Skulina (of O'Dempsey Skulina) are former colleagues. Their work here reminds us of the sensitivity and thoughtful care with which they enriched our studio culture during their time with us. Studio Niro's piece is an elaborated desk tidy which sits between the tables in their workplace – but they mine this quotidian function for its hidden potential. It is a line both joining and separating two practitioners who oppose each other in common endeavour, a locus for negotiation, a tool both for sharing and for separating, neither fully a seam nor a frontier. O'Dempsey Skulina's work, made in collaboration with composer Tamsin Waley-Cohen, is also in some ways a study of the line as both a meeting place and a boundary. Exquisite risograph prints accompany a video piece documenting the premiere of their project 'Permutations' at the Aldeburgh Festival in 2017, whereby a series of architectural chambers are adjusted or 'tuned' as active participants in a musical performance. The edges of the chambers are formed by pivoting panels, which are rotated by the audience to calibrate the degree of connectedness between the spaces and the sounds emanating from them, with rich visual, spatial and acoustic implications.
Boa Mistura and Nadfly are practitioners we have been fortunate enough to work with recently. Boa Mistura, based in Madrid, is a multidisciplinary group with roots in graffiti art. We encountered them in the course of our work at the Weltmuseum Wien, where they were commissioned to prepare temporary hoarding works for the museum's extensive redevelopment. Here they exhibit a joyous piece – Sisi Ni Mashujaa, which translates from Swahili as 'we are heroes'. The project is an act of civic, neighbourly celebration located in the biggest urban slum in Africa, and is recorded through photography and documentary film. Nadfly exhibit fragments of a remarkable project they undertook in 2016 entitled Oat Library Sings, which casts an intense gaze on the extraordinary reaction of the wild oat seed to changes in moisture. The seed's 'slow dance' is ritualised, accompanied by strange plainsong, and the installation comprises a video piece and a solitary seed, like a specimen in a bell jar. It feels almost religious, and if the priests are absent the space is still a sacristy – two ceremonial robes hang to one side in uncanny anticipation of the paired singing voices. The piece is poignant and mesmerizing, and like much of the work in this show simultaneously modest and grand.
Finally, a trio of friends who have generously agreed to contribute their fascinating work to the show. Sculptor Clementine Drake's plaster piece records a moment between carving and casting, and invites readings of tunnels, roots, mazes and chutes with all the rich ambiguity of inside/outside, solid/void and surface/container which this implies. Pablo Arboleda is a researcher with a background in architecture, and exhibits a video piece which is a meditation on the unsettling beauty of abandoned half-complete building projects across Sicily. Jack Fawcett, a sound artist and music producer, presents a video composed of amateur family camcorder footage overlaid with a collage of field recordings, in which the effect is haunting.
It has been a pleasure and a revelation to bring these collaborators together, and we are enormously grateful to every one of them for sharing their voices. Archifringe itself goes from strength to strength, and is fast becoming the UK's most exciting platform for architectural discourse, fizzing with ideas and provocation. It has been a privilege to contribute.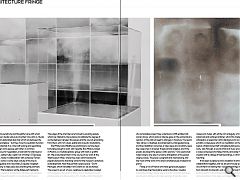 Back to July 2018