Home Front: Property Ladder
25 Jan 2018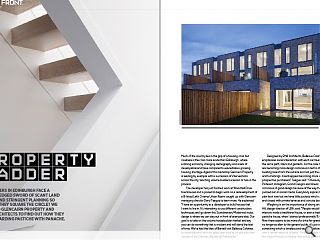 Developers in Edinburgh face a double-edged sword of scant land supply and stringent planning so how do they square the circle? We speak to Glencairn Property and their architects to find out how they are discarding pastiche with panache.
Much of the country lies in the grip of a housing crisis but nowhere is the crisis more acute than Edinburgh, where a strong economy, changing demography and a lack of developable land have conspired to exacerbate a growing housing shortage. Against this backdrop Glencairn Property is leading by example with a succession of interventions across the city; teaching volume builders a lesson or two in the process.
The developer has just finished work at Woodhall Drive townhouses and is poised to begin work on a redevelopment of a B-listed Leith Cinema Urban Realm caught up with Glencairn managing director Daryl Teague to learn more. He explained: "I have an opportunity as a developer to build houses that I want to live in. It's interesting to use different construction techniques and go down this Scandinavian/Modernist route, design is where we can stay out in front of everyone else. Our goal is to take on the volume housebuilder market and say you can do something that is modern and will stand the test of time. We've had the likes of Barratt visit Bellevue Colonies for example and then two years later they're on-site with their version of the Colonies (Barratt @ Portobello)."
Designed by EMA Architects, Bellevue Colonies emphasizes social interaction with each car free home sharing the same path, stairs and gardens. Is it the case that customers are becoming more design conscious in terms of how a building looks from the outside and not just the interior layout and furnishings. Is kerb appeal becoming more important to prospective purchasers? Teague said: "Obviously you've got Pinterest, Instagram, Grand Designs and Houzz. People are conscious of good design because of the way those designs are pushed out on social media. Everybody aspires to that open plan look now but we have little pockets which can be opened and closed with private terraces and concise bedrooms."
Weighing in on the importance of strong architecture David Hill, design director of LBA, said: "People would have modern interiors inside a traditional house, or even a traditional looking pastiche house, when I started professionally 15 years ago. Now there seems to be more of a drive for grand designs, it's no longer as alien to the general public. it's just about doing something which is timeless and would be attractive to anyone with a certain amount of taste." I think if people were offered this style of house at volume they would go for it rather than being offered the same kind of thing again and again."
Having led design for a townhouse terrace at Woodhall Drive in Juniper Green, on the outskirts of Edinburgh Hill is adept at drafting site specific solutions. Of course the finest design in the world is nothing without the land to build ion, a very real issue in a city like Edinburgh which, unlike its neighbor to the west, lacks the widespread land left by slum clearance and industrial decline. How do Glencairn go about finding appropriate sites? Teague concedes there is an element of luck involved but adds: "You've just got to try and speak to people, make connections and not be shy. At Woodhall we could see the opportunity to build four houses, putting us ahead of the pack who wanted to build three houses, so we were able to pay the right amount of money to win it."
"At Woodhall we were restricted in terms of getting a certain number of bedrooms of a certain size", says Hill. "With the voids and the glass balustrades it's essentially one building split into four open plan elements with the curtain wall down the middle. You can see almost straight through, people don't want to be hemmed into little rooms. You could be on the first floor go out onto the balcony with views of the Pentlands or slide the doors back and talk to someone in the kitchen. We had to be quite clever with the screening so we've got fins which let the light through but don't allow you to see the person adjacent. A shared driveway opens up the site with joint ownership, helping to establish a sense of community behind the hedge."
Catering to a new trend of homeowners wishing to move back into city centre locations in pursuit of greater amenities on their doorstep Hill believes that the model can be rolled out on other constrained sites in the city. He said: "So long as you have the green spaces and play areas people like the density." Teague continued: "Houses marketed in the £500k range are more for aspirational buyers between 34 and 46. Generally they will find us from Facebook, they're 80% female and they're looking at 20:00 at night. They're all moving out of the New Town after having had a kid."
Looking ahead will Glencairn mine this niche with a steady stream of similar scaled projects, or could they scale up to go after the volume market? Teague said: "It's all site-specific. The next site is going to be 36 flats down in Leith for an old 1930's cinema that's being retained at the front." For now Glencairn are predominantly sticking to new build mindful of the can of worms which can be opened up when you start to peel back historic structures.
One project already underway is the development of three townhouses at Liberton Brae overlooking Edinburgh's Royal Observatory and Liberton Tower. Explaining the complexities of this particular site Hill said: "It's got incredible views on one side and a school and car park on the other so we had to open up views to one side and use hit and miss timber to conceal it from the other. There are three original barns and we've used that aesthetic for a contemporary version.
"While Woodhall is a type of townhouse, Liberton really pushes the boat out. It's taken more of a chance on design which has come out of the long thin site. We've dropped an extra storey down through the central courtyard to get an extra bedroom in, it's not your usual plan. We kept the stone wall and re-used it. The balcony is partially open to the elements with a kitchen on the ground floor and a huge terrace on the first floor looking over fields. We've orientated everything to the rear because of the school. It's warm enough to sit outside. It's Larch clad and not treated because we want it to grey, It will weather differently all the way round. It's hit and miss timber so you'll get this variation from where the rain and wind hits it. The wall extends all the way round so visually you understand that it's holding back the earth."
Planning permission was forthcoming for this scheme but Is Edinburgh's planning system conducive to good architecture or is it a hindrance? Teague noted: "We look at Edinburgh, this great Georgian and Victorian city but we will be our own period of time in the future. A lot of people who comment on our plans focus on them being in-keeping. People don't like change. The planning department is in a vicious cycle at the moment where funding constraints and the budget mean they're not as well staffed and planners are overworked. A lot have left from stress so when you try to engage with them, they can't. At the moment timescales are out the window. Statutory timescales of 2-3 months for minor applications are taking up to six months for a minor application. My father was a developer and he was talking about the days of buying a site on the Friday and starting on the Saturday. It took three years for us to acquire the site and gain planning permission for Woodhall. "
Quizzed as to whether political and economic volatility were scuppering investment Teague continued: "Since I started with Glencairn there's been constant uncertainty. You almost become immune to it. If there are well designed aspirational homes on the market with (other) standard products then people will come to us."
Hill acknowledges that there is an emerging Edinburgh 'style' of three storey setback, zinc and stone but is Teague impressed or depressed by the general standard of new build architecture in the city? Teague remarked: "In the early 2000's it was render and then we moved back to stone. It might be down to the planners forcing people to adhere to standard materials. it doesn't have to be stone though, with complimentary clay brick we can break out a little bit more."
Is there a dysfunction in the market at the moment with all the money going into student housing and budget hotels, and comparatively little in terms of residential housing for which there is a desperate need: "I don't think the student housing developments have done much for the value of the townscape, they can be quite monolithic by building out to the street line", says Teague. "There's no parking, amenity, or affordable home restrictions. I think the council have missed a huge trick, they've allowed all these student housing developments to go ahead which take up land which historically would have been reserved for residential but they've not taken any affordable housing or amenity contributions. Residential developers just can't compete."
There are no fast and ready answers to the many crises in housing; from land to design and supply. Any potential solutions therefore are likely to emerge from the bottom up and at relatively small scale. The trick will come in scaling up these approaches and it is here that Glencairn are leading by example.
Back to January 2018