UR100: Top Class
22 Jan 2018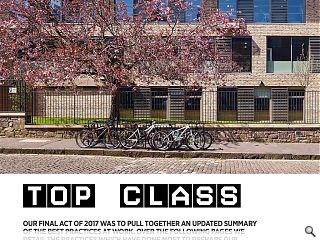 Urban Realm's final act of 2017 was to pull together an updated summary of the best practices at work. Over the following pages we detail the practices which have done most to reshape our built environment, overhauling our education system with a wave of fine new schools, innovative housing and even a long forgotten music school which sings once more. It has been twelve months in the making but is well worth the wait.
To better manage the sheer scale of work, practices and individual effort we've approached the formidable task of surveying the industry by inviting key players to give us their thoughts on a rollercoaster year, highlighting the work which has most influenced their thinking over recent months It's a weighty list having grown this year to become our biggest ever but is testament to the quiet endeavours of the thousands of achitects who shape the world around us.
2017 has been a year of flux but it has already left an indelible mark on all those who lived through it, as attention inevitably turns to a New Year and the many challenges which still lie before us. Before you sits the full year in review with a detailed methodology at the end. Each spot on this list has been hard fought and we extend our thanks to all those within it. Together they have made Scotland a better place to live.
Sponsored by
Back to January 2018