St Andrew Square: Square Space
23 Oct 2017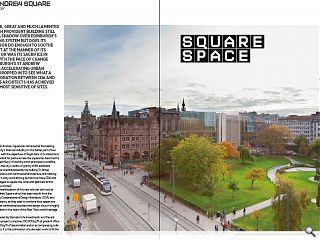 The late, great Scottish Provident building still casts a shadow over Edinburgh's planning system but does its successor do enough to soothe disquiet at the manner of its demise, or was its sacrifice in vain? With the pace of change at Edinburgh's St Andrew Square accelerating Urban Realm dropped in to see what a collaboration between CDA and Hoskins Architects has achieved at this most sensitive of sites.


Edinburgh's St Andrew Square has remained at the beating heart of the city's financial industry for the better part of two centuries but with the departure of Royal bank of Scotland and Scottish Provident for pastures new the square has become the focus for a fresh flurry of activity which promises to redefine the square as the city's centre of gravity shifts eastward. Soon to be overshadowed by the hulking St James Centre rebuild and with commercial architecture still marking something of a dirty word among purists how have CDA and Hoskins managed to square the circle with planners at this most sensitive of sites? The first manifestation of this new role can be found at South St Andrew Square which has been rebuilt from the ground up by Comprehensive Design Architects (CDA) and Hoskins Architects, as they seek to combine their respective reputations for commercial acumen and design nous in a highly sensitive location in the heart of the New Town world heritage site.
Spearheaded by Standard Life Investments and Peveril Securities the project comprises 100,000sq/ft of grade A office space, 70,000sq/ft of leisure/retail and an accompanying suite of apartments. It is the culmination of a decade's work to fill the sensitive plot opened up by the controversial demolition of the Scottish Provident building. Taking their cue from history the design team studied historic feus to the south of the square to strike a contextual balance between projections and recesses, with a façade of metal and stone fins creating an open appearance when viewed head-on. This strategy also serves to maximise daylight while revealing the character of a solid masonry façade in oblique views. Ushering Urban Realm around Gareth Thompson, project director at CDA, said: "A lot of testing was done on the materials to study their resilience to different weather. When it first went up they were quite bling and shiny but the material dulls down while still retaining a sheen." Welcoming the project's completion Hoskins director Nick Domminney added that it '… reinstates a vital part in the composition of South St Andrew Square and enriches its connections to Princes Street, the Gardens and the Old Town beyond. Creating a piece of architecture which works at the scale of the pavement, the street, the square and the city, whilst delivering on the exacting demands of retail and office development, has been a fascinating and daunting task." Does this tie-up tell us anything about the current state of play in Scottish architecture? Is there any truth to the claim that the Scottish architecture fraternity is too fragmented, that we need fewer, bigger practices capable of competing on the world stage? Should we be looking at outright mergers or does collaboration offer greater flexibility?
Domminney said: "We're happy with collaboration when the opportunities arise and I think CDA are the same. Horses for courses." CDA project director Gareth Thompson added: "It works both ways, practices play to their strengths and can get the benefits of both." Welcoming the opportunity to break out of their pigeonhole Domminney continued: "For us it is a great opportunity which we happily grasped. Working with a practice like CDA was really useful as it is in a sector in which we haven't had much work. Working with agents for retail and office space is a real education - I'd like to say they were educated too! It puts an interesting perspective on things." "We're working with Chris Stewart Group on the Registers not 200 yards from here and we've got other commercial work on the go as well so from that point of view it's been the right outcome, both the building itself, which I think is wonderful, and also being able to put what we've learnt to work in other projects. Thompson answered: "It opens up a new sector for you in some ways because rightly or wrongly we all get pigeon holed It's funny how different clients have different views about what your abilities are. Some clients think we're design architects some think we're implementation. It's all about the reputation that you have out there in the commercial world, they have different priorities. Commercial clients are a lot more pragmatic and like to see the practicalities. If there is a proven track record there they are happy to go ahead on that basis. If you don't have that you can't get your foot in the door." Domminney continued: "Procurement rules don't help either I suppose. If you must have delivered a similar project in the past at equivalent cost then you've often got no hope, you're sunk from the get go. OJEU's and that sort of thing when pitching as a collaboration between two architects is always quite difficult because the question is always how are you going to work together and the suspicion from the client side is often how it's going to work. Which is a pity when you can prove it's worked before."
Asked whether the loss of the Scottish Provident Building was a price worth paying to deliver the scheme Domminney conceded that the original structure was a 'wonderful building' but saw no reason why the new building wouldn't come to be regarded as being of similar stature to the old. Thompson added: "It was going to be rebuilt but it doesn't really make sense it would just be a facsimile of the original. A lot of architects are in favour of the modernist building but sites have to have a future - and we're in it!" We tend to think of Glasgow as being more open to development but has Edinburgh changed with this and the, Jestico + Whiles metallic monster St James Centre also sailing through planning? Domminney interjected: "We prefer not to think of this as a metallic monster, it's a delicately honed piece of townscape. A jewelry box." Despite concerns about blocking the view the go-ahead was given for a series of dramatic fins which help frame views of St Andrew Square from within and shift the apparent balance of solid to void when viewed from without, as Domminney noted: "It was quite difficult designing commercial floorplates and doing something interesting with it, we were caught between the demands of client and planners."
Upper floor executive suites offer access to a series of terraces and a green roof although the impressive views won't be limited to those who venture outside thanks to floor to ceiling windows, extending up through the ceiling void and open plan floorplates. These are arranged around a central atrium with a private café for staff. The exterior façade is enlivened by double-height 'pop out' lanterns which cantilever out over the street, spanning two floors, which do much more than simply add a flourish of engineering. Thompson said: "The lanterns imply more specialist spaces within the floorplan such as meeting rooms and visually break down the massing. An office is a floorplate around a central atrium with no internal divisions. And so, despite the complexity of the site, we get an efficient floorplan embedded within a façade which constantly shifts when traversing from oblique angle to a head-on view." Essentially a glass box, necessitated by the client's requirement for floor to ceiling glazing, St Andrew Square faced the unenviable task of securing planning permission in a World Heritage Site. The dilemma over how to evoke solidity while meeting the requirements of the brief led to the adoption of fins as the best solution.
The result is something extremely modern which doesn't resort to the semi-vernacular form of a sandstone box, concealing 180,000sq/ft of office space in the process by breaking the massing down across three distinct facades, while presenting the opportunity to create distinct spaces. While the new build offices hog the limelight there is actually a serviced apartment to the build being delivered behind the ornate façade. Thompson remarked: "It's a very early reinforced concrete building with a nice façade, screening big floorplates around a central column. The views from the penthouse roof terrace will be fantastic." Whatever your views on the merits of the development there is nothing square about this build it is clear that Edinburgh has a crying need for more city centre office accommodation to stem a bleed of businesses to the far flung outer edges of the city. In bowing to commercial imperatives Edinburgh now seems to be taking a leaf from its western neighbor and may well be stealing a march on it in the process.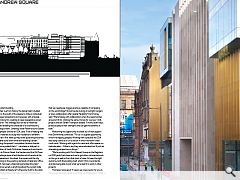 Back to October 2017