Employee Ownership: Owning Up
10 Jul 2017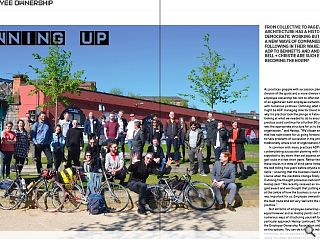 From Collective to Page\Park architecture has a history of democratic working but with a new wave of companies now following in their wake; from ADP to Bennetts and Anderson Bell + Christie are such exceptions becoming the norm?
As practices grapple with succession planning, a fairer division of the spoils and a more diverse leadership employee ownership has lots to offer but for practices of an egalitarian bent employee ownership also comes with numerous positives. Outlining what some of these might be ADP managing director David Heslop revealed why his practice took the plunge in February: "We were looking at what we needed to do to ensure that the practice could continue for a further 50 years and what was the appropriate structure for us to be a sustainable organisation," said Heslop. "We'd been an LLP and we felt that had restrictions for us going forward, we didn't want to have problems of succession in the practice which is traditionally where a lot of organisations fail."
In common with many practices ADP finds itself contemplating succession planning with the owners expected to lay down their set squares and pick up their golf clubs in a few short years. Rather than deal with these issues in a state of blind panic however Heslop set the ball rolling five years before anyone was expected to retire – ensuring that the business could plough a steady course when the inevitable change finally did come. Outlining the thought processes behind these moves Heslop said: "We recently received an Investors in People gold award and we thought that putting employees at the centre of how the business is run and organized was important for us. Employee ownership looked like the best route and sat very well with the culture of the practice."
Not all forms of employee ownership are created equal however and as Heslop points out there are numerous ways of structuring yourself. Explaining ADP's particular approach Heslop continued: "We consulted the Employee Ownership Association and read widely on the options. You can do it through individual share ownership, but we decided to go for an indirect route where the shares are owned by a trust, the John Lewis model, which owns the shares on behalf of the employees."
If ownership structures differ then there is even greater variance among architects themselves, with Heslop conceding that the model is not for everyone. He said: "Architects who rely on a dominant individual with a strong personality to run the business might have some trouble with it. But for those that wprk more democratically, I think it suits them very well. Construction professionals such as Arup have been employee owned for a very long time."
Scotching suggestions that democratisation of ownership can hamper decision making Heslop says: "That is not the way it works; the practice is run by a board and they carry out the central management functions of the organisation. One of them is an employee director elected by the staff so there is employee representation. The practice has to be run in accordance with a constitution which sets out a range of principles which are the values of the practice, that's been agreed by the staff and it's the boards responsibility to run the practice in accordance with those principles.
"We have an employee council and a representative from each of our studios sits on that and their job is to hold management to account against that constitution. What it means is that the management of the practice doesn't have to be consulted on every decision that's made provided its making those decisions in accordance with the constitution. In many ways, it's actually easier than a partnership because if you had 10 partners it can be hard to get agreement to do things but provided management is happy that its making decisions in accordance with the constitution we can just get on with it. The quality of the design and service we provide to our clients is one of the principles we manage our practice by, it gives people more autonomy as designers and architects. I think it's what most people want and the structure allows them to do that."
Architecture has been hit in recent years by the sudden passing of larger than life figures such as Zaha Hadid and Gareth Hoskins, highlighting the need for change in the eyes of many. Heslop states: "They're the sort of organisations which were led by individuals, sole characters with a high architectural profile. Succession is a problem in those sort of organisations. What happens when Zaha is not there and the entire reputation of the practice is built on her personality? It causes them a problem. We're a different type of practice, more democratic with design autonomy to individuals rather than one central character.
It's a very rational approach based on an understanding of what we are as an organization. The hard bit has been the past 30 years and getting the practice to where it is at the moment. We want to leave it in a state where it can prosper in the future. Anyone who has contributed to getting us where we are gets to share in that success. Our plan is to return to growth of between 10 and 12 per cent per annum. The reason we want to do that is not megalomania it's that we want to create opportunities for people to build their careers within the organization. If you don't do that you don't create roles for people to move into and becomes too top heavy."
A more recent convert to an employee ownership trust comes in the form of Bennetts Associates with co-founder Rab Bennetts telling urban Realm: "We're not democratic in the sense that we vote on what we do but we have a management team of five director and eight associate directors and it's a pretty flat hierarchy in the sense that we have completely open discussions in the office as much as we can. Converting ownership to an employee trust is the ultimate symbol of how inclusive we are. Whatever age we are if we ever got run over by a bus and another owner came in everybody would hate it, they'd all leave! So what's the point in that?"
Denise Bennett confirmed: "The old notion of partners holding all the equity and then young people having to take a mortgage to get the money to buy a share of the partnership is just impossible. Young people can't afford it. They've got student loans, mortgages and families." Rab added: "The model we often use is Davis Langdon the property surveyors where you buy in, take a big mortgage and a big salary to pay for the mortgage. They sold Davis Langdon to Aecom in 2010 and all the best people left. A series of property consultancy firms then sprang up across London all from Davis Langdon, each of them 100 people strong."
Andrew Harrison, partner at Co-Ownership Solutions, has been appointed by Anderson Bell + Christie to help oversee the legal and financial implications particular to its own migration to an employee ownership business structure. Outlining some of the advantages of this approach Harrison said: "There are lots of good people who want to be in a position to run the show but might not necessarily have the money to do that. For me one of the principle benefits of employee ownership is that there is no bar to talent. There are academic studies which show employee owned businesses are around 10% more productive and profitable than non-employee owned businesses.
One of the issues is that historically there were no tax benefits to employee ownership but since 2004 there were two major pieces of tax legislation; one to benefit an owner who sold to an employee trust and one for the employees themselves through the advent of an tax exempt bonus.
"Employee ownership is not a new thing, there have always been workers co-operatives but it probably hasn't been seen as particularly exciting and ultimately because there weren't any tax benefits the professional adviser networks would never suggest selling to their employees. They would recommend a trade sell to a competitor or a management buy-out or in the worst-case scenarios shut your doors, liquidate the business and flog everything you've got. When business owners see examples of successful employee ownerships it's an affirmation for them of something that's real and sensible."
With ownership comes greater responsibility and as more practices embark down an increasingly well-trodden path it can only be a good thing that the diversity of our design community is on an upward tack. At the very least it will cushion against any future shocks but if done well it holds out tantalizing prospect of ushering in a new generation of architects willing to share the risk and rewards of their endeavours.
Working Capital
We've heard from some practices who have recently ventured down the path to employee ownership but what of those who have long since arrived? Here Collective Architecture outline their own experiences of the past decade.
When Chris Stewart Architects became Collective Architecture in 2007, employee owned practices were certainly not a new concept, however we couldn't help feel that we were embarking on relatively untrodden ground. Since then, the practice has gone from being something of a curiosity amongst our contemporaries to part of a growing wave of practices across the UK that are choosing to embrace employee ownership as an alternative business model.
Although no longer an anomaly, we're still often asked how the business model works. In reality there is no straightforward answer; there is no law that defines the co-operative model. Businesses who wish to operate in this way must choose an existing legal business structure and adapt it to suit their own requirements whilst adhering to company law. In Collective's case, we are a private limited company, owned by an Employee Benefit Trust which allows democratic control by all eligible members of staff.
Being a co-operative rests of two interdependent principals, ownership and participation. Equal financial ownership of the company sets the foundations for an organisation where all members share control. At Collective Architecture each member of the practice has equal say in how the practice operates, to enable this level of participation discussions surrounding business operations and company finances must be transparent. The co-operative ethos goes beyond just financial and business strategy, it impacts on how we deliver projects and practice as architects, as one member explains, "There are great opportunities to investigate aspects of architecture that are of particular personal interest to me. This helps to develop specialist skills that benefit both individuals and the practice."
The biggest challenge for a co-operative business is creating a structure that allows each member to fully participate in decision making; maintaining this structure is particularly demanding as practice grows. We were always aware that size was critical to the practice's structure and any expansion would need to be carefully managed; how should we embrace our ambitions as a practice without compromising our co-operative values? In 2007 Collective Architecture was formed of 14 members, within 3 years the practice grew to 25, and now the company has a staff base of 40.
The type of work we do has also changed, we now have a greater range of arts and cultural buildings including the Glasgow Women's library, Calton Hill City Observatory and Chambers Street for Edinburgh University. Our housing commissions have increased in size and complexity, with Anderston Regeneration and a major new development of Victoria Infirmary for Sanctuary Homes currently underway. As we started to take on larger and more diverse projects, the way we work inevitably had to evolve.
Maintaining effective participation for all our members has required us to frequently re-evaluate and improve our structure and internal processes. We have found that we can't rely on internal reflection alone, learning from the experiences of other employee owned companies (both new and old) and also seeking advice from external organisations. Support and mentoring from Co-operative Development Scotland, Employee Ownership Association and the Scottish Chamber of Commerce has been invaluable to our success as a practice. Establishing a second office in Edinburgh in 2016 was a huge and exciting step for the practice.
After working for 10 years to develop a way of working in one open plan studio in Glasgow, we now face the challenge of how we adapt our structure to make sure that our members based in a different city feel empowered to contribute to practice wide decision making at the same level as those based in Glasgow.
As we reflect on the first decade of Collective Architecture, operating as an employee owned business has been hugely rewarding, but not without its challenges. Our collaborative working practice has allowed us to share our successes and achievements, but also work together within difficult economic conditions for the industry as a whole. If one thing the last ten years has taught us it is the importance of a practice maintaining an environment that nurtures talent and allows us to create the best architecture we can. We look forward to continuing to evolve and refine our practice over the next ten years.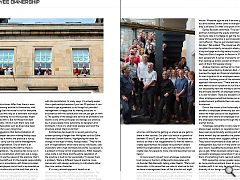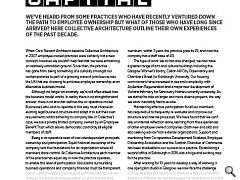 Back to July 2017