Practice Insight: Bennetts at Thirty
24 Apr 2017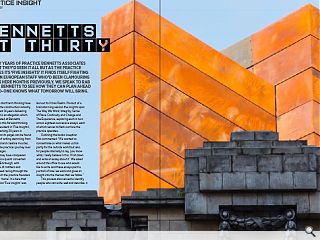 In thirty years of practice Bennetts Associates thought they'd seen it all but as the practice publishes its 'five insights' it finds itself fighting to retain European staff who'd been clamouring to work here months previously. We speak to Rab & Denise Bennetts to see how they can plan ahead when no-one knows what tomorrow will bring.
Complaints of short term thinking have long plagued the construction industry but having spent 14 years delivering Potterrow that is an allegation which cannot be levelled at Bennetts Associates. It is this forward thinking which is most evident in 'Five Insights', a new book marking 30 years in business. Within its pages can be found a diverse mix of writing stemming from the heart, mind and creative muscles, summing up the practices journey over its 200-odd pages.
The team may have conquered London but it is a quaint converted warehouse in Edinburgh, with a ringside view of mothers and pushchairs speed racing through the Meadows, which the practice founders consider to be 'home'. It is here that the vision behind 'Five Insights' was laid out to Urban Realm. Product of a brainstorming session the insights span The Way We Work; Integrity; Sense of Place; Continuity and Change and The Experience, exploring each in turn across eighteen successive essays, each of which serves to flesh out how the practice operates.
Outlining the books inception Rab commented: "We wanted to concentrate on what makes us tick partly for the outside world but also for people internally to say, 'you know what, I really believe in this. I'll sit down and write an essay about it.' We asked around the office to see who would like to write and these essays paint a portrait of how we work and gives an insight into the themes that we follow."
This process also served to identify people who can write well and describe a concept effectively. Writing is an often-overlooked skill as the spelling errors and grammatical flaws that pepper most architect design statements will attest and it is easy to get the basics wrong. The process helped hone such techniques and also provided welcome surprises with some highly cogent contributions from unexpected corners, notably an insightful essay detailing the inner workings of the practice by Shamiso Sithole. One of the youngest members of the team Sithole has just gone back to college for her part 2. It illustrates how outside perception are often the most revealing.
Rab added: "The experience of using our buildings is something we don't often write about, architects don't. We're trying to describe a special experience and how it feels, so some of the essays are about moving from the threshold of the pavement through a foyer to the theatre space. We've never written about it but we do it all the time. We're very bashful about writing the most obvious things for the public."
This fifth insight, 'The Experience of Use', is in many ways the most important facet of a building and something which Bennetts has held dear since its earliest days. Explaining its importance Denise said: "It's something we've been working with since we did Powergen way back in 1991. We worked with the Space Syntax which was at the Bartlett at the time and it was the first time they'd tried to predict how a building would work. Space Syntax had studied the buildings in use and looked at the observations being made to see what would work in practice."
One advantage of a nationwide approach is the ability to experience firsthand how local planning departments cope, as shown by a dramatic fly tower extension at London's Shaftesbury Theatre. While technically challenging and a logistical nightmare Rab holds the striking build in affection: "You could write an essay about all of that but the real lesson, which is easy to forget, is we've done something really striking on top of a listed building in a conservation area in the west end of London."
Outlining a divergence in approach between the British capital and the rest of the country Denise observed: "The planners said to the client that in principle they didn't object to a fly tower on the building, and they could understand why it was needed. That is maybe one of the differences between London and elsewhere in that often the planners are alive to the economic realities of the situation."
You wait ages for one theatre to come along and then three come along at once it seems and Bennetts own run of good fortune can be traced back to Hampstead Theatre. Outlining how Bennetts pulled off this surprise commission Rab commented: "The creative director there interviewed some theatre specialists and didn't care for them and the developer who sits on the board said why don't you just find some decent architects? Ok, they might not have done a theatre before but you might find they're interesting. We ended up getting the job because she felt she was on a journey herself. She wanted somebody to share the experience of exploring the subject and didn't want somebody telling her you can't do this and you can't do that.
"The Royal Shakespeare Company then saw our work and rang us up saying 'you haven't applied for our job', we were wondering whether it was just going to be the icon brigade from Europe and we weren't going to apply. Now everyone thinks we're theatre specialists because we've done two!"
Bennetts theatre run now extends to Glasgow's Citizens and a rebuild of an art-deco landmark in Chester which has just completed. Fleshing out the approach taken at this Cheshire icon Denise stated: "Chester is going to be finished in the next few weeks it's an old Odeon cinema which had been turned into a multiplex and wasn't doing well. It had a nasty office block stuck on the back. We've turned the cinema into a library and a small one screen cinema and demolished the office building at the back and put in a new theatre, which you reach by going through what was the proscenium arch. The new theatre is like a brick container wrapped around a glazed screen."
Keen not to be stereotyped Rab is quick to point out that the firm has many more feathers to its cap; including an ambitious design centre for Jaguar Land Rover near Warwick in the Midlands which is poised to move on-site. Akin to an ambitious German car giant's HQ the scale of the project is best imparted by the length of its construction hoardings, which sprawl for a full two miles and should go some way to assuage fears of a post-Brexit automotive investment slump. Significantly this is keeping people in Edinburgh busy as well as London.
Rab explained: "It's very unlikely you would have an Edinburgh practice working on the Jaguar Land Rover project, it would almost certainly go to a London practice because these people gravitate to the real centre of design to find their architects so we're competing against Fosters for example. The fact is we can do some of the work up here. Its marginally cheaper but we're also able to have a direct relationship with the client."
Despite these successes Bennetts remain part of what the practice itself describes as 'the squeezed middle', too large to be sensibly described as a niche practice but without the scale to do everything they would like, forcing the practice to focus ruthlessly on what it does best. Rab explained: "We find ourselves competing with larger practices more often than small ones yet we're not quite so well resourced, so that's tough sometimes. We don't want to be big, we have about 85 staff and we don't want to be larger than 100. It's a human management issue and keeping control of the quality of what we do. The worry is you get overstretched if you do too much but you can only get big in small increments."
Denise elaborated: "There's got to be career progression to keep good people. The other aspect is you don't want people associating you with specific sectors, we've got some clients who don't realise we do offices, academic buildings or railway stations. It's easy to get pigeon holed and we don't want that to happen with the practice, so we assign people to work on different project types. Partly because it's more fun, but also the different disciplines inform each other. It makes you a better architect."
One cloud looming large on the horizon now that Article 50 has been triggered is Brexit and all the ramifications that brings, particularly for the firm's many European staff, with both Rab and Denise professing themselves to be 'absolutely horrified' by the implications.
Rab said: "15% of our staff are European but at Allies & Morrison the figure is 50%, they want to get to 400 and when you're recruiting with that kind of ambition you can't do it within Britain. They've got a big issue with the status of a lot of their people now. We've given the absolute maximum backing we can to our staff but they're still absolutely horrified by the whole thing. They're worried about their future but it's outrageous, there's no way they're going to get taken out. I'm sure something will be worked out but the damage it's done to Britain's reputation is shocking and we haven't even left yet. I think Britain will be immeasurably weaker - but that's not to say Europe is perfect.
"Whether or not you agree with Scottish independence the fact is that Scots have consistently voted for something they've not been allowed to have. Then there was the referendum last year, they were promised they didn't have to (leave) and now they have to. You can't blame Nicola Sturgeon for being angry but whether independence is the right thing to do is another question." Denise added: "A referendum on such serious issues shouldn't be built on who turned up to vote on a single day. In the first Scottish referendum back in 1979 the yes vote had to represent at least 40% of the electorate. It was yes on the day but this only represented 32.9% of the electorate, so it failed."
One major issue that predates Brexit is procurement, asked about how the practice had prospered in the face of public sector red tape and bureaucracy Rab said: "You can't measure an architect on the size of their insurance policy, fee income or whether they've done the same project over the past five years but that's what the British civil service mentality tends to do, they look for measurable criteria so the best designers miss out. Willie Watt (partner at Nicoll Russell Architects) has been trying to reform local procurement up here. It's all about politicians seeking to defend their decisions by pointing to these criteria so they can't be blamed.
"That's one of our advantages as a larger practice with a back catalogue. Smaller firms would never have a chance because they don't have a track record. We can't get into things like hospitals because we haven't done one before, there only are about six firms who have. It's the same people all the time doing not very nice hospitals." Recalling the practices first major success Denise added: "When we won Powergen, privatised in 1991, there were just the two of us plus a part 2 student and a secretary and yet we won a £25m purpose-designed headquarters. Can you imagine that happening now?"
Being in the right place at the right time has served Bennetts well in a productive three decades of practice. The steps it is now taking to ensure that it does not end up being in the wrong place, at the wrong time shows that it still possesses a keen eye for both opportunity and danger. In the years to come this acuity will prove more advantageous than ever before.
Back to April 2017