Stirling: Six Pack
17 Oct 2016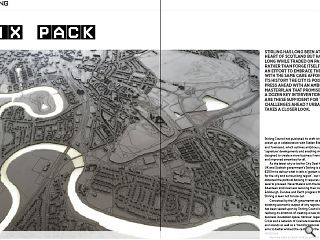 Stirling has long been at the heart of Scotland but has for a long while traded on past glories rather than forge itself anew. In an effort to embrace the future with the same care afforded to its history the city is poised to press ahead with an ambitious masterplan that promises half a dozen key interventions. But are these sufficient for the challenges ahead ? Urban Realm takes a closer look.
Stirling Council has published its draft city masterplan, drawn up in collaboration with Stallan Brand and Turner and Townsend, which outlines ambitious proposals six 'signature' developments and enabling infrastructure designed to create a more business friendly environment and improved amenities for all.
As the latest city to bid for City Deal funding from the UK and Scottish government's Stirling is seeking around £200m to deliver what it calls a 'golden opportunity for the city and surrounding region', but has not yet obtained the political backing it requires at a national level to proceed. Nevertheless with the likes of Glasgow, Aberdeen and Inverness securing their own grants whilst Edinburgh, Dundee and Perth progress their own versions Stirling is keen not to lose out.
Conceived by the UK governemnt as a means of boosting economic output of city regions the scheme has been seized upon by Stirling Council as a means of realising its ambition of creating a new digital district, business incubation space, harbour, regenerated Mercat Cross and a network of riverside boardwalks, bridges and islands as well as a 'transformational' city park which aims to better embed the castle with the surrounding landscape.
Here we take a closer look at some of the key schemes planned for the area, all part of a bold vision which aims to capitalise on Stirling's position at the geographic centre of Scotland by making it an economic and cultural heart as well.
City Park
Centrepiece of the proposals is a 60 hectare City Park on former hunting grounds to the west of Stirling Castle. Building on existing features such as a former royal garden known as the Kings Knot fresh landscaping will open up an existing set of walks and open spaces around the castle and down the volcanic mount to the city centre proper, a move which the council reckons could encourage more families to the area and tempt those who come to linger longer.
Enthusing about this approach in their masterplan statement Stallan Brand wrote: "The landscape is the fundamental aspect which makes Stirling unique compared to Glasgow and Edinburgh. The surrounding hills are key to this but it is also the way in which the countryside extends right in to Stirling. The highland cows underneath the Castle are a perfect example of this."
To achieve this goal it is proposed to create an open area of grassland with areas of woodland, feature trees and a 'major water feature' serving as key attractions in what is presently an extension of surrounding countryside.
Harbour & Riverfront
Also key also is a push to better connect surrounding communities through promotion of an 'active travel network' comprising new road links, cycle tracks and even river taxis as part of efforts to change perceptions of the river as a 'barrier rather than an opportunity'. At its heart would be a new harbour area next to the train station at Forthside which will be created by 'rolling out the green carpet' through addition of new planting and a public square focussed on the existing footbridge and the Engine Shed - Historic Environment Scotland's new building conservation centre. Other possible tenants lined up for this space include a National Tartan Centre and a civic hub for Stirling Council which will extend the present trend of bringing public services together under one roof.
Highlighting the potential for the site the architects added: "The proximity to the train station means The Harbour is visible on arrival by train into Stirling and is easily accessible by foot by way of the existing pedestrian bridge, ensuring the potential for a high footfall of visitors for The National Tartan Centre."

Grow on Space
Another priority is a picturesque Grow on Space intended to embrace the idea of a 'city in the landscape.' This business hub would bring together small firms and start-ups and would be capable of accommodating firms seeking co-location premises adjacent to Stirling Enterprise Park. Outlining the likely benefits Stallan Brand added: "The proposal seeks to complement existing buildings and historic features including the Engine Shed, Wallace Monument, Cambuskenneth Abbey and Stirling Bridge with the new structures including the proposed conference facility, pontoon access to the river and the recently completed Peak Leisure Centre. These would combine with The Harbour to define a district which would complement the historic City Centre and proposed City Park."
It is designed to establish a relationship with the river and will embody a 'unique architectural response to reflect the character of Stirling' to ensure positive engagement with the riverfront walkway. It is also earmarked to be delivered in an early phase of the work in recognition of its importance to regeneration of Forthside and the Harbour.

Digital Hub
In addition to new build the project will also include conversion of redundant buildings, principally the former Municipal Buildings with a 1970s extension set to be transformed into a modern digital hub whilst other historic buildings offer 'quirky' office space. Illustrating what could be achieved Stallan Brand said: "A sensitive refurbishment to allow integration of appropriate lighting, ventilation and data infrastructure is proposed with subtle contemporary touches. The proposal is that seminar rooms with new floor to ceiling glazingwill be located at the front of the extension which can be shared by all users of the building, the community, the university and the college as well as allowing others to hire the space. This will combine with new glazing and glass entrance doors to the main entrance area, complemented with lighting, signage and planting. Streetscaping is proposed on the opposite side of the street including wider natural stone pavements and street trees."
Other buildings which could benefit from remodelling include the Albert Halls which could form a new digital campus and the Smith Museum and Art Gallery which would be incorporated within a new digital archive.

Mercat Cross
This historic area linking the castle to the city would benefit from significant investment with a view to activating streets and spaces with new shops, businesses and residents. At the heart of this is King Street which would be opened up to market traders seeking a city location to sell food and drink, a sector that is not presently catered for. Outlining this vision the masterplan states: "The scale of the buildings on King Street, quality of the facades, the width of the street and subtle slope from north to south offer great opportunities to create a unique and flexible street space in a key location within Stirling. Careful use of lighting, responses in changes in level and maintenance of facades has the potential to create an environment with similar qualities to Royal Exchange Square in Glasgow."
Following decades of missteps that have witnessed steady erosion of Stirling's intrinsic assets and character, step forward the Thistles Shopping Centre, Stirling is now making a concerted effort to right the wrongs of the past and deliver a legacy of which future generations can be proud. It's a vision which deserves to succeed and prove that as far as the central belt is concerned Glasgow and Edinburgh aren't the only games in town.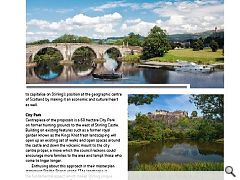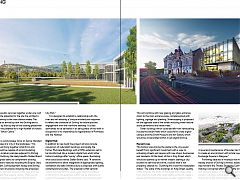 Back to October 2016