Gareth Hoskins: Last Respects
22 Apr 2016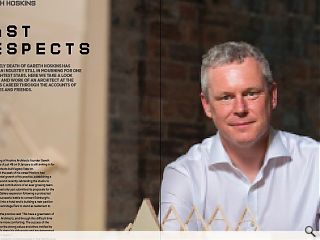 The untimely death of Gareth Hoskins has shocked an industry still in mourning for one of its brightest stars. Here we take a look at the life and work of an architect at the peak of his career through the accounts of colleagues and friends.
The sudden parting of Hoskins Architects founder Gareth Hoskins at the age of just 48 on 9 January is still sinking in for many but the architects built legacy lives on.
An architect at the peak of his career Hoskins had overseen exponential growth of his practice, establishing a new German office and recently rebranding the studio to reflect the combined contributions of an ever growing team.
The practice had only just submitted its proposals for the Scottish National Gallery expansion following a protracted and ultimately unsuccessful battle to convert Edinburgh's Royal High School into a hotel and is building a new pavilion at Helensburgh's Hermitage Park to stand as testament to him.
A member of the practice said: "We have a great team of people at Hoskins Architects, and through this difficult time this has been all the more comforting. The success of the practice is based on the strong values and ethos instilled by Gareth Hoskins. We share his philosophy and are determined to build on Gareth's legacy."
Here we bring together contemporaries in the field to look back at Hoskins life and work.
Paul Stallan, design director, Stallan Brand
A conceptual project undertaken by Gareth's studio that our team admired was the practices Renaissance Museum in Nizwa, Oman. We understand the Renaissance Museum was briefed by the Omani Government's Estates Team which is interestingly run by a Scottish architect and graduate of the Glasgow School of Art. Like Gareth our studio have also worked in Oman for the very same client.
Unfortunately I never got around to talking to Gareth about with his experiences working on the design. I know our team fell in love with the Omani people and their beautiful country. Oman has a stunning and varied landscape and complex culture very different from neighbouring countries like the UAE and Saudi.
I know Gareth would have relished the opportunity and dreamed of building out this treasure museum. In design terms Gareth's architectural work responds in an uncompromising way to the projects incredible context with restraint and sensitivity. The design presents a massive monolithic 'jewel box', a structure that seems to float above and at the end of a very long sculptural wall, the proposal existential and as poetic as the desert plain itself.
Gareth and his teams architectural vision was enigmatic, completely modern and yet timeless in its sheer materiality. I can only assume that it was the 'modern' that was prevented the studio from winning the project outright. We came a similar second on the new Oman Parliament project. Unfortunately the Omani Government and the Sultanate of Oman prefer a more 'traditional modern'.
Gareth personally had great buildings still to do out with Scotland. In this respect Scotland has not enough good architects exporting their skills. I especially admired Gareth's commitment to expand his horizons yet base himself in Glasgow. Gareth set high standards for all of us to aspire to.
Roy Milne, retired director, Michael Laird Architects
Gareth first joined MLA for a short period to make sure that his ambition to train as an architect was "the right thing to do" - as David Cameron and his cohorts are so fond of saying. That was probably in 1985 but I'm not sure. Gareth studied architecture at the Mackintosh in Glasgow. He worked for us during at least one of his summer vacations and he also spent his "year out" with us. Gareth made a real impression in the office as a bright, young enthusiast, always keen to contribute. Brian Lightbody remembers him having an idea as a student for a 'habitable' bridge between Alaska and Russia across the Bering Sea. Even as a student, he was never short of ambition and there was no doubt in our minds that he was headed for the top.
We helped him out when he was leaving Penoyre and Prasad and setting up in practice on his own in Scotland in 1998. He had won the competition for the Saughton Prison Visitor Centre and, in response to a request from the Prison Service who were slightly concerned about his having been in practice on his own for such a short time, we agreed to support him. I "rode shotgun" with him in the early stages of the project. However, it soon became clear that there was no need for a mentor and the client was happy for Gareth to fly on his own. He was very impressive in his ability to communicate with the client in those early stages of the project. The completed project was well received by the Prison visitors and acclaimed by the architectural pundits.
Gareth was a very modest man. Although I had been at the Doolan Award Ceremony and spoke to him shortly after he won the Doolan Prize for the Museum, I also wrote him a letter of congratulation. I made a point of saying that, in congratulating him, I also wanted to congratulate his team - without whom he couldn't have done the job. When I met him some months later at an RIAS convention, he sought me out to thank me. He wished, he said, that more people would realise that the success of the practice wasn't just down to him. A really gentle, kind, thoughtful and generous man with an enormous talent for architecture.
I believe that his practice organisation skills were second to none. Apparently he had at least two full time members of staff who did nothing else but network, search for projects, research possibilities and prepare the 'pitches'. His ambition was without limit. Wow, what a guy!
I last saw him on one of the open days at the Royal High School. I tackled him about working for ruthless developers on such an impossible site, but he told me that he really did think that he could make a difference to the project. An optimist to the last.
Richard Murphy, founder, Richard Murphy Architects
I first became aware of Gareth as an exceptionally well organised student when I was organising an exhibition of architects' installations in the Mackintosh School of Art by internationally famous architects in 1990. Gareth organised Ted Cullinan's contribution; a shower in the director's office still there today I believe. Next I quickly became aware of him when he returned to set up practice in Scotland. Indeed he once told my friend Murray Grigor that it was my early modest success here that convinced him to come back; and with what extraordinary results! I guess, in architectural practice, we became friendly rivals, with the emphasis on friendly. I noticed we beat him in competitions; he beat us in interviews, although recently he seems to have swept all before him! He had great architectural talent but, in particular, I was in awe of his organisational, networking and PR skills. He seemed to know everyone and know everything that was happening. My impression of him was that he had a 25 hour working day coupled with a boundless ambition. In fact, I was amazed to discover that he actually had time for a hobby and one with such a tragic conclusion.
He was, in Isi Metzstein's perceptive definition of an artist, someone who was "driven" and I admire that characteristic enormously. Recently we had begun to work together on the contributions that the Royal Scottish Academy could make to the Festival of Architecture and it is his energy, generosity and ambition for the RSA where I shall miss him the most.
David Page, head of architecture, Page\Park
If you look back in time, you will find the architectural culwture of any period is enhanced by the striving of a cluster of architects, fuelled by an aspirational relationship to each other. Think of Greek Thomson, John Honeyman and JT Rochead in the mid-19th century, Keppie, Mackintosh, Salmon and Burnett at the turn of the 20th, MacMillan and Metzstein, Morris and Steadman, Robert Mathew and Reiach and Hall in the nineteen sixties.
Of our time Gareth Hoskins and his team sits at the pinnacle of contemporary practice as an architect who could take the prosaic and inspirational projects and treat them with the same visionary dexterity. No more so than in the work for the NHS and a particular favourite for its unbelievability at the time, the Community Centre for Health in Dumbarton Road. Unbelievable because somehow Gareth found a way to create a bright, liveable and exuberant enclosure for health, the sort of thing we aspired to and were delivering in cultural buildings due to the lottery – but in a National Health Service Building! Looking back now, that spirit has become engrained in current thinking but those first steps were pioneering. The practice will carry on that legacy, but nonetheless there is an empty seat at the head of this generations table.
Jude Barber, director, Collective Architecture
I experienced my first Gareth Hoskins Architects' building on moving to Glasgow from Edinburgh in 2004. At the time, our office was based in Partick and the 3, which opened in 2002, sat proudly on the main road.
The building offers a bold street presence and makes a positive impact within its tenemental street setting.
I was struck by the building's quality, strength and openness - both internally and externally. It was also evident that this building would positively promote an awareness of healthcare within its local community.
The Sandy Road Clinic must have been one of the practice's first civic buildings. It therefore sticks in my mind as a symbol of the incredible work that was yet to come.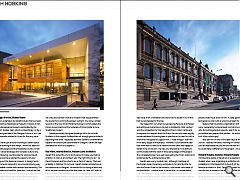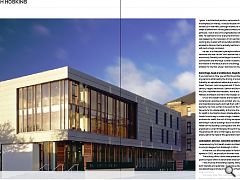 Back to April 2016