Scott Sutherland School of Architecture
13 Jan 2016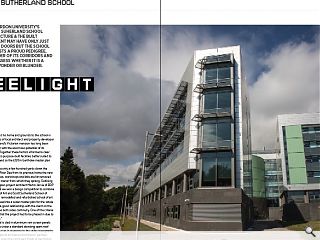 Robert Gordon University's £16m Scott Sutherland School of Architecture & the Built Environment may have only just opened its doors but the school itself boasts a proud pedigree. On a wander of its corridors and labs we assess whether it is a place of wonder or blunder.
Having bequeathed his home and grounds to the school in 1956 the limitations of local architect and property developer Tom Scott Sutherland's Victorian mansion has long been apparent, together with the enormous potential of its riverfront setting. Together these factors informed a clear rationale to move to purpose-built facilities better suited to modern teaching and so the £120m Garthdee master plan was born.
Whilst it may lie only a few hundred yards down the north bank of the River Dee from its previous home the new purpose built studios, workshops and labs are far removed from the cramped manor from which they sprang. Outlining the genesis of the plan project architect Martin Jarvie of BDP said: "Back in 2008 we won a design competition to combine the Gray's School of Art and Scott Sutherland School of Architecture into a remodelled and refurbished school of art and then that evolved into a wider master plan for the whole estate. We've had a good relationship with the client on the master plan, it gives both sides continuity. One of the criteria at the outset was that the project had to be phased in due to financial pressures."
The new school is clad in aluminium rain screen panels with a granite base under a standard standing seam roof and the building curves in response to the valley topography making few attempts at architectural ambition, perhaps disappointingly so given the continued threat of demolition hanging over Gray's School of Art. Penny Lewis, lecturer at the Scott Sutherland School of Architecture, said: "It's down for demolition but the head of the university (professor Donald Cairns) has told us that he would like to keep it. It's one of the things he'd really like to do for his legacy. Third year students from this year and last have been looking to see how it might be re-used. We've built up quite a bit of knowledge of the building over the past couple of years should anyone get a commission to strip it back and re-use it."
Simultaneously part of the wider campus and yet distinct from it the school maintains an air of otherness courtesy of department head professor David McLean, who was at pains to ensure that the school stood apart by funnelling staff and pupils through a single dedicated entrance space (save for restricted access for the dean and other high ranking staff who enjoy direct access from level two of the atrium, above the hoi poloi). This determination however prevents direct access to the riverfront with a rear terrace stair remaining blocked off. Jarvie explained: "David wanted a clear threshold for this department, the others sort of bleed into each other, David said 'this is the Scott Sutherland School, we were bequeathed the site', he always wanted to cross the threshold into the building so there's a sense of a separate space."
Visitors passing this portal immediately find themselves in a generous public reception space which originally was intended to double as an exhibition area, with movable partition walls allowing the interior to expand and contract in sync with the pressures placed upon it – although models and displays have already begun to spread to adjoining spaces.
Hard wearing concrete floors are specified throughout with stripped back exposed services and concrete soffits for thermal massing. Jarvie explained: "You can see the 1200mm precast planks and the 600mm grid. We span seven or nine metres from external elevation to the midpoint and then another four metres, the bracing only happens around the stair cores. We were always keen to have this as robust as possible and also to get the increased head height. The idea was to create spaces as large and flexible as possible so that as the school numbers expand and contract they will accommodate that. We feel it gives quite a good aesthetic for the school as a teaching aid, it's a warehouse environment."
Lewis added: "It makes a big difference in terms of what you feel you can do in the space. One of the difficulties is working out how the space should be divvied up and we're just finding our way with that."
Cross pollination between BDP and RGU has seen the practice take on several former students and the school remains well-plugged into the wider commercial world; with tutors such as Gokay Deveci, Neil Gillespie and Alan Dunlop tackling topical issues such as affordable housing, the impact of the long awaited Aberdeen Western Peripheral Route and floating settlements in Norway.
Jarvie said: "When you see the building from the outside sitting in the trees. Floor to ceiling on level two is actually one metre higher than the other levels because of the main engineering labs and services. It makes a connection with the setting. Top and bottom open, the bottom is manual and the top is powered, the idea is passive ventilation in the summer when both are open. Architects know you have to open both but clients don't!"
Lewis added: "The most important part of any architectural school is the model making. It's the same floor space but the natural light makes a difference, it's a much better space with new CNC Routers planned in the New Year, a milling machine, two laser engraving machines and printing facilities, as well as two small 3d printers. Since the students came back and have seen some of the samples we've created they've really taken to it." Fortunately there has only been one casualty thus far when one girl dropped a block of wood on her toe.
Amidst the long-running drawing versus digital debate sparked principally by Dunlop the school is looking to update its 3d printing capability, presently limited to a couple of dated devices capable of little more than producing basic resin –based designs in 10cm blocks, drawn by simplicity, cost and efficiency although its technical services operator concedes that they still can't do what the human hand can do.
Lewis remarked: "The problem with it is it doesn't work as an imitation of how a building goes together because there are very few materials, with the exception of concrete or resin, where you create something monolithic. The reason students make models isn't just about form and mass, it's also about learning how things go together and we're losing that. The students spend ages thinking about it as a graphic façade and they're not really thinking about it as a 3d building.
"There is the Airfix model mentality where you find students who should be doing design development who are actually taking stuff out of the digital cutting machine. It's beautiful but it's just an Airfix model because they've had to cut and paste it all together, I don't know that they've learned anything."
Moving back up to the second floor Jarvie gestured to the ceiling and a number of prefabricated skids and frame with cable tray fixed in: "These skids were all prefabricated off-site as 4m sections and then they were coupled up. The client wanted to change it around but every structural bay is the same, lighting, ventilation and power are consistent all the way down so they can do what they want with the space. It's one of the first projects we've used BIM properly on, BIM isn't a 3d representation of the building, it's the non-graphical data embedded in it such as partitions and schedules. For me working on phase 1, as a relatively young architect at the time, to have that level of information behind you gives you real confidence. It makes a big difference."
"It's an exciting place to study and you can see that with the amount of people who are around the building. It feels busier. The future student figures will be interesting and I think it will draw people to the course in terms of the workshops and the studio rooms, all are really well used."
Asked whether it was a daunting brief designing for architects Jarvie said. "I'm not going to lie to you it was a daunting prospect, we've got 400 critics. But it was also a good process because they knew what they wanted. Sometimes your clients don't really understand what they want until it starts becoming something tangible and by then it can be too late. The client's been involved at all times because they knew what they wanted it to be, it's been a good process and I think that shows in the end product. Everything went through David, he filtered it the whole way through. As a tripartite of BDP, head of the design team at Scott Sutherland and RGU head of estates it's been a good relationship."
The school may not win any architectural plaudits but its facilities should greatly benefit a city still labouring under its 'Carbuncle' tag. It is to be hoped that the talent it nurtures can help to stem the tide of subpar developments which have long plagued Scotland's oil capital.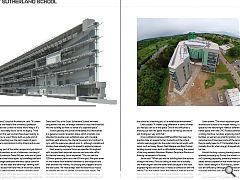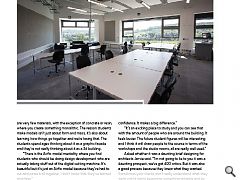 Back to January 2016