Holyrood South
15 Jan 2015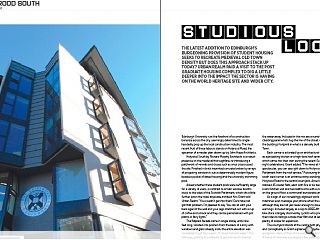 The latest addition to Edinburgh's burgeoning provision of student housing seeks to recreate medieval old town density but does this approach stack up today? Urban Realm paid a visit to the post graduate housing complex to dig a little deeper into the impact the sector is having on the world heritage site and wider city.

Edinburgh University is at the forefront of a construction bonanza across the city, seemingly determined to single-handedly prop up the local construction industry. The most recent fruit of these labours stands on Holyrood Road, the epicenter of a master plan drawn up by John Hope Architects.
Holyrood South by Richard Murphy Architects is a robust presence on the medieval thoroughfare, re-introducing a patchwork of vennels and closes such as once crisscrossed the site. Finished in brick imprinted concrete broken by arrays of projecting windows it cuts a determinedly modern figure beside a pocket of dated housing and the university swimming pool.
Asked whether these student pods were sufficiently large for a variety of users, in contrast to similar window booths stuck to the sides of the Scottish Parliament, which sits a little further down the road, associate architect Kris Grant told Urban Realm: "You couldn't get into them! Ours have not got that problem, I'm pleased to say. You can sit with your back against the wall and your legs stretched out with a cup of coffee and a book and they can be personalised with pot plants or fairy lights."
The flatpack façade came in single storey units nine feet long. Hoisted into position from the back of a lorry with windows and glass already insitu the entire elevation was completed in just four weeks. "It doesn't absorb water", Kris enthuses, ponting to a network of grooves which channel the water away. Included in this mix are a number of curved cladding panel which hug the line of the street, maximizing the buildings footprint in what is a densely built part of the Old Town.
Each corner is activated by an architectural flourish such as a projecting kitchen or a high-level roof terrace, spaces which came into their own during the recent Guy Fawkes night celebrations. Grant added: "The views at high level are spectacular, you can see right down to Holyrood Palace and Parliament from the roof terrace." Puncturing the façade on its south west corner is an entrance ramp wending its way from Holyrood Road to the central courtyard. Around this space are stacked 45 cluster flats, each with five or six bedrooms, a living room/kitchen unit and two bathrooms with a common room on the ground floor, a communal launderette and bike store.
As a sign of our increasingly digitised world the washing machines even message your phone when the wash is done, although they are not yet clever enough to issue missing sock warnings. Included largely as a sop to BREEAM regulations the bike store is largely shunned by cyclists who prefer to chain their rides to railings outside their flats but at least it offers plenty of scope for expansion.
The courtyard stands at the centre both physically and conceptually as Grant explained: "It's quite difficult for postgrads, many of them from overseas, to form a community. A friend of mine was a postgrad a few years ago and said it could be a very lonely experience if you're not the outward going type. So we built the most sociable building we could where you all gather round this courtyard. There are no front doors onto the main road, all the circulation is internalised, so you can see everybody coming and going from your room. You get to recognise spaces and strike up friendships; it's a sociable space to be."
To further this concept double height steps are incorporated which serve as outdoor seating in summer. "From April onward the sun comes right down into the courtyard and it's a nice space to sit out with friends protected from the wind. You don't hear the traffic at all. We tried to programme in meeting spaces in the same way for walkways and stairs which are quite broad, so there's space to stop and chat without blocking the route." The flip-side of all this introversion is a lack of street interaction with not so much as a newsagent to break the blank wall of facing brick, although Grant confirms that a planned community outreach centre in a sister block to the south, penned by JM Architects, will ensure that no tenant goes short of a pint of milk or a loaf of bread.
Something else residents won't be short of is a pint as Grant, whose own office lies not 10 minutes' walk away, knows well: "The area has changed quite a lot. There's a bar called Hemma which is going to benefit from 200 students in this block and 900 over the road, there's going to be a thousand new students on their doorstep, it could be a really popular bar. The owners looked ahead and bought it at a quiet time and now the nature of it's going to change dramatically."
Built onground which rises steeply to the south means a single storey difference in height and the courtyard uses this 22 degree slope to its advantage by incorporating a tall common room space within it and more regular flat sizes. "It's very Edinburgh," observes Grant. "Everything is built on a slope wherever you go." Despite its status as a social hub the square is rather Spartan at present, although Grant insists it will soon bloom with over 80 different varieties of plants. "This will be a very green space, it needs that green to make it live. Right now it's not the right time of year for planting."
Robust materials on the ground floor give way to a lighter almost medieval staircase which spring up from this solid base to serve individual wings of accommodation, each with a bathroom tower and its own distinct colour identity. Grant noted; "Richard was very keen to paint the insides a different colour so at night time when the colours die down a bit Richard deliberately chose a hot pink to shine through. One wall of the corridors in all the flats is pink, even the guys flats.
"The stairs work really well, this hi-tech aluminium cladding forms a mesh on the outside with cables threaded through so that if the temperature falls below a degree they heat up just enough so frost never forms. Runoff flows through the perforated holes. At night it is quite transparent but solid by day." Wrap around high level balconies also offer infinite opportunities for 'gardy loo' jokes to be shouted at passersby below.
One person's social nirvana is another's Big Brother goldfish bowl and the openness of the scheme may be off putting to some shrinking violets. There is a constant stream of people and interactions taking place in the courtyard and glimpses of people's living rooms are available at every turn. Fortunately bedroom spaces offer a refuge from the communal living and are large enough to prevent cabin fever setting in during exam times.
Those who call it home are drawn from across the world and seem to be getting on just fine with no padlocks in evidence on any of the personal fridges. "My friend at uni put a drop of green vegetable dye in his milk so it looked like it had gone off, that was a winner!"
With a build programme of 20 months the halls follow hot on the heels of the practices postgraduate accommodation at Queen's University, although Grant insists the two schemes are very different."We did run Queen's the year before this which was a similar brief but different site. It was a big open site where everything sprawls; this is very concentrated by contrast. We wondered how we'd cram this many people in at first but the crowd and density is what the Old Town of Edinburgh is all about. Medieval cities are very dense by their nature and this is a response to that. There are places like Portsburgh Square next to the Grassmarket which are defined by late 1800's courtyard housing with balconies. This is this century's version of courtyard housing."
Love them or loathe them student housing is beginning to change the physical and social mix of all our cities, freeing up desperately needed family housing in areas such as Marchmont whilst bringing new life to neglected corners of the city centre, a changing demography to which the new owners of Hemma will likely be raising a glass.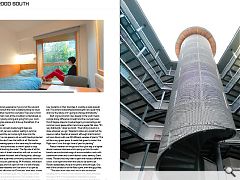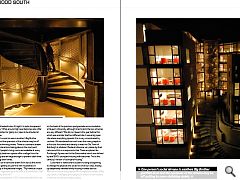 Back to January 2015