Scottish Design Awards - Fire Alarm
|
Send to friend
7 Aug 2014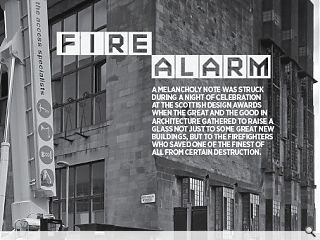 A melancholy note was struck during a night of celebration at the Scottish Design Awards when the great and the good in architecture gathered to raise a glass not just to some great new buildings, but to the firefighters who saved one of the finest of all from certain destruction.
The 2014 Scottish Design Awards commenced on a melancholy note, with attendees paying their respects to the emergency services, whose quick-wittedness and bravery prevented the destruction of the eastern 1897 wing of the Mackintosh building at the Glasgow School of Art from going up in flames alongside the western 1909 section - despite no active sprinkler system being in operation. In a cruel twist of fate JM and Steven Holl Reid Building had opened just weeks earlier but is surely a shoe-in for next year's event.
The show had to go on however and attention turned from an old favourite to some plucky new buildings which were this year chosen by a panel including; Ben Addy, founder of Moxon Architects; Tony Skipper, MD of John McAslan & Partners; Chris Wilkinson, director of Wilkinson Eyre and Graham Stirk of Rogers Stirk Harbour & Partners.
Each was on the look-out for design excellence and an innovative approach to construction, nominating 30 altogether from over 100 entries.
Reiach & Hall proved their consistency once again by picking up the Grand Prix award for their Battle of Bannockburn Visitors Centre, whilst work such as Scottish Water's The Bridge also helped them to the title of best practice.
During deliberations Bannockburn's black and white approach to exterior and interior elevations injected a touch of grey into the debate with the judges expressing puzzlement at the combination of a white wall and eaves, details which would not have looked out of place in suburbia. Wilkinson remarked: "If they didn't have that white bungalow wall in there it would be better but the rest of it is very good. It's an odd shape, I'd like to know how they got to it but it's seductive. They've got two elegant, thoughtful and contextual responses here." Addy continued: "I think it's a great contribution to Scottish architecture generally. We were all taken by it."
Entering the debate Stirk offered: "In an ideal world you could circulate around that wall but because it's jammed in you don't have this cloistered effect of walking around those apertures on an empty space. There's something in the dilemma there actually about the nature of the plan and how you relate to that big open space, that's why you get the blank wall there. The decision would have been easier had it been presented with a little more clarity." These quibbles were counterbalanced by Reiach & Hall's 'consistency of approach' and 'thoughtful acknowledgement of the places in which they're designing,' with Stirk pleased by Scottish Water's particular reference to place. "You could have easily ended up with a generic out of town office," he ventured.
Skipper concluded: "I'm surprised we've got such a narrow field when we've been through 100's of submissions. Reiach & Hall are the most notable practice in Scotland, is that enough superlatives? It's also good with the kids." To which Stirk interjected "…and doesn't get aggressive when drunk!"
The other big award on the night was given by jury chair Chris Wilkinson, who named his personal favourite project: "I'm happy to give the SSE Hydro Arena my chairman's award. I think this is best in show and I'm sorry it's by an English architect, but it's difficult not comparing like with like. I do think this is the best building by a long way - which is very predictable isn't it!"
Backing Wilkinson up Stirk ventured: "The Hydro Arena is another Cuckoo that's been placed along that section of the river, you wonder what they're all doing there really other than as playgrounds for their particular function - but it's good to acknowledge it with an award."
Just missing out on a gong were two residential solutions which impressed the team sufficiently to earn a commendation apiece, if not an outright award, albeit in different ways. These were a private residence by Denizen Works titled House No.7 and an affordable homes development by Austin-Smith:Lord's for Ayrshire Housing at Burns Wynd. Wilkinson explained: "What's good is that these are both exploring different aspects of housing; low cost and vernacular design. Low cost housing is one of the main problems we have to deal with but it's also an excellent piece of architecture. It's dealing with a very specific vernacular issue - the renovation of a black house. From a PR point of view that's very good, it's local, you wouldn't see it anywhere else in the world but from a pure architecture point of view it's not the best. The Hydro is more interesting."
Picking up on Burns Wynd Stirk lauded the 'tight plan' but also found it "a very clumsy composition." Here Addy demurred though, stating: "There's something in the clumsiness of it." Stirk labelled House No.7 meanwhile 'a posh one-off,' adding: "This is a bit too Scottish isn't it? In the sense that it's a little bit obvious in a way but it's a well done house. I know it's not doing anything special but have you seen any spectacular housing lately? I think it's great. They're both significant."
Skipper went on: "I quite like the idea of recognising the underdog in these sort of things because they get missed. I like the modest, smaller social housing scheme that does something special. It's a market in which it is difficult to do something different." At this Addy concurred; "It's one of the most difficult things to do. I think it's a really beautiful piece of architecture, it's very serious but it's got a very serious job."
Sent homewards after the event judges were left with a tangible impression of a nation at a crossroads. It is also fitting that Bannockburn should be the setting for another Scottish victory, all architects will need to tap into some of that fighting spirit as they wrestle with an uncertain future.
Back to August 2014