Rural Mural - Colouring Opinion
|
Send to friend
7 Aug 2014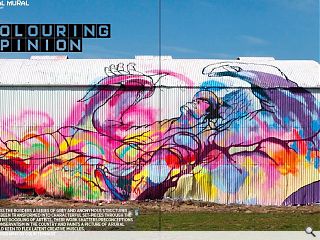 All across the Borders a series of grey and anonymous structures have been transformed into characterful set-pieces through the creative doodling of artists. Their work shatters preconceptions of conservatism in the country and paints a picture of a rural world keen to flex latent creative muscles. Photography by Colin Tennant
Graffiti art has come of age in our urban centres in recent times with the rise of Banksy et al elevating the medium to wider acceptance but the art form has never been able to punch out of its bricks and mortar haunts to populate the wide open green spaces of our rural areas – until now.
The Rural Mural project, conceived by art events specialist Spring Fling in collaboration with Amy Whiten and Ali Wyllie of arts organisation Recoat, has seen an eclectic range of unprepossessing barns, houses and even an electricity substation in Dumfries & Galloway bedecked with colourful displays of art. The project is part of an initiative designed to encourage street artists from around the UK and Europe to swap urban for rural lanes in a series of big, fun and colourful interventions using the most unlikely of canvasses.
These include a condemned corrugated iron hay shed at East Knockbrex Farm, Newton Stewart, the gable end of the Dalton Pottery Art Café and a former electricity sub-station in Stranraer. Despite this diverse heritage the pieces come together in a cohesive programme thanks to their common elements of scale (some measure up to 40m in length), colour and most importantly fun.
Speaking to Urban Realm Whiten said: "Our aim at Recoat is to promote Scottish artists but also to bring artists here from other countries, as well as try to build community engagement. We try to build these elements into each project we undertake.
Two of the lead artists on the project, Will Barras and 1010, the latter of whom hailed from Hamburg, had worked with Recoat before being attracted to Scotland by the opportunity to work in a rural setting in partnership with local artists to paint something on a grand scale.
"There are a lot of mural projects happening, they're gaining popularity around the world and there's a lot of different kinds of mural projects which happen in different places," explained Whiten. There was something similar in America that happened on barns but the ideas behind our project (collaboration between international and local artists and appropriation of other objects and vehicles) are unique.
"There's going to be a tractor, a strawberry tanker and a boat - even petrol tankers from an aeroplane, the reason we chose these is they're all quite unusual and different. When you've got a smooth surface it tends to be easier to paint than something rough. Roughcast or corrugated iron has to be taken into account as it can look quite different from different directions. If you're using spray paint on a surface which is rounded then it will spray off but the more unusual the object the more intriguing it is for the artist. It's a bit of a balancing act.
"The nature of mural painting is to design for the setting, people don't create a mural and then find a building, they find a building and then create a design that reacts to that space. That's what's so interesting and unusual. There aren't many art forms which react to the environment and space. Nearly all the artists were able to visit the areas where they were going to paint before they were painted so they could respond to the colours, the environment, the people and the stories."
Rural Mural was born of four workshops attended by local people drawn from art groups and schools which liaised with Whiten and Wyllie to generate conceptual ideas for the murals. These were subsequently fed back to the artists. One project which embodies these principles well is the electricity substation in Stranraer, the chosen theme for which was 'coming home'. Home was the theme throughout the whole project. That worked well for people from afar who wanted to bring a bit of themselves into the project and the local area", remarked Whiten. "Me and Ali worked with Hope London in Stranraer and we built that into our mural with big abstracted waves."
But how on earth was such a diverse group of sites obtained in the first place? Whiten answered: "When we put out the open call for sites the reaction we got was phenomenal, fifty or sixty different sites, objects and vehicles were offered which is pretty incredible. People were putting forward something when they didn't even know what would be painted on it – they just wanted to take part. People were donating their houses, their cars, or even a building in their town which they felt would be of interest to the artists."
For all its charms graffiti does tend to divide opinion, even amongst the finer examples of the craft so how well received were these works in parts of the country unused to spray paint? "When we were working in Stranraer we weren't quite sure what the reaction was going to be but local people stopped to comment, some of them got it, some didn't but they didn't really mind. It was just nice to see something different, colourful and bright on their Main Street."
Despite their success many of the pieces will enjoy only a fleeting time in the limelight and the barn at Newton Stewart is set to be dismantled in November while the Stranraer mural has already been hoarded away ahead of its relocation to an alleyway in need of regeneration where it will live a second life. "The other murals are to all intents and purposes permanent", insists Whiten – or until their owners decide to repaint them.
To create the supersize displays five experienced painters were drafted in to help local artists first by scanning designs into a computer and then by superimposing that over a photograph of the building to see how it will look. "You can also use techniques called gridding where you grid your original drawing and work it on squares to make sure it all fits together properly", said Whiten.
Whiten concluded: "We'd like to see more murals everywhere, I don't think anyone in any town, city or village would like to see more grey. Personally I would like to see colour everywhere and it would be great if murals became a little more commonplace."
Back to August 2014