Procurement
16 Jul 2014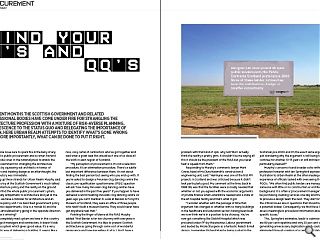 In recent months the Scottish government and related professional bodies have come under fire for strangling the architecture profession with a mixture of risk-averse planning, acquiescence to the status quo and relegating the importance of design. Here Urban Realm attempts to identify what's gone wrong and, more importantly, what can be done to put it right.
If there is one issue sure to spark fire in the belly of any architect it is public procurement and so when Richard Murphy broke cover in the national press to attack the Scottish Government for strangling the architecture profession by squeezing out architects in favour of contractors and treating design as an afterthought, the resulting outcry was immediate.
Picking up these strands for Urban Realm Murphy said: "The hypocrisy of the Scottish Government's much talked about architecture policy and the reality on the ground is bizarre. I find the whole public procurement system, hubco, totally antipathetic to architecture and yet at the same time we have a minister for architecture and an architecture policy unit. I've described government policy as having two departments. One is a Honda 50 and the other is an articulated lorry going in the opposite direction - which one is winning?
"It's a completely mad system we have in this country run by project managers and contractors, it doesn't look to me like a system which gives good value. It's a very bureaucratic way of delivering a building. It seems like a nice, cosy cartel of contractors who've got together and said what a great idea this would be if one of us does all the work in each region of Scotland.
"My perception of procurement is it's not a selection procedure, it's an elimination procedure. There's a subtle but important difference between them. it's not about finding the best person but seeing who you end up with. If you're asked to design a Peruvian clog dancing centre the classic pre-qualification questionnaires (PQQ) question will ask 'how many Peruvian clog dancing centres have you delivered in the past five years?' If you happen to have delivered a world-beating Peruvian clog dancing centre six years ago you can't mention it. Look at Benson & Forsyth's Museum of Scotland, they were an office of three people who hadn't built a museum before. They would never have got anywhere near that."
Pointing the finger of blame at the RIAS Murphy added: "Neil Baxter is far too chummy with everyone in the Scottish Government. He likes to present Scottish architecture as going through some sort of wonderful renaissance and how marvellous it all is. I don't have a problem with that kind of spin, why not? But I actually think the reality is pretty grim. It shouldn't be me saying all this it should be the president of the RIAS but you never hear a squeak from them."
Responding to Murphy's comments lawyer Mark Cowie, head of McClure Naismith's construction & engineering unit, said: "Hairmyres was one of the first PFI projects in Scotland and was criticised because it didn't look particularly good. My comment at the time, back in 1998-99, was that the facilities were so badly needed that whether or not you agreed with the economic arguments of private finance what Lanarkshire needed was a state of the art hospital facility and that's what it got.
"I wonder whether with the passage of time that argument has changed or whether with so many buildings in the healthcare and education sectors having been built we now think we're in a position to be choosey. You've now got something like Stobhill Hospital which was procured under PFI by the previous Labour government and lauded by Nicola Sturgeon as a fantastic Reiach & Hall design. I remember Richard Murphy being quoted in the Scotsman pre-2000 and it's the exact same argument, I'm just wondering why the argument is still being had. Will it continue for another 10-15 years or will architects never be particularly pleased?"
Murphy's concerns found broader echo within the profession however with Ian Springford expressing his frustration to Urban Realm at the often inadequate experience of officials tasked with overseeing the dreaded PQQ's. "We often find public tenders are managed by someone with little or no construction or architectural background. It is often a 'procurement manager' that can be purchasing cleaning services one day and then asked to procure a design team the next. They don't know what the critical issues are or questions that should be asked of a potential bidder. Consequently, we find these PQQ's ask assess meaningless procedural information above project specific issues."
This, Springford estimates, leads to submissions which are 80 per cent repetitive and only 20 per cent specific, generating unnecessary duplication which could be eliminated through creation of a centralised database into which bumf such as equal opportunities policy, accounts and credit checks from shortlisted bidders could be cross-checked. To further elevate design in this process Springford would also like to see an architectural assessor appointed, a role he suspects would be more appropriate for Architecture + Design Scotland than their present capacity of 'commenting on design proposals developed by inappropriate architects selected through the PQQ process.'
A+DS were invited to comment on these issues but declined to do so, however Cowie said: "My experience from a legal perspective is that very little is actually asked about the design team, certainly at PQQ. The design is looked at but it's part of the overall package, it's the bid that the local authority looks at."
The recent Crawford Review of Construction Procurement recommended a system of design led procurement to utilise existing frameworks to improve design outcomes without recourse to a change in the law. From this Construction Scotland has identified five priorities; namely the appointment of a proposed chief construction advisor, formation of a Strategic Construction Forum, creation of a coordinated public sector procurement pipeline, establishment of new best practice guidelines and identification of skills shortages in the sector and how to address these
Alastair Wallace chair of Construction Scotland's procurement working group commented: "We are all well aware that the current systems are far from perfect, with regionality and differing local authority agendas meaning that the process can vary significantly across the country, and within different trades and professions. Essentially it's time to get back to basics and simplify the process of responding to tenders - whilst retaining those stipulations which make it a fair, equal and transparent competition."
Taking issue with the present set-up however Springford noted: "We've found on many occasions that although a submission is supposedly assessed with a bias to quality, the weighting criteria for assessing the fee relative to the lowest submitted automatically makes the lowest fee the winner. We have also found public bodies are genuinely terrified of selecting anyone other than the lowest fee bid in case the press or public attack them for 'wasting public money'.
"Often due to lack of experience and knowledge, we find we are asked to complete inappropriate or irrelevant pre-qualification questionnaires taken from other projects. A common example is using the same PQQ for selecting a main contractor used to select a design team member."
A primary bugbear of many is that there is no concept of how to judge quality with Springford observing: "Standard practice is to ask for examples of near identical completed projects but no assessment whether they are actually any good! This results in the same practices producing the same buildings, making the same mistakes."
Of further concern to Springford is the practice of 'moving the goalposts' whereby the financial threshold criteria for consideration are arbitrarily raised following submission of a PQQ document. "This is an underhand and lazy way to reduce the number of PQQ returns they have to assess and effectively plays into the hands of the large national or multinational practices," remarks Springford. "Assessment seems to naively reward large multidisciplinary companies simply for being big. Designing a bespoke successful building in Manchester does not demonstrate any specific insight into the unique design challenges associated with designing a similar building type in the north west of Scotland."
To counter this Springford would like to see purchasers discard 'unnecessary buzzwords' such as 'innovative thinking' and on technologies and prefabrication techniques which may not be relevant to focus instead on examples of well thought-out design.
One city which encapsulates this growing trend is Glasgow, beneficiary of a Commonwealth Games led construction boom this has failed to translate into design tenders.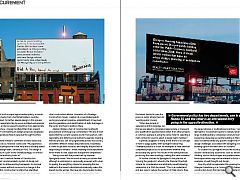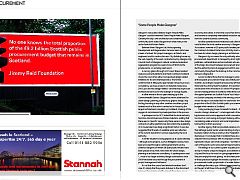 Back to July 2014