Hutting
|
Send to friend
23 Oct 2013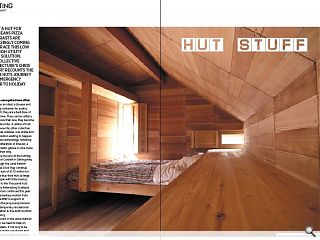 Whilst a hut for most means pizza enthusiasts are increasingly coming to embrace this low cost, high utility design solution. Here collective architecture's Chris Stewart recounts the humble huts journey from emergency shelter to holiday home.
Hutting: an unrequited love affair. Described as an ideal, a disease and a temporary container for poetry; for architects they are a bad dose of unrequited love. They can be solitary but when more than one, they become difficult to describe. A Jabba of huts being my favourite; other collective nouns include colonies, une Unitie and a social revolution waiting to happen. Whatever the terminology, following a recent proliferation of interest, a hopeful romantic glance is once more being cast their way.
Driven by success at the hutting stronghold of Carbeth in Stirlingshire, where through the Land Reform Act Scotland 2003 they continue to raise the sum of £1.75 million for their right to buy their huts (a large sum for people with little means), this has led to the 'thousand huts' campaign by Reforesting Scotland.The momentum continued this year with a parliamentary motion from Jenny Marra MSP in support of hutting and the proposed provision for huts as temporary recreational accommodation in the draft Scottish Planning Policy.
At this point, in the same manner as Mr Darcy, we need to take on the role of villain, if not only to be transformed at the conclusion and therefore twice as attractive. Much is made of the significant healthy benefits of simple living in Scotland's natural environment but a national culture. Hutting is a genuine culture in Scandinavia, where in Norway a country with a comparable population, huts number 398,000, while according to the Scottish Executive ours scrape 630. A more numerical culture choice would have been the Static Caravan, which number over 25,000. Unfortunately this less attractive sibling receives no siren within Parliament. Furthermore reviled second home owners, which some argue hut owners are, starve locals of much needed first time homes. Tough love but marriage is a serious affair.
One reason why hutting may remain close to our hearts is that it has a wonderful well meaning raison d'être. They enjoyed their coming out just after the First World War, when factory workers were finally entitled to a free weekend or friendly land owners allowed ex servicemen the opportunity to take their families on holiday. This is the only kind references to land owners, more typical are rumours of vandalised huts; eviction orders and basic services cut off. Extreme examples such as disgraced Rascarrel in Kirkcudbrightshire where a seven fold rent rise, led hutters to dismantle and burn down their own huts. This act of passion returned the land to green field and prevented the hideous landlord constructing luxury cottages.
With 0.0002% of the Scottish population owning 70% of our land (the correct number of zeros was used) it is easy to see why hutting has more of a political dimension than just 4 walls and a roof. At its core is the relationship and pride that Scots have with their landscape and how, with half our population living in cities, it is important we all get access to our heritage. In the 1930's, city dwellers used to walk slowly to their huts carrying building materials on the backs, not in an attempt to imitate a snail, but escape the grime. This was part of a wider 'reclaiming of the land' within Britain typified by the famous 1932 Kinder Scout Mass Trespass which was marked by violent scuffles with gamekeepers and several convictions. Trespass is not then nor now a criminal offense, hutters though remain without legal rights and completely at the mercy of landowners.
A very serious but excellent Scottish Executive Central Research Unit document Huts and Hutters' in Scotland was published in 2000. Not at first read very helpful to the hutting cause with minimal numbers, no evidence of any fresh sites after World War 2 and several hut deaths during the preparation of the document. It would appear that huts are heading for extinction and the list of colonies reads more like a series of historical battles pitted with humorous anecdotes;
Rascarrel 1972 - Burned to the ground.
Barry Downs, Carnoustie 1936 - Birth shared with the Broons and their But and Ben.
Legal action lost with neighbouring caravan site owner, 2010 huts destroyed.
Ardfern, Argyllshire - Small community happily co existing with owner. 2007 Argyll and Bute Council serve enforcement and eviction notices.
Hopeman - Brightly colored beech huts with 10 year waiting list to join. Not hut enough to make the Scottish Government 2000 census.
Lochwinnoch - 35 huts reduced to 7 huts, two owned by the Andrews Family from Wellhouse, East Glasgow. Eddie Andrews still takes children from Wellhouse Junior Walking Club to his huts 'it never fails to amaze me how much fun they have with such basic simple things, paddling in burns, playing outdoors, watching the stars at night and just going for a walk or a cycle. Somethings never change'
Carbeth 1920 - Partly built to house survivors of the Clydebank Blitz and incorporating ladies lido. Legal breakthrough to win right to buy, May 2012, the fightback begins.
I am hopeful that architects will join the revolution as our own White Knight 'from our house to bauhaus', that weedy, be-spectacled, right wing bastard genius, Le Corbusier loved a hut. There are others, Aalto's wonderful Muuratsalo summer getaway where he would experiment with materials, construction and philosophy but that seems more like an ordinary house. Nothing quite compares with Corb's petite cabanon on the Cote d' Azur exactly 2.26 meter high (modular man with one arm above his head) and 3.66 meter sides (two modular men lying in a row). Originally built for his wife as a result from a fall out with Eileen Gray and paid for by building his Unitie de Camping, inspired by Gypsy caravans, for local restauranteur M. and Mme. Rebutato.
The White Knight lived here, off and on, for 18 years and became, in part, the inspiration for the better known multi storey cabanon, in neighbouring Marseille. Only some of the ideology was shared; the clever use of space and the 'things that men (and Eileen Gray) need just as much as they need bread or a place to sleep'.
Corb shared tranquility with fellow hutters and it allowed him to draw, dream and exist, It was in the Cote D'Azur that the city of Changridah was conceived together with his most wonderful of his masterpieces, the Chapel of Ronchamp. He died in in 1965 in the manner he wished, swimming out to sea in sight of his beloved petite cabanon which together with Eileen Gray's house, and his Unitie de Camping have been posted for a 2013 UNESCO world heritage listing.
Carbeth Huts beat the Cote D'Azur by 10 years, achieving the much prized Stirling Council Conservation status in 2003. It is not now possible to self build in your own image, you have to follow the Planner's Guide to build a rickety shed. Specific window sizes, the correct rough looking materials and how to erect CCTV in woodland are all now carefully specified. This goes against the ecology and low carbon economy of hutting where much is recycled or plucked from a skip; where energy is taken naturally with the odd exception such as local coal-man Lenny Smith who at a loss, still sells his carbon intense product to freezing hutters. Despite my cynicism the Carbeth Conservation Area Management Statement has pride of place in the Carbeth Hutters Community Company est. 2008, web site, so perhaps official courting is welcome.
This is more than some schoolboy crush and cute charm of the compelling ad hoc. Depth and history dispel earlier harsh Darcian misgivings, could we commit to this new thinking architect's crumpet and marry beneath our station. Corb had no second thoughts nor did Arboreal Architects, winner of '25 young architects 2012', whose Bethnal Green allotments and award winning demountable Larch Hut has helped form a youthful career. A more pragmatic look at the reasons not to betroth now seem outdated; why in a land so empty are we reduced to fighting over scraps; why not embrace healthy rewarding experiences; why not accept the benefits to both urban and rural communities; why not legitimise and encourage a new Scottish Hutting Culture.
Limiting the number of rutting architects to a thousand may cause angst and it may be necessary to establish a 2014 agency. Hobbies and exaggerated size could then be properly matched and with with careful nurturing I am sure of a resounding We Do.
For video of Arboreal's 2 day construction of their Larch Hut visit http://vimeo.com/ 26392486
For video of William Roberts short film of Carbeth Huts, their owners and their alternative lifestyles visit www.youtube.com/watch?v=hSFL1a5gIjk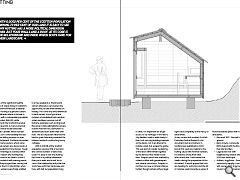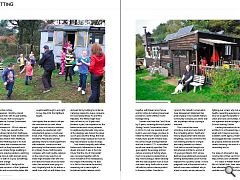 Back to October 2013