National Review of Town Centres
22 Jul 2013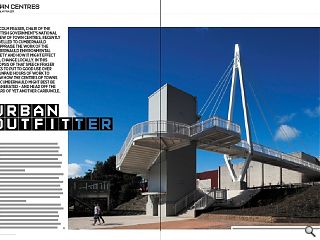 Malcolm Fraser, chair of the Scottish Government's national review of town centres, recently traveled to Cumbernauld to appraise the work of the Cumbernauld environmental society and how it might effect real change locally. In this synopsis of that speech Fraser seeks to put to good use over 285 unpaid hours of work to show how the centres of towns like Cumbernauld might best be regenerated – and head off the award of yet another Carbuncle.
When I was asked by the Scottish Government to chair their review of town centres my wife said 'please say no', because she knew it would be taxing. But what I said to her was if you spend half your life complaining about what Government gets wrong, it's kind of interesting when a cabinet secretary says to you 'What can you do to get things right?' That's not a request you feel you can turn down.
The English (Mary Portas) Town Centre review is a piece of celebrity makeover fluff; I don't have the haircut for it aside from anything else. I said to the government I want to do structural things, I want to recalibrate legislation - not just do tart ups of town centres. Patrick Geddes, the father of Scottish town planning, described our relationship to the built environment as 'folk, work and place'. These are the principles behind this review.
I was asked recently to write about my favourite town and I wrote about Stromness and then I thought, 'why didn't I write about Cumbernauld?' This is actually a beautiful place. I cycled down from Croy, it was a sunny day, and I thought how nice the old urban environments are here. No disrespect to current planning but I think in the sixties and seventies we did things quite well, I've seen that in other small towns. What we don't do so well these days is connectivity.
Planning applications have become very long and bureaucratic; there are tons of boxes to tick. I wish we could get back to simple broad connections and walkability. I only thought Cumbernauld broke down when I got to the town centre and couldn't find my way to the college.
Why has government said something that's so unequivocal about town centres? We've got three answers to that and the first is about accessibility. Decisions about towns are made by people with cars and not everyone has a car. Lots of old people don't have cars, young people don't have cars, some people choose not to and others can't drive or afford to.
Democratic accessibility should underlie all government. You need to put public facilities where you can get a bus to them, or walk to them, but principally where public transport goes - and people forget that when they decide to make a community campus outside the town centre or put a library or police station out there. I've got a letter from one council to the local community council saying we don't understand why you care about losing the police station and the school to out of town because we have a proposal to repaint the park benches!
It is accepted that cities are our economic powerhouses, towns need to do that too and be a bit more connected and business oriented. You want business to relocate to somewhere like Cumbernauld because of the College because they'll be meeting people in the shops and learning something. I love Edinburgh's commercial buzz and towns need that too. Out of town shopping centres, no matter how many Costa Coffees you put there, don't have the diversity of a town centre and all the different things going on in it.
Lastly, if we are going to fight climate change we need to make better use of our existing resources, not talk about 'eco towns' built on farmland dependant on cars. Places with infrastructure already in place are our eco-towns, you can walk in them, the sewers are there, and the schools are there… it's crackers to build on the outskirts of town, bearing the expense of a new school whilst we're closing down schools in our existing town centres.
It sounds obvious that it should be deliverable as well. If I go and ask the government for lots of airy fairy things that are going to require new legislation then it's not going to happen, so we're using existing legislation. Lots of groups out there talk about town centres, paradigm shifts, new narratives and the need for radical change so the context is there.
There's other stuff we can't do anything about; there's not enough local democracy in Scotland for instance, we know that. The (UK) government has postponed business rates re-evaluation and VAT is ridiculous - you pay 20 per cent to repair a building and zero per cent to knock it down and build a new on a green field site. That's madness. Instead it's very important that we listen to communities coming to us with initiatives rather than thinking that government knows everything because these are far more likely to work.
There are six strains coming forward. Firstly, getting more footfall into a town is everything and the best footfall you can have is residential footfall. The more people living there the more are about at night. Night time economy shouldn't just be about young people in bars you need people to love a place to look after it.
Scotland has a desperate need of new housing, there's never going to be easy mortgages like before, and we have ten thousand empty flats above shops. There are 100 above the main Streets in Perth alone, it's a disgrace. We've found a way around the legal barriers on that, we want to get housing associations jump starting these sites. People who are most in need of housing are young people and single people, do they really want to go on the edge of town, buy a car and shop in Asda?
Secondly at the moment business rates go straight to the government and they give a grant back, local authorities don't have an incentive to raise the business rates. There's already a business rate incentivisation scheme (BRIS), where a local authority gets 50 per cent of any rates rise. What I'm proposing, and I think the government will accept it, is BRIS+. In a town centre you will get 100 per cent of any additional rates collected.
Just as an example I was talking to Aberdeen which is just full of colour and yet all the oil companies are building their headquarters in the countryside. Aberdeen doesn't even get any of the rates. Why not create a BRIS+ area around the harbour? There are vacant sites here, why not have big bang Dallas offices looking out onto that wonderful colour? I don't see why that wouldn't work for them and I don't see why that wouldn't work for you.
The third thing I'm asking the Scottish Government to do is endow a micro-finance fund. There are micro finance funds out there so the first thing I want to do is get them more upmarket and provide more assistance so people know where to go. This would help ordinary people with a sustainable business plan on projects like Govanhill Baths or the West Kilbride crafts town. If you went to a bank they'd just laugh at you.
Planning needs to be more proactive and we're working on changes to the planning apps. Edinburgh over the next 20 years is projected to need 120,000 new homes. Will there be finance for these? There won't be. What will happen is Edinburgh will identify perhaps 40,000 at the docks and the rest will go on the greenbelt at the edge. There'll only be finance for 40,000 at first so they'll all go on the green belt and we're left with a hole in the middle. Next, we want to take the sequential test for retail (where you can't build out of town if there is a site in town waiting to be taken), extended to housing and all footfall creating activities. We also want planning to be more cheerful about allowing changes to existing buildings.
The last thing is to get councils to examine their towns more and work with communities. Designing Streets says pedestrians should own towns; cars should be out of town. It tells us that closes are bad and through streets are good, well I don't quite agree. The two best places I've lived in have been cul-de-sacs because you know everyone who comes in and leaves.
If you've got a family you live in a diddy box, if you don't have enough money you live in a four storey walk up. If you've more money and are a young banker you live in a negative equity tower down at the docks. There is no other model for towns and we need to think more about that.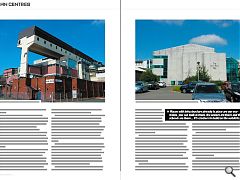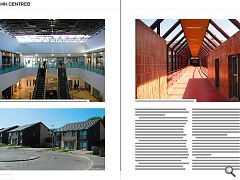 Back to July 2013