Balornock
18 Apr 2013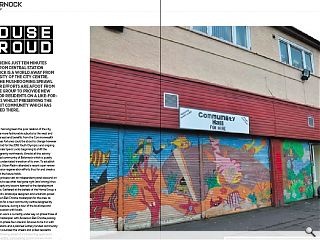 Despite being just ten minutes by car from Central Station, Balornock is a world away from the density of the city centre. Amidst the mushrooming sprawl however efforts are afoot from the home group to provide new homes for residents on a like-for-like basis whilst preserving the close knit community which has developed there.
North Glasgow has long been the poor relation of the city, losing out to the more fashionable suburbs to the west and south whilst the east end benefits from the Commonwealth Games. The areas fortunes could be about to change however with a putative bid for the 2018 Youth Olympics and ongoing work to regenerate Speirs Locks beginning to shift the city's centre of gravity northwards. Amidst all this activity is the established community of Balornock which is quietly undergoing an understated transition of its own. To establish what this entails Urban Realm attended a recent open review process to appraise regeneration efforts thus far and sneak a glimpse at what the future holds.
The review process saw an independent panel descend on the area anxious to see what had gone right (and wrong) thus far in a bid to apply any lessons learned to the development of future phases. Gathered at the behest of the Home Group a team of architects, landscape designers and urbanists pored over an Anderson Bell Christie masterplan for the area, as well as proposals for a new community centre designed by Collective Architecture, during a tour of the local area and round table discussion with locals.
Construction work is currently underway on phase three of a seven phase masterplan with Anderson Bell Christie picking up the reins from phase four onward. Anxious to tie it in with existing completions and a planned Lottery funded community centre the team pounded the streets and grilled residents to inform early thinking ahead of a full planning application in the coming months. Commenting on this process Stuart Russell of Anderson Bell Christie said: "One consideration we had was how we make pedestrian paths safe through the route, the other consideration was roads and access and how these relate to phase three. We've had a look at what we think future phases will bring, predominantly how they will relate to phase four and where the community centre sits and looked at opening up pathways, introducing new greenspace and creation of a courtyard."
Overlooked by the lofty crags of Red Road Balornock is dominated by social housing but walking the streets it is ironic that Home Group has achieved a quality of provision that is the superior of private sector output, albeit with compromises of their own. The need to find consensus has limited the freedom to innovate, resulting in a largely generic solution. Where there has been receptiveness to change however has been the community centre for Balornock East Community Association. Sitting at the heart of the estate this will be a like-for-like swap with an existing centre in terms of floor space but is otherwise a conscious shift away from the existing centre, essentially three shops knocked together with flats stacked above - a style of construction which isn't well liked in the area. It will form a striking centrepiece of a rejuvenated Balornock.
Commenting on the community centre project architect Justin McNeil of Collective remarked of the existing hall: "This isn't an ideal situation as it doesn't have the flow of uses and everything is more segmented than it could be. It lacks light and ventilation and has lots of narrow access corridors. At the rear of the property is a raised tarmac area which is 1.5 above ground level and is not very well used." Three existing shops within the property have agreed to migrate to the new project however and, unlike other community centres where people only occasionally hire out the hall, there is constant usage throughout the day with residents popping in for tea and coffee.
Investigating the site history for design inspiration Collective uncovered a number of elements which could anchor the development; amongst them a walled garden of 1740 which was one of the earliest recorded uses of the land. The name Auchinairn can also mean 'field of barley' and digging into the archives a bit the practice found that iron used to be mined there. McNeil added: "There is also a history of brick making in Central Scotland and this idea of reflecting the identity of the yards that made them in individual bricks. We ended up with four ideas, the mining, bricks, softness of clay and the iron and we thought we could work something up from these themes."
To this extent Collective went so far as to get some actual bricks fired in the office which were then handed to local people who were then invited to create their own personalised motifs of forms and shapes based loosely around the idea of a field of barley. These can subsequently be incorporated into public facing walls, which will also accommodate seating and storage. This wall also extends out alongside a pedestrian route through the external area overlooked by housing, prompting a need to work with Home Scotland to orientate and influence the design around the site so that the facades face into the space and gables are treated in such a way so as to allow natural surveillance.
The final form of the building envisages a large external space to the south which could be configured for lighting, a multi pitch surface, public seating, landscaping and a sensory garden, delivering the idea of a public square and pedestrian route. McNeil explained: "We had a permeable wall to define the pedestrian route with all the required accommodation housed in a single story building, there was no need to put two storeys on it." This approach has the added benefit of making the facility fully wheelchair accessible but it dwarfs even a standard two storey house, leaving it potentially overshadowed. In response the designers took an element of the building and lifted it in height to act as a transition from shop units and the hall up to an element that defines the entrance and route through.
Elements of colour are also to be introduced to the roof during both day and night, cycling through a sequence of illuminations that are representative of the spectrograph reading of iron. Pedestrians will also be able to have a nosey at activities taking place within as they wander past in a consious nod to openness.
Dhruv Adam Sookhoo, head of design enterprise and development at Home Group, hopes that this initiative will serve as a springboard for the formalisation of collaboration between Collective's vision and that of Home Group to create a more unified approach. If their combined efforts work the tide might finally turn for this corner of Glasgow with Balornock its unlikely epicentre.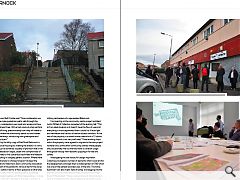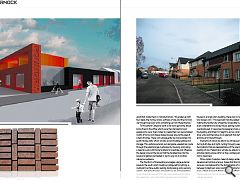 Back to April 2013