Kendram House
30 Jan 2013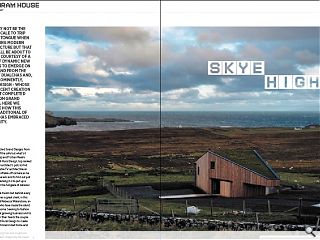 Skye may not be the first locale to trip off the tongue when discussing modern architecture but that could all be about to change courtesy of a spate of dynamic new housing to emerge on the island from the likes of Dualchas and, most prominently, Rural Design - whose most recent creation has just completed a stint on Grand Designs. Here we explore how this most traditional of places has embraced modernity.
We've all watched Grand Designs from the comfort of the sofa but what's it like at the sharp end? Urban Realm caught up with Rural Design, top ranked practice in our architect's poll, to find out if unflappable TV architect Kevin McCloud is as affable off camera as he is in front of the lens and to find out just how nerve wracking it is to put up a building under the full glare of national television.
It may be a truism but behind every great project lies a great client, in this instance Indi & Rebecca Waterstone, an artist couple who have made the island of Skye their home. Seeking to fashion a base for their growing business and to put a roof over their heads the couple commissioned Rural Design to create a 90sq/m larch board clad home and studio.
The resulting two bed sculptural lozenge has been shaped by the need to hunker down against the 100mph winds which routinely buffet the island. A concrete base and steel frame also provide additional heft to prevent the whole edifice from taking flight. Super insulated, its profile narrows toward the sea to minimise exposure and it is dominated by a single kitchen - cum living room - cum dining room, with a spacious first floor bedroom mezzanine.
A sister studio building, which may be opened up to the public, sits behind the home, clad in the same larch timber which will soon weather to a mottled grey. Built as a separate project it reflects nervousness from the client that the budget might not have been up to the challenge. The roof of the house acts as a contemporary bridge to Island vernacular with a layer of turf giving the home the impression of sitting as a boulder in the landscape.
McCloud described the resulting confection as one of his favourite homes, remarking: "It's such an original building in such a traditional place. For £150k they've created a home which has brought them closer to the island and the islanders. It looks like a cow and calf, a mountain shaped boulder wrapped in bark and moss. It's a little piece of mountain with windows in.
"This is clever architecture; Alan's design carves out the best views from this place. In every room the windows carefully orient the eye but nothing overwhelms. The colours of the landscape and seascape also gently make their way gently into the interior. At its widest point the building is generous and endowed with moments of delightful craftsmanship."
Urban Realm caught up with Rural's Alan Dickson to find out more about what makes the project tick. "We started by asking what drove the contemporary aesthetic, a building that has a connection with the landscape with its colours, with its textures, is very important", Dickson observed, noting: "The timber that we use is an honest reflection of what the house is made of, so to hide that timber technology with a veneer of white render just seems wrong. It's been very incremental the way our work has developed. We're not trying to be in your face modern but clearly there has to be a progression, we can't go on building white houses for 500 years.
"We consider ourselves progressive architects by which I mean we look to the future rather than the past. The technologies we use as architects should inform the appearance of our work and the technologies we use today are timber frame. We are at the forefront of that technology whilst down south they're still quite resistant.
"One of the reasons for us to do the project was to communicate more innovative and progressive projects in these communities. There's a great deal of hesitation amongst a lot of clients to go with a more unconventional approach and I think when they see other people are doing that and the success they are having then hopefully it will give people the confidence to do it in future."
Surprisingly, even though an estimated 2.6m tuned in to watch the episode, reaction has been fairly muted, an outcome which Dickson attributes to the relative exclusivity of the format. "It's a wee bit inaccessible because of the budgets they're working" Dickson remarked, "showing you can do interesting work on a small budget might help. They tend to focus on the drama which might make you think you need to be a crazy person with deep pockets. We've had a handful of enquiries, a lot of web hits, but not so many phone calls. I think it will be a bit of a slow burner. There are only so many people who want to come up here and live."
Perhaps the biggest challenge facing the architects was a wafer thin budget but in this the recession may actually have helped as very competitive tenders ensured comparative extravagances, such as the grass roof, made it through unscathed. Dickson added: "We had a very good contractor, Donald Lamont, who was very confident about his skills in pulling this together, that all gave confidence to the project and us to implement the more creative aspects."
The biggest of these was the aforementioned grass roof, the first to be employed by the practice, even if much of the rest of the project bore the hallmarks of past work. Dickson said: "The predictability of the materials and approach gave us the confidence to do it all on national TV. We've probably built 80 projects on Skye and the surrounding area and each one has been an incremental progression from a previous project, so our innovation from project to project is actually quite minimal and that's the way we've been able to bring the planning officers with us."
With the Grand Designs formula typically reliant on catastrophe and mishap to drive viewing figures selection for public showcase might not immediately seem cause for celebration. But Dickson asserts that the whole process was remarkably problem free, the only real moment of panic arising when it was discovered that the outline planning consent, which had been thought to be valid, had lapsed when the local plan changed to take the site outwith the permitted development area – entailing a few sleepless nights till matters were resolved.
Dickson observed: "In many ways the main stress point was the final filming which was fixed quite early on for 18 Oct and by that time it was completely unmovable because they had already committed to a schedule date for airing the programme just 10 days later. The project could have benefitted from another week or two to complete so it was a wee bit stage set for the actual filming in that none of the building services were really working properly. The heating hadn't been connected, the ventilation system wasn't commissioned and if you look carefully at the programme you'll see bits dangling from the ceiling. The clients hadn't even fixed their furniture yet so Grand Designs shipped up a full set."
Detailing the project's conception Dickson explained: "The initial concept for these projects will appear in a couple of days and then the rest of the project is really more about the technical representation of that. I remember we visited the site on a cutting, rainy, January day when it couldn't have been less hospitable. I think the project is very much an output of that experience on site. Our first thought was to hide from the environment and provide a wee cocoon that kept all that away. I guess if we'd visited that site on a beautiful summer's day it would have been a very different design.
"It's a very small house and that was just an effort to make the plan quite efficient, a spin off of it was the angular geometry which helps set it into the landscape. One of the precedent projects the client had showed us was Gokay Deveci's Lotte Glob house, a big long thin building pointing into the distance like a railway carriage. While it was a nice image the longer and thinner a building is the more inefficient it is in terms of planning as the proportion of circulation space to spaces just gets extruded.
"We took that initial idea and decided if we collect all the circulation space in one part of the building that gave immediate access to all the different spaces, that's how we arrived at a diagram that was fat in the middle. It was really an efficient planning diagram that resulted in that shape but it had the spin off benefit of minimizing its visual impact from the road and the building envelope to the north. The building is a bit like looking through a cagoule to the north where you get these biting winds."
As anyone who has ever watched an episode of Grand Designs will attest the format can be formulaic with production staff undertaking around 15 site visits of which only four will be with McCloud. Dickson noted: "Visits without Kevin were with the director, who doubles as the cameraman and soundman. They would try to arrange their visits to tie in with key events but arranged them around us rather than us fitting in with them. They'd phone up and ask what was happening on site and would make sure their visits tied-up. There was no point when they asked us to delay anything or cause disruption to the project."
Looking back at the show on 4OD Dickson is generally happy with the experience, though notes that "there were a few occasions when they (Channel 4) were editing the programme and would phone up and ask us to agree with what they wanted us to say", recalled Dickson. "They were very keen to make the point that this was the first contemporary building project on Skye, even though we've actually been working here for many years. They eventually did say that on the programme - not that we encouraged them too much."
Despite this Dickson said that everything McCloud says on camera is unscripted: "He'll just turn up, they'll point the camera at him and he'll just go" said Dickson. "I probably spent about two hours with him on film and I think I was distilled down to about 30 seconds for the programme. He's a very nice chap, I was expecting some kind of luvvy character but he's actually very down to earth and knowledgeable, as I guess you would have to be having done the programme for so long now."
Describing the practicalities of building in such a remote and wild landscape Dickson said: "You need to deliberately simplify your approach because you don't have access to the same suppliers. There is a danger in getting specialists up here, particularly for things like heating systems where they are happy to come up and install it but if the thing breaks maintenance can be an issue. Our realisation of that has caused us to simplify things down to as few moving parts as possible." In consequence the house at Kendram is stuffed to the gills with unbreakable insulation, log burners and stoves… forgoing a more temperamental electricity supply.
Kendram House points in an exciting new direction for the evolution of residential vernacular on Skye, proof that the island is changing at a more rapid pace today than at any point in its history. It also shows that there is more to housing in our most remote landscapes than a continuing proliferation of kit homes. Its impact on the perception of modern architecture locally (in such settings) cannot be overstated.
Back to January 2013