Booze views
30 Oct 2012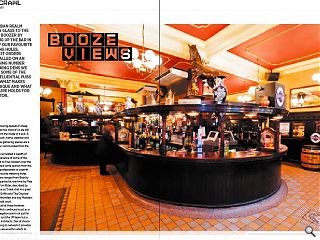 Here Urban Realm raises a glass to the humble boozer by propping up the bar in some of our favourite watering holes. With last orders being called on an increasing number of drinking dens we profile some of the most influential pubs asking what makes them unique and what the future holds for the sector.
Despite the growing appeal of cheap supermarket drinks most of us are still too familiar with the inside of a pub. A refuge from work, home, weather and lousy TV. these gathering spaces are a hallmark of our communities from the village up.
Having accumulated a wealth of first-hand experience of some of the finest (and not so fine) boozers over the yeas we solicited some opinion from the construction professionals to unearth the nations favourite watering holes.
Suggestions ranged from Babitty Bowsers, frequented at one time by Pete McGurn and Tom Elder, described by one contributor as 'Great chat in a great howff', to the Griffin and The Chip bar where Andy Macmillan and Izzy Metstein would often hold court.
Trumping all of these however was Stereo which continues to act as a natural congregation point not just for Ian Alexander and the JM team but a whole host of architects. Den of choice for those seeking to network it provides a pleasurable venue within which to while away an inordinate amount of time – and a great shout for Urban Realm's first ever drinks evening.
Elizabeth McCrone, head of listing and designed landscapes at Historic Scotland and researcher behind their in-house publication 'Raising the Bar, is better placed than most to speak with authority on the pub sector, having conducted a study into Scotland's historic public houses in 2007. Speaking to Urban Realm she said: "While some pubs can look formidable, or even intimidating, from the outside, the listing team was given a warm welcome across the country. Scottish pubs tell us much about our nation and they document how society and behaviour has changed since they became commonplace in the 19th century. Features like spittoons may seem revolting to us now, but it won't be long until accessories associated with smoking such as match strikers also become objects of interest."
Public houses may feel timeless but they are actually a relatively recent typology, first emerging from about 1880. These supplanted the taverns, inns and gin shops which had proliferated before and were initially defined by spectacular interiors of tiles, mirrors and stained glass to provide a welcoming hearth and living room for those who had none.
McCrone notes: "One of the key differentiators for Scottish pub design was what we drank and how we lived influenced the design of our pubs, making them quite different from our English neighbours. The gantry or bar back fitting with spirit casks is a feature of Scottish pubs because of the preference for drinking spirits rather than beer. Scotland was also not tied into the brewery system as much as England and pubs were commissioned by individual publicans rather than brewery companies leading to more varied and individual styles. Tenemental living also created our distinctive ground floor pubs in contrast to larger or free-standing pubs in other parts of the UK."
Of these historic pubs the category A Horseshoe in Drury Street, Glasgow is one of the most seminal, a rare survivor from around 1870. It's remodelling in 1885-87 and 1901 led to it being considered a trail-blazer thanks to an innovative free-standing island bar layout. This enabled quick service and better supervision of customers and stood in stark contrast to its predecessors, which were defined by secluded snugs.
This template became de rigeur in Glasgow for higher class pubs from the 1890's with publicans from as far afield as Inverness and Aberdeen. McCrone observes: "By the early 1900s the Horseshoe had become something of a Glasgow institution and was as popular with prosperous merchants as with humble clerks. The owner, John Scouller, who had purchased it in 1884, was a keen equestrian and the horseshoe theme is found throughout the fixtures and fittings, giving the interior a unique design."
Abbotsford Bar in Edinburgh's Rose Street meanwhile was product of one of the period's specialist public house architects, Peter Henderson. Designed in 1902 the interior is largely unaltered and is designed in an elaborate Jacobean Revival style. McCrone notes: "Henderson (1848-1912), was trained as both architect and engineer and became a specialist in the design of breweries and public houses and related buildings for the licensed trade. He was in considerable demand as a designer of public houses and some of the most elaborate pub interiors in Edinburgh are from his hand.
"If you are looking to have a drink in streamlined 1930s style look no further than The Portland Arms on Shettleston Road in Glasgow. Designed by Thomson, Sandilands and MacLeod in 1937, Art Deco design was employed for this working man's pub. The interior of the Portland is outstanding because of the careful attention to detail in the woodwork and veneers, the chrome trimmings as well as the unusual lowered streamlined canopy over the bar. Incorporated into its design was a small partitioned area for ladies – a sign that was slowly becoming more acceptable for women to socialise in bars.
"Post-war austerity hindered the building of new pubs until around the 1960s. However, on the corner of Bridge Street and Nelson Street in Glasgow's Gorbals is a gem of 1960s design. An earlier building on the site was comprehensively remodelled in the 1960s, probably inspired by the huge development which was concurrently taking place in the Gorbals area. The 1960s scheme at the Laurieston Bar is comprehensive and very much of its time. From the distinctive black and white tiling on the exterior to the lettering used on the doors and entrances as well as the extensive use of Formica, the Laurieston is an excellent example of 1960s public house design of which very few examples are thought to remain today. For all its modernity it retains a very late example of a jug bar in its remodelled design through the entrance in Bridge Street. The off-sales section or jug bar, also known as the family department, was a small area or booth where women and children could buy liquor without actually entering the main bar."
As last orders are called on traditional boozers falling to the advance of theme pubs, wine bars and gastropubs it is heartening that a well-deserved drink can still be had by those who know where best to drink up their surroundings.

Architecture and Music
Beginning my architectural education in 1980 in Glasgow coincided with the blossoming of the post –punk music scene in the city .There were a small number of bars perhaps two that fostered such musical taste .There were very few bars in Sauchiehall street and the Merchant city was a mysterious collection of warehouses (a quiet place) that was a short cut across the city grid to get to Glasgow Cross. There was also a bohemian café bar at Charing Cross in which bands would occasionally play called Warzikas. There was no bar at the art school so folk retired to Nico's or the Griffen and then sauntered back up Scott street to Maestros for a late night dance .
Fast forward 32 years and it's a late Friday afternoon in our studio in West George Street .Rather than running off home we'll break off around 5pm and head down to a bar in Renfield Lane called Stereo .It originally started off life in the West End just off Dumbarton Road but in 2007 moved into the empty Charles Rennie Mackintosh Daily Record Building in the Lane.
Not immediately noticeable, due to the lanes narrow perspective, the building becomes more visible the closer you get. It is clad externally in white and green glazed tiles designed in the Glasgow tradition to amplify light when away from a street frontage.
The ground floor is raised off the lane which gives a pleasant vantage point when inside .The room is long and narrow with the long side to the lane . The large arched windows must have been used originally to load the freshly printed and bound bundles of Daily Records onto waiting carts.
The atmosphere is one of mild intervention (I mean that in a good way). The interior comprises a red mosaic fronted bar, some custom graphic, salvaged benches, tables and chairs along with custom made boxes….at one stage I spotted an old pair of wooden school desks with flip top lids. Around 4-5pm the bar is quiet with perhaps someone at the bar is reading the paper but this scene soon fills up with folk arriving to meet their friends .
The occupants are quite interesting. A diverse range of ages but you get the feeling that they are connected by their music collections and interests. The music, some I know some I don't, is not corporate and in a sense along with the customers is the identity of the place.
The interior is not over designed but retains the layers of alterations made over the years with a few changes to accommodate the bar kitchen and toilets .
The 1960's balustrade with its laminate infill panels is worthy of note as you descend into the bowels of the building into what feels like a concrete bunker.Here is where the action is ! Clubs, dancing and gigs by independent local ,national and international acts .It is a fair height and I imagine must have contained the printing presses during its original occupancy.
We'll grab a table near the window. Our conversations will vear off in the direction of proposed weekend activities, music, cycling trips and occasionally architecture. Sitting for a while we'll catch up on lifes interesting details which may have been lost over the last five days.
After about an hour one by one or two we head off walking over the usually reflecting rain soaked cobbles in the Lane and off in the direction of Hope or Renfield Street where the noise of passers by and traffic intensifies away from the respite of our favourite city centre pub.
Ian Alexander,
regional director,
JM Architects
Back to October 2012