Autumn manifesto
30 Oct 2012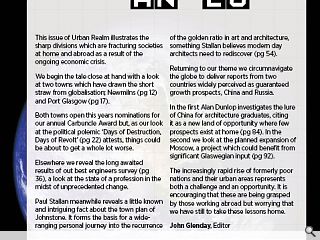 This issue of Urban Realm illustrates the sharp divisions which are fracturing societies at home and abroad as a result of the ongoing economic crisis.
We begin the tale close at hand with a look at two towns which have drawn the short straw from globalisation; Newmilns and Port Glasgow.
Both towns open this years nominations for our annual Carbuncle Award but, as our look at the political polemic 'Days of Destruction, Days of Revolt' attests, things could be about to get a whole lot worse.
Elsewhere we reveal the long awaited results of out best engineers survey, a look at the state of a profession in the midst of unprecedented change.
Paul Stallan meanwhile reveals a little known and intriguing fact about the town plan of Johnstone. It forms the basis for a wide-ranging personal journey into the recurrence of the golden ratio in art and architecture, something Stallan believes modern day architects need to rediscover.
Returning to our theme we circumnavigate the globe to deliver reports from two countries widely perceived as guaranteed growth prospects, China and Russia.
In the first Alan Dunlop investigates the lure of China for architecture graduates, citing it as a new land of opportunity where few prospects exist at home. In the second we look at the planned expansion of Moscow, a project which could benefit from significant Glaswegian input.
The increasingly rapid rise of formerly poor nations and their urban areas represents both a challenge and an opportunity. It is encouraging that these are being grasped by those working abroad but worrying that we have still to take these lessons home.
John Glenday, Editor
Back to October 2012