Carbuncle Awards 2012
24 Oct 2012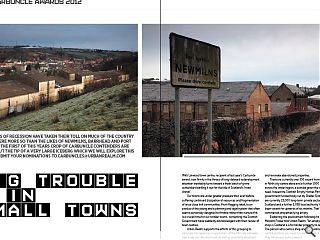 Four years of recession have taken their toll on much of the country but nowhere more so than the likes of Newmilns, Barrhead and Port Glasgow. The first of this years crop of Carbuncle contenders are nothing but the tip of a very large iceberg which we will explore this winter. Submit your nominations to carbuncles@urbanrealm.com
With Linwood town centre, recipient of last year's Carbuncle award, now firmly in the throes of long-delayed redevelopment attention inevitably turns toward a fresh batch of grime contenders battling it out for the title of Scotland's 'most dismal'.
Our towns are under greater pressure than ever before, suffering continued dissipation of resources and fragmentation of once close knit communities. From flagging retail, to an exodus of the young and a planning and legal system that often seems perversely designed to throttle rather than nurture this is a crucial time for our smaller towns, something the Scottish Government have belatedly acknowledged with their review of town centres.
Urban Realm supports the efforts of this grouping to eliminate discrepancies in application of the VAT rate between new build and refurbishment, as well as amending leasehold legislation to make it more economic for tenants to purchase and renovate abandoned properties.
There are currently over 100 vacant homes above shops in Perth city centre alone and a further 1,900 empty homes across the wider region, a scandal given the degree of housing need. Indeed the Scottish Empty Homes Partnership, a government funded body run by Shelter Scotland, reckon there are currently 23,000 long-term private sector empty homes in Scotland and a further 3,095 local authority homes that have been vacant for upwards of six months. That's on top of 20,000 commercial properties lying empty.
Explaining the predicament following his appointment Malcolm Fraser told Urban Realm: "An empty property above a shop in Scotland is a far harder property to sell than in England. The person who owns a shop and the building above it can't sell the upstairs, you need to control the roof and access, so they will always look to lease it.
"In England you can lease for up to 150 years but in Scotland there is a legal limit of 20 years. That means the property is worth nothing and so it's not worth doing up. With a simple change in the law you would suddenly have tens of thousands of properties coming back on the market - it would be a huge re-emphasis on the centre of towns."
Another bone of contention lies in discrepancies in the application of VAT, with renovation work to a property in the centre of town incurring a 20% rate whilst new builds pay nothing.
One locale which would benefit froma change is Newmilns, Ayrshire, visited by architect Mark Chalmers who witnessed: "A boarded-up High Street, lots of derelict lace mills, plus a refractory works which closed down a couple of years ago putting hundreds out of work." Chalmers added: "It has a lovely setting, but feels pretty down in the mouth, and previous regeneration attempts are apparent but haven't worked."
As ever it's easy to identify what is going wrong but much harder to implement genuine reform; that is why Urban Realm will be looking at a raft of potential solutions for failing places, such as whether towns need to pursue ever greater specialisation through boutique shops or harnessing ocal history to entice shoppers sick of the chain stores and identikit malls that populate our cities. But is championing arts led regeneration through culture and festivals enough?
The Carbuncle Award 2012 winner will be revealed in January.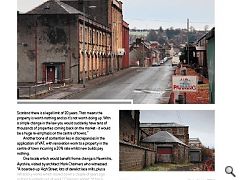 Back to October 2012