Manifesto: Summer 2012
|
Send to friend
4 Aug 2012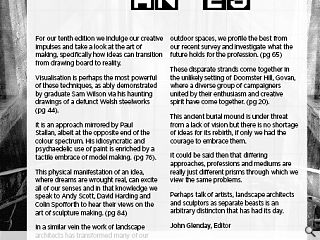 For our tenth edition we indulge our creative impulses and take a look at the art of making, specifically how ideas can transition from drawing board to reality.

Visualisation is perhaps the most powerful of these techniques, as ably demonstrated by graduate Sam Wilson via his haunting drawings of a defunct Welsh steelworks
It is an approach mirrored by Paul Stallan, albeit at the opposite end of the colour spectrum. His idiosyncratic and psychaedelic use of paint is enriched by a tactile embrace of model making.
This physical manifestation of an idea, where dreams are wrought real, can excite all of our senses and in that knowledge we speak to Andy Scott, David Harding and Colin Spofforth to hear their views on the art of sculpture making.
In a similar vein the work of landscape architects has transformed many of our outdoor spaces, we profile the best from our recent survey and investigate what the future holds for the profession.
These disparate strands come together in the unlikely setting of Doomster Hill, Govan, where a diverse group of campaigners united by their enthusiasm and creative spirit have come together.
This ancient burial mound is under threat from a lack of vision but there is no shortage of ideas for its rebirth, if only we had the courage to embrace them.
It could be said then that differing approaches, professions and mediums are really just different prisms through which we view the same problems.
Perhaps talk of artists, landscape architects and sculptors as separate beasts is an arbitrary distincton that has had its day.
Back to August 2012