George Clarke
|
Send to friend
2 Aug 2012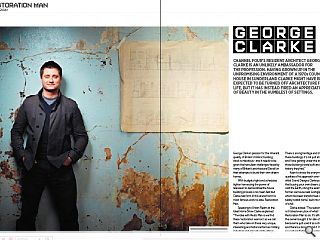 Channel Four's resident architect George Clarke is an unlikely ambassador for the profession. Having grown up in the unpromising environment of a 1970s council house in Sunderland Clarke might have been expected to be turned off architecture for life, but it has instead fired an appreciation of beauty in the humblest of settings.

George Clarke's passion for the inherent quality of Britain's historic building stock is infectious - and it needs to be given the herculean challenges faced by many of Britain's architectural David's in their attempts to build their own dream homes.
With budgets tight and schedules tighter harnessing the power of television to democratise the house building process is no mean feat but Clarke has form in this arena from his most famous work to date, Restoration Man.
Speaking to Urban Realm at the Ideal Home Show Clarke explained: "The idea with Resto Man is we find these 'restoration warriors' as we call them who take on these very unique, interesting and historical former military, industrial and agricultural buildings. There is a long heritage and story behind these buildings, it's not just about people and I love getting under the skin of why those buildings were built and what history they had."
Keen to stress the everyman qualities of his approach over the more elitist Grand Designs Clarke points out that buying your own dream plot needn't cost the Earth, citing the example of a former ice house near Lochgilphead which has been transformed into a 'telly tubby hobbit home' built into the side of a hill.
Clarke added: "The reason I love it is it ticked every box of what I wanted Restoration Man to do. It's affordable, the owner bought it for £6k off a farmer because he just used it as a storage shed and there's a story behind it. It was used as a natural fridge. They waterproofed it, tanked it and built a modern extension and it's now one of the warmest and most naturally insulated houses in Scotland. We called it the Fox's glacier mint extension because you've got this really rugged turf building and then this minimal, beautiful, glass extension at the end with the most beautiful view over the loch."
Now Clarke is looking to return to our screens with a subtly different proposition, a show which hasn't yet even got a title but has been provisionally titled 'Micro Designs'. Clarke divulged." It complements Grand Designs which is all about the big builds, people spending £100k's, but what I've always been fascinated by is how creative we are in Britain at small scale living and how we do quirky things. It's a mixture of Restoration Man and Grand Designs, albeit on a smaller scale."
Even Clarke himself is getting in on the act as he begins an eight week restoration of a 1970s static caravan, a much maligned housing type which holds particular sentimental ties from his own childhood. Clarke explained: "To be honest with you the story is I used to own a second home and I felt guilty. Our occupancy was probably about 10-15% so I said, you know what, not only is that a waste of time but it's also a waste of money. I thought someone should live in it full time so I sold the house to a local. I then bought a caravan off eBay for £300."
This exercise in extreme downsizing has inspired Clarke to chart the transformation of an idiosyncratic cavalcade of unlikely structures ranging from beach huts to shipping containers and a motley collection of vehicles which would put Wacky Races to shame. Everything and anything from railway carriages, a tube train, 1962 Bedford Bus (still roadworthy) and a helicopter (sadly grounded) will be given custom makeovers as Clarke takes time out to clamber around some of Britain's most diminutive designs to glean inspiration for his own cramped abode.
These travels have already taken Clarke to Scotland, where he's been filming a pair of entrepreneurial farmers who've hired a local architect to realise a mad cap idea to produce clusters of micro timber framed pods that will soon pepper their fields. It is an excursion which Clarke particularly enjoys, his family name being Mackenzie on his grandfather's side. "I'm a massive fan of Scotland I used to come a lot as a kid and have spent a lot of time in Glasgow and the Highlands, I felt more Scottish than English when I was growing up" Clarke explained. "I'm proud of being British. I never really think of myself as English unless there is a football match on. When I was at Newcastle University our first architectural road trip was up to Glasgow. Even going on a tour of the Mackintosh museum when I was 18 was a real inspiration. My favourite building in Britain is still Mackintosh's School of Art.
Clarke continued: "Architecture is nothing without people, people bring life to it and it's lovely to see how people's lives can be transformed through small scale architecture. It gets away from the doom and gloom about the euro and the economy and then all of a sudden hearts are lifted by very straightforward families who don't necessarily have a lot but are saving a bit of money, taking a little risk and doing something that's really fun. We're famed for being eccentric and creative but we're also well known for being obsessed about our homes and I think it's brilliant that people are doing the unorthodox, the unusual and the alternative. Instead of just building a straightforward extension on their house they're buying a shipping container instead or a helicopter and turning it into a holiday let."
It isn't all fun and games for Clarke however as simmering below the surface are some very real and seemingly intractable problems which have dogged Britain for the past few decades through boom and bust; a disregard for our humbler traditional building stock and the dire standard of new build volume housing. Having identified these problems Clarke believes he can offer the solutions.
"I've never covered a new build house, ever." Clarke proudly states. "My revolution is about restoring our existing properties and I don't mean in a dusty ye olde way but a creative way. We tend to take our Victorian homes for granted but actually they are known throughout the world through the likes of Coronation Street. It even ties in with what Kevin is doing with self-build projects under the empty homes banner. We make the best self-build programmes in the world but actually we've got the fewest number of self-builders in Europe.
"I'm optimistic about the future but I'm not positive about the situation now. The house building industry built about 100,000 houses last year but we need about 300,000 a year. What I'm pushing for is people coming together on self-build projects; we are very unique in Britain as one of the only countries with enormous house builders. They've got a monopoly on new building and the quality of the new stock just isn't good enough. They control the market, there's too much land banking. We complain that there aren't enough houses being built but actually that's no-one's fault but the developers. They're not building them now because there isn't the demand because people can't get mortgages and if they build more and demand isn't there they won't achieve as high a unit price so they drip feed the market to maintain high individual unit prices.
"What pisses me off with the big house builders is they build homes in Scotland which are very much like homes in Cornwall. Similar use of brick and style of architecture – it's become a really bland watered down mishmash of styles that they think people want to buy into. There are not many schemes I could take you to around Britain and say this celebrates a way forward of 21st century planning, I can hardly even think of one. But I can take you to lots in Amsterdam or Copenhagen, but we're just not doing it here. It's all very well having a go at Grant Schapps but actually councils have to manage things at a local level. Individuals should be out there doing more self-build or coming together and forming cooperatives and their own development companies. The government have just launched a self-build portal online to advise people how to do that."
It's clearly not just developers who are the bogeymen in this picture however with Clarke reserving particular umbrage toward the English planning system, which Clarke brands an "absolute mess". Clarke railed: "It's backward looking, there's too much red tape, bureaucracy and small scale nimbyism.
The planning system has always been set up to be anti-development that's where the premise starts. The coalition government are trying to turn that around by being pro development to start off with and its turning a 1200 page planning document into a 50 page one. That's all well and good but I don't think it should just be about policy. It's about planners being more open minded to creative things. I'm mind boggled that when someone proposes an extension at the back of their house and it takes three or four months to achieve planning for it when actually there's been a lot of dross built in the same street over the past 20 years.
"It's ironic that over the past 30 years, when the planning system has probably been the strongest it's ever been – all we've built is shit. If there is less red tape and bureaucracy I think we'll get better homes, better buildings and better communities."
Grand Designs and Micro Designs may be a form of reality TV but sadly the products and ideals they depict are at odds with the reality we all see when travelling the country. There is a danger that such shows far from galvanising a new generation of self-builders merely serve as a form of escapism for millions trapped in their own rabbit hutches dreaming of a better life. In that regard it is Clarke's enthusiasm and energy represent his best shot at shaking Britain from its lethargy and going some way toward his own dream of making the projects featured the norm and not the exception.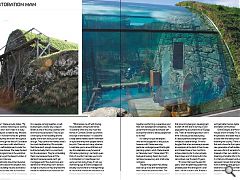 Back to August 2012