Awards or Rewards?
|
Send to friend
24 Apr 2012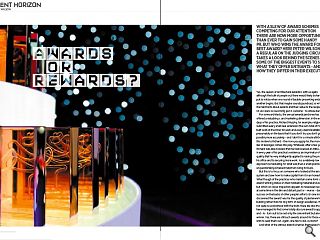 With a slew of award schemes competing for our attention there are now more opportunities than ever to gain some useful PR. But who wins the award for best award? Here Peter Wilson, a regular on the judging circuit, takes a look behind the scenes of some of the biggest events to see what they offer their entrants - and how they differ in execution.

Yes, the season of architectural awards is with us again, although the bulk of people out there would likely be hard put to notice when one round of bauble-presenting ends and another begins. But that maybe sounds jaundiced, so what are the hard facts about awards and their value to the recipients? Or, as Cicero so succinctly put it, cui bono – to whose benefit?
For some architects, the annual awards jamboree has offered a valuable p.r. and marketing dimension. In the early days of his practice, Richard Murphy, for example, religiously submitted every small rear extension (the sum total of his built work at the time) for each and every award available, presumably on the basis that if you don't try you don't get, or possibly more accurately – and I don't for a minute attribute this motive to Richard – the more you apply for, the more the law of averages comes into play. Whatever, after a few years Richard was able to boast that he had received an RIBA Award in every year of his practice's existence, an imprimatur of quality that he very intelligently applied to raising the profile of his office and to securing more work. As a relatively low cost approach to marketing for what was then a small practice, this unquestionably achieved maximum bang for buck.
But this is to focus on someone who looked at the existing system and saw how to make capital from it in an honest way. What though of the practices who maintain some form of award-winning status on their marketing material and websites but which on closer inspection appears to have been secured at some time in the dim and distant past or – worse – claim success on the backs of other people's efforts (in one instance, I discovered the 'award' was for the quality of plasterwork in the building rather than for any form of design excellence). Whilst not quite so economical with the truth, there are also those who have managed to find some totally obscure award to apply for and - lo - turn out to be not only the sole entrant but also the winner. Yes, there are still such awards around for those who wish to seek them out. Again, one has to ask, cui bono?
And what of the various award schemes themselves? Do we really need so many? And are entry criteria and judging sufficiently rigorous for possible clients and indeed the wider public out there to be able to trust the judgements made and the decisions announced? Put simply, are all or even most of the current schemes really worth the effort? I ask because entering awards – especially in these difficult times - is an increasingly expensive business, particularly for small practices and one that requires judicious selection to ensure best value from available resources. What then, is the inside track you need to know about award schemes?
For whatever reason, over the past decade I've found myself being asked to participate as a judge on various award schemes but until three years ago chose not to accept any of the invitations proffered. I had however written critically about a number of architectural awards, the Stirling Prize being probably the most questionable in terms of the agendas underlying its judges' decision-making. And so I decided to take up the invitations and thus, as a side benefit, found myself with many opportunities to see from the inside how things actually worked. Because – and assiduous entrants will already know this – not all schemes are the same, not all have clear and justifiable selection criteria (for both entrants and judges), not all have transparent judging processes and not all have the resources or the skills to generate wide publicity for the winners. Some are arguably just vehicles for generating money for their organisers from the lavish awards ceremonies involved, some seek to convey a veneer of professional or institutional approbation, some have creditable agendas driving their assessment process whilst others suffer badly from the bombast or opinion of the people chairing the scheme that particular year.
By way of example of the latter, on one occasion I experienced a former RIBA President strolling into the room where all the entry panels were arranged and announcing to his fellow judges that a quick look around would allow them to discount 80%+ of the submitted projects, thereby allowing judging to progress more quickly. Not for him any consideration of the time and trouble taken by practices to prepare their entries, or even the need to read their accompanying texts – no, this was all about the kind of architecture that appealed to him. It need hardly be said that the Chairman's Award that year was not one that anyone was ever likely to remember thereafter. And then we have the chairmen who seek to promote particular members of their peer group, knowing there is a quid pro quo to be had in the judging of other award schemes for which they themselves have entered. Yes, it happens too – Scotland can be just too small a place at times.
Probably the most rigorous award scheme I've found myself on the jury of is that of the Carbon Trust, insofar as the criteria spelled out to possible entrants is both precise and demanding. Nobody enters this one lightly, the amount of information required on every aspect of the building's carbon credentials being so extensive and time consuming. As a result there are not ever very many entries, but the judging is scrupulously objective and a complex scoring system applies to ensure the winning project is outstanding in terms of its energy use. Unfortunately, because design is somehow not seen to be part of the process required to achieve this, the final choice -whilst a paradigm of excellence as regards its sustainability credentials - does not always come with the phrase 'architectural gem' attached. Still, this award scheme makes no pretensions in this regard, studiously keeping its eye on its own particular ball.
Rigorous too are those schemes that actually send the judging team off around the country to review the actuality of the shortlist. This can be demanding time-wise for the jurors, but does – in the best instances – generate some well-informed debate. In this respect, step up to the plate Glasgow Institute of Architects – anyone winning through its forensic assessment process genuinely deserves their prize.
The same might be said of the Saltire Trust Housing Awards, a scheme I had savaged in print four years ago for what seemed to be a fairly incestuous and amateurish approach. The organisers then cutely invited me to join their judging panel, although I would quickly say this turned out not to be a ploy on their part to obviate future criticism but a genuine response to the points I had raised. This too has evolved into a serious and time consuming assessment process – with a very large team of judges - and one that has continued to refine its selection criteria in response to points raised in the jury's debates.
The Scottish Design Awards and the Roses Awards are probably the high points in the calendar when it comes to lavish – and fun – awards ceremonies, but the cumulative price can be high, what with cost of photography, panel preparation, entry fees, participation in the dinner and attendant costs of guests and drink. Both of these awards are judged by invited teams of architect jurors, most of whom come from the metrarchopolis, bringing with them southern perspectives and occasionally southern prejudices. These awards attract by far the highest number of entries and are judged on the quality of information submitted, i.e. the panels and texts, meaning that aforementioned judges may have no prior knowledge of any of the projects and are thus required to make their assessments primarily on the quality of the photography submitted. This may sound harsh, but savvy applicants will pitch in for the categories likely to attract the fewest entries – there are very many award categories and some may only have one applicant and – usually – one winner. Don't say I didn't give strong hints.
There are other award schemes I've now had a direct insight to and many others I've looked at in some detail from the outside. The Aberdeen Society of Architects, for example seems to receive an inordinate number of entries whilst if you apply to the Stirling Society of Architects your chances of securing one of its awards are especially high since it only has 13 practice members.
When all is said and done, however, the big question is whether or not awards actually raise the standard of architecture in Scotland year on year? Given the plethora of schemes around and the vague assessment criteria of some and the sometimes arbitrary judging involved, it's hard to feel confident on this point. Were it the case, the sheer number of awards available should by now have delivered an astonishing number of world class buildings in Scotland and seen our architects feted around the globe. Sadly, this is not (so far) the case and one is left to wonder whether fewer awards would be a better way to achieve a real raising of standards. I've argued in print before that a First Minister's Award that actually carried a new public commission as a prize would have the whole profession working their collective socks off to produce high quality buildings worthy of shortlisting. Until that happy day arrives, the awards bandwagon will roll on and along the way and amongst the many schemes some genuinely excellent buildings will find themselves justly premiated whilst, sadly, some truly wretched projects will somewhere find an unmerited reward.
Back to April 2012