Grand Designs
7 Dec 2010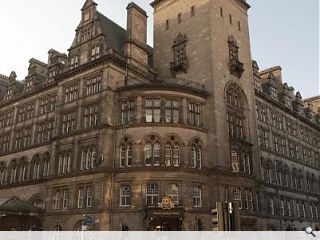 It has welcomed guests as distinguished as Sir Winston Churchill and Laurel and Hardy and is setting for the world's first transmission of long distance television pictures courtesy of John Logie Baird, but in more recent years its reception has been somewhat poorer.
Previously trading under the name Quality Hotel it was regarded as something of a misnomer by those unfortunate enough to spend the night there, its grimy grandeur being insufficient to counter faulty lifts, mysterious stains, blockages and clanking pipes. But now the newly christened Grand Central is the centre of attention in Glasgow once more following a £20m investment by hotel and conference operator Principal Hayley.
That cash was sorely needed and has served to rejuvenate the dilapidated Flemish/gothic pile and reverse 35 years of under investment and neglect as Donald Crerar of Crerar and Partners, the architects tasked with re-imagining the famous haunt, revealed when contacted by Urban Realm: "The building was in as near to derelict a condition as an occupied building can be. The Central was not invested in, they didn't keep up and just kept trading it down so at the end of its sad life it was in such an appalling condition you simply wouldn't have believed it. The building was in such bad condition that you could have spent £50m easily but what we've done is repair the building to the point where it is now maintainable by the client. It's not in a condition where you can walk away and leave it for the next 25 years and do nothing."
The house of horrors that the hotel had become was reflected in contemporary tripadviser reviews advising of flickering lights, boarded up doors, clanking plumbing and corridors likened to scenes from The Shining. Crerar recalled the nightmare: "If a light bulb blew in a room, they didn't put a new bulb in; they just turned a key and left. If there was a puddle they put a bucket under it and left it. The roof was in an appalling condition there was rot throughout the whole thing, it was a wonder they were still trading as a hotel. It was a very, very sad place indeed."
At 350k sq/ft with 186 bedrooms and 150m long corridors this is not a small place either. Leanne Scobie, Sales Manager for Principal Hayley added: "Originally there were 220 rooms, the majority single, so we've knocked walls down to make the rooms bigger. But we've kept original fireplaces, cornicing, marble flooring and pillars. That's all been restored. We're very lucky with what we had to work with. It was paramount that this was a restoration project as well as a refurbishment; you see that with our brand. We don't build shiny, all singing all dancing hotels; instead we operate hotels such as the George in Edinburgh and The Palace in Manchester. They're all big old buildings."
Despite these formidable difficulties one advantage stood in Crerar's favour, the continuation of use as a hotel meant little with engineering work was required with most spaces largely intact. Thus on a tight budget in a very tight period of time the guts of the building were swiftly sorted. Crerar explained: "We had a really good run with Historic Scotland and the planners in Glasgow. We told them we had a chance, a client who was interested in investing in the property, he may not, but what we can't do is wait until next year debating the finer points. I have to say, the planners bent over backwards to achieve the desired timescales for our client, from buying the property to carrying out the first work took something like 15 weeks. The council was acutely aware that this was a gateway building, there are 110,000 people a day who travel through Central Station and for many this is their first glimpse of Glasgow."
Helping Crerar in this aim was the fact that they weren't doing anything controversial, "we've really just taken a lot of stuff away" explained Crerar, whose priority was simply to get the building back up and running. This saw 65 single bedrooms in the hotel, which had been subdivided, knocked together to recreate old rooms that were there. Another intervention saw a 3.5m high false ceiling in the ballroom raised back up to its original height and the façade, which was cleaned (badly) in the 1980's has been washed from the ground floor down. So common sensical are the interventions that Crerar's predecessor, Robert Rowand Anderson, would be able to navigate the echoing halls with ease and likely feel right at home in the stately rooms.
Successive phases of development will see a Tempus restaurant open in early November, necessitating a temporary restaurant for a short interval. It will be a key addition to the hotel's repertoire, occupying the spot of the original Malmaison restaurant on Hope Street, where the Malmaison hotel took there name from. Previously leased out separately Principal Hayley negotiated to acquire the space to bring it back into the hotel and form the main restaurant for guests and public. The additions won't end there either, subject to listed building approval; work will start on levels five, six and seven. This forgotten attic of the building was in a sorry state as Crerar recalled: "The previous owners really just used that as a buffer from the rain. They were in very poor condition but offer some of the best views in Glasgow and are very, very quiet and have stacks of character. I'm looking forward to bringing the rooms up there back into operation,
with a bit of luck that will be in March/April next year."
Another area of potential expansion is the basement, although Scobie said: "It's not to say we won't do something with the leisure club in the future. It depends how much people want a leisure club when you're right in the heart of the city centre, from the hotels point of view it's not something that's absolutely essential. All hotel chains have their own way of rating things, Principal Hayley are very much an upscale 4* brand but you do get other accreditations from other businesses from Visit Scotland the AA and others; they visit undercover and mark it for you. But yes there are certain criteria and the health club is one part of that. But we're very happy to be 4*. In Glasgow the line between 4* and 5* can be very blurred."
An earnestness to spend money soberly was eased in the introduction of set piece extravagances however, notably a dramatic chandelier which hangs weightlessly through all five floors of the hotel. Its glazed strands glistened in the flashlights of numerous tourist cameras firing as guests made their way upstairs to the rooms, an indication of money well spent. This stairwell also leads to the true heart of the hotel, a sumptuous champagne bar which had, inconceivably, been hidden behind false walls, a pink and yellow 1970's bar and blocked up windows. Now it is dominated by a spidery glitter ball suspended from the ceiling; a bulbous, glazed and luminescent sphere of glass tendrils which shift dynamically when buffeted by wafts of air. An arresting side effect of which is the splaying of light across marble pillars, floor and chinking champagne glasses. It forms part of an extensive interior makeover at the hands of Charles Leon Associates, who have draped spaces in a rich mix of purple and gold hues. "The interior designer took his inspiration from the wheels of the trains so there's a circular theme that runs throughout the hotel", explained Scobie.
"It's interesting the number of people who hadn't been here for thirty years and said, are you allowed in?" Notes Crerar. "When the hotel traded down it effectively became a budget hotel, the public weren't really welcome. There was nothing to come in for; it was almost a resident's only operation. Our client really does want the public to come back into this building because there aren't many Victorian hotels left in Glasgow of this size. That's why the champagne bar for the restaurant is completely open to the public and it does regain some of the drama which it had in its heyday in the pre war years through to the 40s and 50s."
Acoustic considerations played a part in the design of the building, a city centre locale inevitably drawing 2am shouts from the street but nevertheless Scobie believes the property represents a sound investment: "The location is key for us in welcoming delegates from all across Scotland as we're obviously right next to Central Station and the IFSD. We benefit from the corporate market during the week; leisure at the weekends, dances on Thursday's and Fridays and weddings on Saturday's, every day is different." Scobie added: "It feels like our hotel now."
The Grand Central Hotel was once central to the affections of Glaswegians, that it is so again is just grand.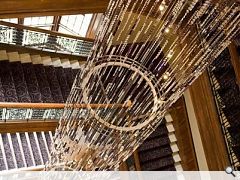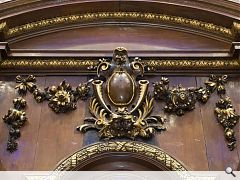 Back to December 2010