Tee off or teed off?
7 Dec 2010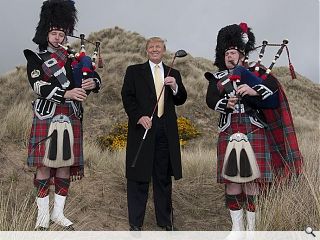 With a putative presidential bid in the pipeline and a recently bestowed honorary degree from Aberdeen's Robert Gordon University the world's most pugnacious developer has come a long way from his family roots on his mother's side to the Isle of Lewis. It is the £750m Trump International Golf Links at Menie however which is of most interest to Urban Realm. Proponents hail it as an important step toward diversifying the Aberdeen economy but vocal opponents counter it will defile an area of outstanding natural beauty. But with the detailed masterplan approved and construction of the golf course now proceeding apace can Aberdeen have its cake and eat it? We travelled to Manhattan to find out.
Arriving at the ostentatious bling of the Trump organisations bronze Fifth Avenue citadel it is easy to see why some might fear an insensitive approach. With Donald Trump himself away filming the latest episode of the Apprentice, or doing his hair, it was left to the Trump organisations in house director of project design and development together with George Sorial, managing director of international development, Trump's senior lieutenant, to show Urban Realm what Aberdeenshire can expect.
Standing within the 26th floor eyrie of Trump's inner sanctum Seidner waved to the extensive vista across Central Park and stressed: "If you look out the window you see a big glass tower next to some modern structures and all next to a background of historic buildings such as the Plaza Hotel. Trump does modern, we're not against modern. But what we do better than an individual style is we're contextual, so in terms of the landscape in Scotland a modern building is not necessarily what we think fits the best because we want to be contextual."
Sorial identified the appointment of Gareth Hoskins architects as a key adviser and consultant on the project as critical to achieving this: "We have the utmost respect for Gareth. We consider ourselves lucky that he's working on the project and when I say that I mean that both professionally and personally. We were really determined to hire somebody with local knowledge of the process and products which sell and who could also build up a good working relationship with Architecture + Design Scotland. Whether you're an architect, lawyer or engineer, you have to really understand what your client wants and obviously us being a different kind of developer it was a little bit of a struggle at the beginning but Gareth really grew to understand what we were looking for. Despite what you may have read or heard and despite what our critics may suggest we actually take great care in creating a product that is site specific, that works with the land and enhances it. What may be appropriate in Manhattan, high rise, all glass, is certainly not what you'd get in Scotland. So we go to great lengths to provide a product that suits the local environment. We're not going to put up something that's going to clash with the surroundings."
It is ironic therefore that the defining architectural element of the scheme, a hotel exceeding 10 storeys in height, was actively pushed for not by Trump but from within Scotland: "Believe it or not A+DS was driving that," Seidner reveals. "Gareth was a big force behind building a signifier, something on the escarpment that acts as a landmark but A+DS wanted to take this one step further stating 'we want this to be the symbol of Aberdeen' so with all the pressure that's already on Gareth to design, now he has to design this iconic image! At the same time we want to make sure that we're sticking within the characteristics of the landscape. You don't want to just replicate a glass high rise on this escarpment; it would look like we'd picked up Trump tower and put it down."
A key benchmark for the design has been Menie House (since renamed as McLeod House by Trump). Trump views the property as his personal residence and has embarked upon an expansive reconditioning that he wants coordinated to ensure that this project, his house, to restore its former character. It is this character which is serving to inform the materials and serve as a precedent for the aesthetics and facades which will be evidenced in the design of the clubhouse for which detailed design work is currently underway ready for an application to be submitted early next year, in time for a 2012 opening. "It's going to be a significant building within the dunes, a pivotal point as you come down the entry road through a cut in the existing escarpment" says Seidner.
Seidner adds: "It will be nested within the dunes and you'll have views of the course but more importantly you're going to have views out to sea. We're thinking of traditional materials with the introduction of a lot of glass to take advantage of those views. What becomes important with the clubhouse is not just the four facades, you have that fifth façade of the roof as another area which has to be designed because when on top of the escarpment you'll have views down into the building."
Speaking to Urban Realm Gareth Hoskins noted of the masterplan: "It was really about developing clear zoning for the site because on the resort side there's quite a transient nature whilst on the other side of it there are people coming to make their homes in the residential village. How do you make the two sit within the site, what were the best places to site them? There's a pronounced ridge rising out of the ground that we've sited the hotel on for a central presence, the other accommodation we have pulled back into the landscape around three natural bowls that sweep around. Looking at the very long elevations of Turnberry or Gleneagles there is a history or expectation that your resort hotel will have a presence. We have suggested terracing the main elements into the ridge so that the thrill of banqueting and events fit into the ridge with a glazed first floor and looking out to sea along a very simple bar of accommodation around five storeys in height with a taller single point element."
Another area of focus for the team was that of permeability, particularly the right to roam along the beach. "We actually outlined direct routes to show that people can walk through in six different places," said Seidner. "People can walk through our golf course not just from residential areas but along cycling paths from our neighbours such as Balmedie. We want to make routes which are maintained, well designed and just like an entry road as a statement of progression and arrival. That's exactly what these routes do, none are dead straight lines right through the project, they're picturesque routes.
"From the outset Mr Trump always wanted to do something in Scotland", affirmed Sorial. "I think it's important to note his roots in Scotland can be traced back to his mother who was born a Gaelic speaker. We're not talking about his grandmother, his great grandmother, but his mother. When all this started Scotland was the place that he really wanted to do the course. It's his ancestral home and the birthplace of golf. Having said that we looked all over Europe and when we saw this place it was as they say a no brainer. I think there was some scepticism from others about whether or not we'd be able to over come some of the challenges of the Site of Special Scientific Interest SSSI but from the outset we were very candid and forthright, perhaps even too forthright about what we intended on doing. We've never misled anyone in any way, people have criticised us for what we are doing but nobody's ever challenged the veracity of any of our submissions or even challenged any one of our consultants.
"Two thirds of the SSSI is on land that we don't even own. This is one small part of the site which goes many miles north. Out of the third that we do own we are only stabilising about 10% of it so really we're stabilising the minimum amounts possible. That's actually one of the reasons we hired Martin Hawtree, a leading authority on constructing golf courses in an environmentally sustainable way. Are we impacting upon the SSSI? Yes, but we're doing it with respect. This is not land in the middle of the Amazon; this is land that's already under urban pressure. It has to be properly managed." Seidner emphasised: "We're not shifting sand dunes or manipulating topo as we would in an ordinary golf course, we're strictly planting grass and stabilising what's there already, working with it, around it and in some cases literally finding ways to go over it to ensure there is as little manipulation as possible, not just in the SSSI area but further south. Even though this is a relatively arbitrary straight line, it's not like it's following a topo line or a straight ridge or anything its basically a straight line on a map, we've adhered to it."
A key part of winning over doubters was a series of charettes held in the local community, an experience which Seidner found informative: "Don't tell Gareth this but some of our best ideas have actually come out of community engagements. People are like well that's interesting but why not switch that and that and we're like you know what, why didn't Gareth think of that!? The community engagement for us has been eye opening and we've had several along the way but realistically this is a plan that's going to take several years to execute. Things change over time, it's not just architectural styles, market drivers will change so our plan is although it's here on paper it has to be flexible and Gareth has been very sensitive to that. For example we were originally going to bring the entry road straight across and what we later learned was if we wanted to follow the topo and use existing paths and roads what happens is as you come down and back up again you actually capture better views of the McLeod house."
Everytime we're there we keep looking at it," stressed Sorial. "It's continuous improvement and we found some of the best work comes after you've looked at something a 1.000 times. It's that 1,001 time that we finally get it right so it doesn't just end. Gareth has been very good at that, he can roll with us. This is a work in progress. It will be the greatest golf course in the world. Of course we have great respect for the historical aspect of a place like St Andrews but in terms of the quality of the land there is no comparison. People who've devoted their entire lives to golf have come out onto this site and just been blown away. George Peper, he's written 20 books on golf and lives on the 18th hole at St Andrews, was completely overwhelmed. He said things like your third hole will be the best put in golf this will open up the top 10 golf courses. So it's not just Trump guys saying that it's people who know a lot more about golf than I do."
Questioned about whether the residential component would detract from the golf Sneider protested: "There are 500 homes but this is first and foremost a golf course. If you look at a typical golf course with a residential element what you find is the focus is on selling residential lots and the way to do that is give everyone a golf course view. Let everyone see a fairway, let everyone see a green because that's what sells. We don't have a single lot on the course and that because we're preserving the course, we don't want to sacrifice that because although its great to look from the house onto the course its not very great to look from the course at a house. When you're on this course, you can't see the residential at all. Undulations of the dunes and topography shield all of that out. You are going to feel like you are playing golf and that's the focus. All you'll have is the sound, feeling, even taste of the sea."
"You can build a golf course on about 150 acres but we went for 400 acres (from a masterplan area of 1,400 acres) so if it was all about the residential I don't think we'd go to this length to use valuable land on our course. Arguably that's land we could have used to increase our densities. It starts with golf and it ends with golf."
Noting the opposition from a "small vocal minority" operating under the 'Tripping up Trump' banner Sorial stated: "We've been around developments long enough that nothing surprises you but what we did find surprising was the level of support the project has. My experience of going back and forth over there for the past four years at all levels has been overwhelming. No-one has ever expressed a negative opinion directly to me, I did get back to my hotel and someone read me the nastiest letter but I think the support has been overwhelming."
Sorial refused to be drawn over Sir Ian Wood's similarly contentious city square project in Aberdeen, insisting that it was official policy not to be drawn to criticise or endorse others, but was more open about Trump's presidential hopes in light of the Democrats battering in recent mid term elections. Despite making big gains the Republicans are currently leaderless opening up the prospect of Trump mounting a 2012 bid. "It could happen; it's something he's taking very seriously so let's see what happens over the next few weeks. Maybe Joshua will get to build some additions to the White House!"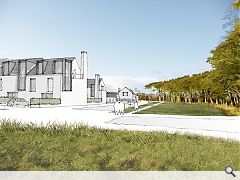 Back to December 2010