The Perth Storm
7 Oct 2010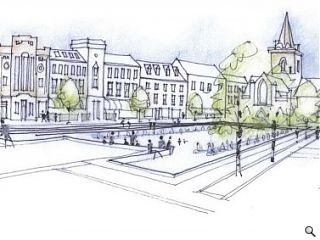 Historic Scotland is to look into Perth and Kinross Council's (PKC) decision to demolish the city's B listed City Hall following a decision by council chiefs to demolish the historic 1908 concert venue so as to allow construction of a new "public space" to occupy the leveled site. This follows a survey which indicated that hard up Perth Council tax payers, lumbered with rising maintenance costs on the crumbling building, favour calling in the wrecking crews for a venue which has been surplus to requirements since a new £19m concert hall opened, BDP's Horsecross.
This follows repeated prevarication by developers Wharfside Regeneration who had promised to turn the halls into a speciality shopping and restaurant centre, these dreams faltered however over difficulty in securing tenants. A council report penned by Jim Irons, depute chief executive of PKC and a keen advocate of the wrecking ball, who noted: "Unfortunately, Wharfside was unable to bring its proposed development to fruition and, following a report to Council on 2 September 2009, it was agreed to terminate the agreement with Wharfside and bring forward options for the building."
A subsequent consultation proffered five options for consideration; Do nothing, re-use of the building, partial demolition, full demolition with redevelopment and full demolition for a public square. In the final reckoning this latter option received the backing of 43% of public respondents and was subsequently adopted as council policy, despite an admission from Irons that the question had "polarised" opinion and that "The building is currently in a reasonable condition and not incapable of repair." Irons noted: "The creation of a public space would contribute greatly to placemaking in Perth recreating the historic setting of the iconic St John's Kirk. There are costs associated with the creation and management of a space but this option has the potential to generate additional value to the economy. The greatest risk associated with this option is in securing planning permission."
Alternative proposals for the reuse of the building as an arts based social enterprise company, artSPACE, were also given short shrift after the Council derided the financial foundations of the scheme which rested on an email from RBS and a letter from a private backer expressing interest which did not: "allow an appropriate assessment of the scheme's viability," according to Irons. Irene Watson, founder of artSPACE, is adamant however that their scheme for a community arts centre was fully funded by a private bank, saying: "We have funding in place so we will be looking for a new venue and possibly a new region to work in if nothing is available in Perth. We will be looking for a council which can provide us with a building and/or support."
PKC backed up their case with consultation evidence where reasons given in support of demolition included: "it would improve the setting of St John's Kirk," demolition would "benefit" the local economy, City Hall has "no sentimental value" and many "did not consider it an attractive building." In addition Irons argues that demolition costs of approximately £3m would be offset by "potential" benefits of £6m, generating the greatest return for council coffers of all the mooted options.
Unimpressed by these arguments Urban Realm reader The Flaneur was stimulated into offering an alternative train of thought, writing online: "Perth City hall was designed by the Glaswegian Art Nouveau architect Henry Edward Clifford i.e. one of the very few Scottish Architects with a European reputation on the basis of his work being published in Hermann Muthesius' seminal Das Englische Haus. What is it with Scottish cities and civic squares these days anyway? Does everyone have to have one no matter the cost?
"The thing is when you look at the PKC report, and how this is scored, demolition emerges as the lowest risk option, bizarrely because the other options are hamstrung by the listed nature of the building and having to work around the existing fabric. For instance try adapting it to retail use and you have months of negotiations before you can start on site etc therefore that adds to risk, time, and cost leading to reduced profit. It's all a bit topsy-turvy. And then in a moment of unintentional hilarity it turns out the model they are looking at for a civic square is Glasgow's George Square as a 365 day a year active square surrounded by grand architecture!"
Ian Craig was more forthright decrying Perth's dearth of common sense: "The fact that it's even possible for things to get to this stage, says a lot about how our historic buildings are being treated in Scotland. Perth and Kinross Council ought to be ashamed of themselves. Utterly stupid and short sighted. I'm appalled."
Historic Scotland are currently undertaking a survey of Perth's historic architecture and are appraising the demolition plans, they will only lend their consent however if PKC can demonstrate one of the following; either that the building is not of special interest, it is incapable of repair, that demolition is essential to delivering wider benefits or that repair of the building is not economically viable.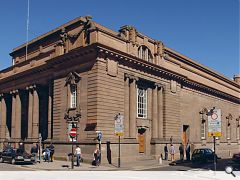 Image by Roben Antoniewicz
Back to October 2010