Top drawer
7 Oct 2010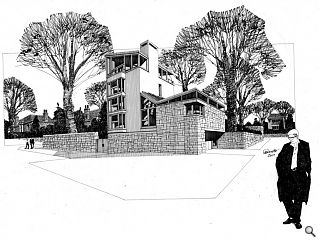 The shock break up of a 12 year partnership between Alan Dunlop and Gordon Murray of gm+ad architects in April of this year did more than just bring an award winning pairing which has done much to transform Glasgow. It has also seen creation of the city's newest practice, Alan Dunlop Architect.
Pressed upon the "very sudden" nature of the break up Dunlop stressed: "I'm contractually bound not to say too much on the split with Gordon, but what I can say is that the bigger the practice got (gm+ad reached 45 employees at its peak, but is now down to 18) the further away from designing I got and that's something that aggrieved me." Rather than become such a size that he becomes bogged down in administration again Dunlop intends to limit his studio to 6-10 employees from its current staffing level of four, adding: "Other than the smaller, more intimate, scale I want craft and drawing to be a fundamental part of the practice. As one of the very few architects that draw and do it well I'm sick of computer generated imagery and I believe clients are too. I want to return to the way architects used to be 20 years ago."
This thinking has informed Dunlop's enthusiastic embrace of academia in recent years, in particular a coveted role as visiting professor at Aberdeen's Scott Sutherland School of Architecture. It is a position which Dunlop has taken to with gusto, giving as it does genuine control over the curriculum. This freedom has enabled Dunlop to insist that his students work solely using hand drawing and model making in his module, an initiative seen as crucial to preserve artisanship in the profession.
Discounting the notion of collaboration with larger practices Dunlop shirks away from becoming a "spade carrier" or acting as a director for a larger practice. Instead he remains focussed upon four projects currently in the pipeline across the central belt which includes a new build house in the Corstorphine area of Edinburgh. Set in a quiet residential area distinguished by stone walls and high hedges, these characteristics have served to inform the design approach of "a wall becomes a house." Dunlop remains downbeat however on the prospect of securing larger commissions in the current climate: "We never entered the V&A competition because we knew we didn't stand a chance alone. A Scottish practice would never get it; they were looking for a practice with an international profile."
"Both of us have access to the projects we've worked on," continues Dunlop: "I've taken the projects I've had a hand in, I retain the copyright for Hazelwood for instance which was the last project I designed." Remarking upon Glasgow Harbour however, notoriously described by one Carbuncles reader as: "Like a large brown turd floating along the Clyde," (publication of which caused a ruction with Urban Realm at the time) but now Dunlop merely observes: "I won't be using the Harbour as an example of my work; Gordon was project architect for that."
Unfortunately, given the current climate, many former gm+ad projects currently lie in limbo, notably the Paramount Building and 236 Broomielaw but one former gm+ad project which definitely won't see the light of day is the Unicorn Tower on Glasgow's Clyde Street. Dunlop last saw his client, Bristol based developer Houshang Jafari, grabbing hold of a helicopter landing bar whilst watching the television news this July. The "air rage' incident saw Jafari put in a spin after the offending chopper landed in the lawn of his 16th century manor house. Furious at the cloud of debris blown onto his Land Rover by the downdraft he launched an attack on the copter, kicking it, throwing a bag full of bones at the blades and launching himself at the landing gear in an attempt to crash the vehicle as it attempted to flee. Bristol Crown Court subsequently sentenced Jafari to one year in jail for the offence of 'reckless endangerment of an aircraft."
Remarking upon his latest home on James Morrison Street Dunlop says, "It's a fantastic place, it has a real quartier feeling. It's like Paris one minute… and then you see drunks queuing up outside the pub at 7am. There's a real charm and danger about the place." Indeed many of the creative enterprises located there are collaborating on projects and a street party is scheduled to be held there for the Scottish Civic Trust run Doors Open Days programme in September. Masterminded by Page & Park it will include input from Groves Raines Architects, Collective Architecture, Brown & Wallace and David Narro to harness the creative hub around Glasgow Cross by exploring the notion of "streets for people, not cars," on Saturday September 18.
The height of a recession might not seem the easiest time to strike out alone, a fact Dunlop freely admits describing the process as "scary". Describing the present dire jobs market Dunlop reveals: "everyday I come into emails and letters from people looking for work. This recession is different to the previous one in the 90s because then it was only private commissions that dried up, this time around it's across the board and Building Schools for the Future has come a cropper because of that." Nonetheless Dunlop remains hopeful that it will be third time lucky with his latest venture, "so long as you don't overstretch yourself." In fact Dunlop has already had something of a baptism of fire after being invited in 1990, whilst in Manchester during the last recession, to form a partnership with Ian Simpson and Rachel Haugh, it lasted two years but did not work out, paving the way for the formation of gm+ad with Gordon Murray.
Irrespective of the turmoil surrounding the industry at present Dunlop remains wedded to one pursuit which sets him apart from his contemporaries, for despite impassioned scorn for digital means of drawing Dunlop remains one of the most prolific standard bearers for digital communications. An avid forum goer Dunlop boasts a prolific presence on the web and architecture blogs with his candid opinions stating: "I like it, I could never understand why people were reluctant to take part in it," noting that the only downside to the medium is the misinterpretation of humour and sarcasm when posting remarks, gm+ad may be dead then but both Alan Dunlop and Gordon Murray remain very much alive and kicking.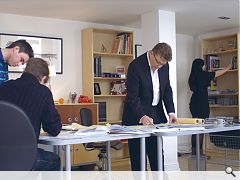 Back to October 2010