John o'Grots
7 Oct 2010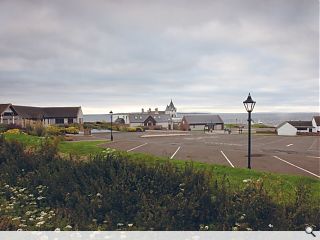 Last, most definitely last, in our cross country trek was John o' Groats which despite having traveled so far north to view saw our enthusiasm swiftly head south upon clocking the disparate assortment of steadings struggling to assume the stature of a hamlet. Housing scant reward for the many hours spent cooped up in a car navigating the winding A9 out of Inverness, never mind hardier travelers on two wheels and none, the overriding temptation upon reaching the famous northerly cliffs is to chuck oneself off them.
A despondent Drew Mackie voiced the sense of listlessness evinced by our dismal surrounds: "Having cycled 800 miles from Land's End to get here I would wonder why I bothered. This is the most anti-climactic tourist attraction that I know - and the UK is not lacking in these. An air of dereliction hangs over the place. Not surprising as the main hotel building is derelict and the most striking feature is a large car park. Various tourist haunts hang around this and give the impression of not wanting to look at each other like early arrivals at a party. The whole effect is augmented by a series of sheds and caravans, lurking with tourist intent." Mark Chalmers echoed this disappointment stating: "John o' Groats is a point of departure: it's a place for leaving Scotland behind, and John o' Groats has been left behind by Scotland. There is no sense of arrival here, nor anything to attract anyone other than the abstract notion of the edge of Scotland."
If one building epitomises the rot and drift which now afflicts this place it is Britain's most northerly derelict building, the John o' Groats hotel, abandoned to the elements which blast off the sea even in the more temperate months, it makes for a forlorn hulk and a stark marker of the regression that the area has undergone. Its elegant walls are now under siege from an army of transient holidaymakers and charity hopefuls pitched up in caravans and strung out in tents along the snaking coastline of this empty landscape. In this slow decay however it finds strange affinity with the rusting fishing vessels and past their prime cruise ships moored in the adjacent harbour, offering trips to Orkney and wildlife excursions.
Recent attempts to update local attractions may be suckering more tourist dollars from hapless visitors but at what price? The John o' Groats pottery centre dominates the harbour area purveying a selection of tourist tat from the "Coo Shop", "Sheep Shop", "Scot Shop" and "Puffin Shop". It is a shame as these concerted efforts to draw upon tourism as the lifeblood of the local economy are as likely as not to drive tourists away. Witness the tawdry nature of John o' Groats famous signpost, surrounded by a clutter of timber huts, caravans, portacabins and untended landscaping. Its fingers should point to the North Pole, London, New York and so forth but instead one enterprising local "photographer" sticks two up at passing tourists by affixing the missing signage for an £18 fee. A few days later, prints can be issued of the occasion – although overseas postage is extra.
What really gets Chalmers Groat though is that this is a community going backward, not forward: "This place is so much more famous than the other cardinals – Fife Ness, Ardnamurchan Point, Cape Wrath – yet in the past has been left to people like Peter de Savary to fleece visitors without putting anything back in. A long time ago, there used to be only two buildings at John o' Groats – the hotel, and the Last House, a neat white-painted cottage which sold a few postcards and souvenirs. In some respects, that was enough – and rather than rip people off with a demountable signpost, it might be better to go back to that simple model."
If the bounties of nature provide the best hope of redemption then John o' Groats has done its best to ignore them as Chalmers attests: "John o' Groats threw away its natural advantages – the sublime sandstone cliffs at Duncansby Head, the rich wildlife, and the dramatic light which rakes Stroma, across the sound. The area around the village is a low-density rubbish dump, littered with abandoned buses, rusty roadrollers and wrecked cars. These fields are also dotted with sheep, plus a mixture of small cottar houses and overgrown bungalows: in that respect it's exactly like the rural south-west of the Irish Republic. These are scattered communities with no centre, afflicted instead with a rash of executive ranch-style bungalows which the crofters have built. All of that would mean nothing if this wasn't John o' Groats, but this place advertises itself as a great tourist draw, hence moulding peoples' impressions of Scotland."
Nevertheless GVA Grimley have put together a grim masterplan for the area, it postulates a village street with commercial outlets backed by copious car parking space and is to be developed in tandem with plans by Heritage Great Britain to refurbish the derelict hotel together with a sweep of 'high quality housing', but as Mackie articulates: "neither scheme gets the design juices flowing". Indeed if the plans are implemented in anything like as cack handed a manner as the existing landscaping, which boasts bizarre serried line of fake Victorian lamp standards and a picnic bench marooned on a traffic island boxed in by recycling bins, then the omens would appear ill indeed.
Describing the proposed plans as "terminal architecture", Chalmers stated: "the images released suggest that redevelopment will make things worse. Although the hotel will be re-opened, the car park will be extended into an even larger tract of windswept tarmac, and the two will be connected with a twee "outlet village" housed in an ersatz "High Street" along the lines of the architectural parasite which clings to Gretna Green. Robert Adam's drawings suggest neither modern Scots Baronial (which can work well, as at the House of Bruar) nor proper vernacular (the croft houses or meal mill in the vicinity of John o' Groats). Instead, it appears to be the offspring of Andres Duany's Seaside. His current influence over the Highlands may yet do real damage to our heritage.
"Redevelopment could be an opportunity to break down and disperse the parking into pockets, screening each with Caithness flag fences or drystane dykes. Picnic areas and viewing platforms could be similarly sheltered from the wind, with openings framing views out over the Pentland Firth. Any new buildings could be clustered to create a point of arrival, a symbol of the start of Scotland, rather than its current dispersed state as the end of the line. In such an exposed situation, traditional Scots architects built protected courtyards: why not here? The "High Street" demonstrates ignorance of the site's character, and the Scottish context – it will funnel the wind from the Firth and blast tourists off their feet."
Mackie surmises: "In sum, John o'Groats poses an intriguing problem. How do you create a significant place in the middle of nowhere when there are no local settlement models to build on? The surrounding landscape is littered with dispersed buildings. This doesn't make it bad - just different."
John o' Groats may be geographically on top of the world but its built environment is scraping bottom. Its great distance should be no excuse for losing sight of the fact that this motley agglomeration of buildings on the edge of the sea that so many travel so far to see is unduly prominent internationally. What sort of impression is this torrid environment making on those who have traveled furthest to see it and what must they report to family and friends back home? Until this northerly outpost starts treating its guests with respect there can be no hope of becoming a genuinely significant tourist draw.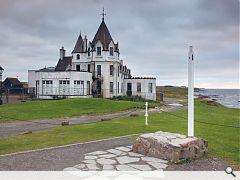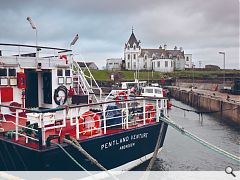 Back to October 2010