All Hail Polphail
15 Jun 2010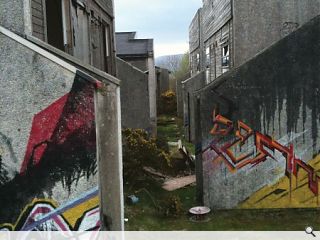 IT IS A WILD WEST TOWN THAT TIME FORGOT, A SLICE OF THE SEVENTIES FROZEN IN STASIS... UNTIL THAT IS ARTISTS COLLECTIVE AGENTS OF CHANGE GOT THEIR HANDS ON IT. THIS DETERMINED BAND OF PIONEER ARTISTS SAW POTENTIAL IN WHAT OTHERS WOULDN'T GIVE A SECOND GLANCE. NOW WHAT HAD BEEN INTENDED AS ACCOMMODATION FOR HUNDREDS OF OIL WORKERS HAS FOUND AN UNLIKELY SECOND LIFE IN THE FORM OF BRITAINS WACKIEST ART GALLERY
It is a scene reminiscent of the apocalypse, serried rows of functional housing marching up a bleak landscape and nary a soul in sight. Nature is swiftly reclaiming this post human realm for her own, but before she does so, one last gasp of human activity is breathing new life into a remote landscape.
Product of the 1970's oil boom Polphail was abandoned as swiftly as it appeared, built to house an anticipated influx of workers to see the construction of dozens of oil platforms. The workers never came and the oil companies moved elsewhere.
Instead this ghost village has become a favoured haunt for artists collective Agents of Change, a group of talented enthusiasts who have daubed the grey decaying walls with a selection of colourful extravagances last year, labours which make the scenic drive up a journey well worth making.
Agents of Change member Timid said: "The Ghostvillage Project was created over 3 days on the west coast of Scotland. 6 artists - Timid, Remi/Rough, System, Stormie Mills, Juice 126, Derm - were given free reign to paint in an abandoned 1970s village. Working together on huge collaborative walls and individually in hidden nooks and crannies all over the site, the artists realised long held dreams and were inspired by the bleakness and remoteness of the site. Drawing on the history of the village the artists' stated intent on completion of the project was to populate the ghostvillage with the art and characters that it deserved."
This rotting blank canvas has liberated the creative impulses of a slew of artists who've imparted a particular personality onto a forgotten landscape and added a flavour of counter culture vim: "It was an abandoned mass of canvas waiting to be painted, the fact we're the first graffiti artists is just ridiculous, someone should have been here already and made an installation," exclaimed one Agents of Change member.Like a land bound incarnation of the Marie Celeste the estate harbours numerous scattered artefacts abandoned with the departure of its fleeting inhabitants, chess pieces lie where they dropped on mouldering concrete floors, antique washing machines sit idle, demonic figures float along tiled halls and a skeleton dances a still motion jive to the silent concrete beat of a ghetto blaster.
Indeed clambering amongst the detritus of a bygone era it is illuminating to make the acquaintance of a series of unlikely characters, including an inscrutable bald figure caught with his pants down and a transfixed Asian lady in process of peeling back a crumbling wall. Far from a random assortment of oddities these individual characters actually conform to a wider plan, when observed from afar they can be witnessed navigating toward a central point.
What unifies these disparate pigmented entities is a sense of depth, elevating the staid familiarity of entering a bland room by toying with ingrained notions of normality and exciting the eye with a succession of freaky avatars lurking just beyond sight.
The fate of this secret, secluded spot currently lies in limbo with numerous redevelopment plans falling by the wayside, though development of Portavadie marina may yet percolate inland. Portavadie's newly ensconced pictorial inhabitants surely wouldn't have things any other way. These walls now talk. In a certain sense, the estate can be said to be more alive now than it has ever been.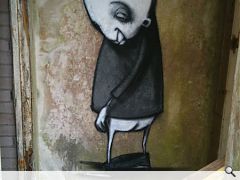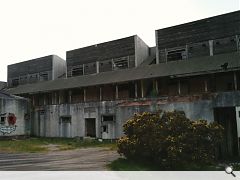 Back to June 2010