What's up in down towns?
25 Jun 2009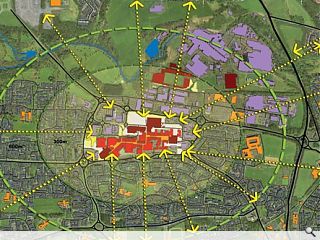 Why are so many of Scotland's urban centres in decline? And what can be done to help them? These were the questions a Glenrothes conference recently sought to answer.
Saving Down Towns, a day long conference looking at the regeneration of Glenrothes and New Cumnock, penetrated the dreich gloom of a fittingly grey Monday with the bright optimism of renewal, as our inaugural design cavalcade rode into town bringing with it a message of hope. Organised in response to feedback from the Carbuncle awards proper, a series of speeches and workshops were laid on in a bid to turn the negative experience of picking up the notorious 'Plook-on-the-Plinth' into a positive opportunity to learn from past mistakes and turn both town centres into better places.
The day's proceedings kicked off with a series of presentations delivered by key figures within the development, architectural and planning arenas. First up was John Lord, founder and director of yellow book, an economic and regeneration consultancy based in Edinburgh, who served to gently induct attentive delegates into the wider societal shift that is directly attributable to the condition of many small towns today which find themselves no longer at the centre of community life. These shifts were noted to stem particularly from technological change, critically the motor car, television and internet but also cultural and economic change. Where we work, how we work and how we choose to spend our recreation time have all evolved markedly in the past 50 years.
The idealised 1950s idyll is one many still harbour, older generations in particular who still retain direct emotional connection with the era: 'A comfortable world of men in white coats serving meat and fish in a teeming environment where everyone went and met. The town centre was a social experience essential to the lives we used to leadÓ, notes Lord. But is that image really the best fit solution for Scotland's spread of market towns, new towns, commuter towns and ports? Clearly not all town centres are facing a crisis and not in the same way.
Our present perception of many town centres is of a tired, empty and broken environment comprising closed stores and once majestic cinemas limping on as bingo haunts. 'Glenrothes has a box called a town centre, its use an option, not a necessityÓ encapsulates Lord.Ê These less favoured towns find themselves ageing as the able bodied and ambitious migrate to brighter economic pastures. The challenge then is to implement employment and skills opportunities other than retail for those who remain. Many planners remain sniffy about commuter dormitories but people like the idea of working in town and living outside.
This is by no means universal however and many small towns, notablyÊSt Andrews, Cupar and others retain a certain 'je ne se quaÓ. Even within communities where the town centre is failing it does not automatically follow that the town is failing, even though the inverse, if the outskirts are failing the town centre WILL fail is a given.Ê Population patterns in recent years have seen clear net beneficiaries and losers with suburban and accessible countryside areas attracting incomers and inner cities and remote countryside witnessing population decline.
Perhaps the single most profound impactor on our built environment is our increased mobility. A high percentage of the population now have access to a car, which in concert with our consumer society has led to the emergence of new forms of retail and leisure.ÊThis pincer movement on the traditional high street is voiced by Lord: 'Greater choice than ever before and infinite mobility undermines reliance on nearby custom, necessitating competition in larger markets.ÊSupermarkets emerged on the high street a long time ago, the larger format initially achieved by punching through smaller stores followed by edge of town, then out of town, ultimately leading to the 'destinationÓ shopping and leisure parks of today.
'In that time we've rediscovered the joys of the city leavingÊsmall towns caught in between. In our money rich, time poor age, people choose those alternatives that they judge to be of better quality and value.ÊTown centres depend on a captive market of people too old, young or poor to shop anywhere else.Ó Adapt to survive is the motto of our towns today and one solution adopted is to theme the locality with a stronger brand, the better to engage fleet footed custom. Wealthy suburban areas have been able to compete with the supermarkets with speciality high market, high value goods but this is not an avenue open to all.Ê
Tesco town, clone town, edge citiesÉ these concepts have all been with us for a long time, leading to much hand wringing and an uneasy sense that something important has been lost.ÊWith the economy and environment now in such perilous state however urgent action is necessitated in place of prior coaxing. 'Supermarkets have won the war and remain immensely powerful, explains Lord but: 'the trends do not run on into infinity they will dip and reverse, we may choose to return to mentally gated communities, or we may be forced to change. The world outside the recession may look very different, we can't go back to the way we were and we can't compel people to use towns, it's not a moral duty, it's a choice.ÓÊ
If one thing is clear, it's that we cannot now place too much emphasis on shops alone, for there will be fewer of them. Instead a return toÊa distinctive culture, history, identity and community needs to be devised as a way of forging unique appeal and pull at regional and national level. Rediscovering forgotten gems and getting rid of liabilities light the way ahead, provided that those interventions are of high quality. Public art and monuments in particular can be critical to a towns wider well being, anecdotal evidence from installation of a new statue to Robert Burns in Kilmarnock was cited as boosting shop takings by 10 per cent.Ê
John Mark Di Ciacca, acting chief executive of the EDI Group, outlined the innovative urban renewal work being undertaken at Craigmillar in Edinburgh. One of the capitals most deprived neighbourhoods it had long been afflicted by an out migration of the young and talented leaving behind a core of high unemployment. This seemingly insurmountable challenge was tackled head on by addressing economic development, education, housing and the construction of a brand new High Street that serves as a literal shop window for the re-born estate. Turning the necessary evil of a new supermarket to the communities advantage, developers insisted upon a three storey facade with street cafe at pavement level.
Shared surfaces in this environment acknowledge that the pedestrian and car are of equal importance through an absence of markings, ramps and pavements.ÊThrowing away a generation's worth of dogmatic traffic management proved a particularly hard pill for the council to swallow, but swallow they have, leading us into a new era of roads engineering. Another characteristic of this approach is to be tenure blind such that you cannot distinguish private and social housing from the street. Family, flatted, low value and high value are fully integrated and defensible back garden gives people their own space. Di Ciacca explains: 'We didn't want cul de sacs, the local community wanted dead ends, but all our streets have different ways in allowing for a choice of route.Ó Indeed it is the spaces between buildings that become more and more important, rather than the architecture itself.
Ed Taylor, urban designer and architect for the Prince's Foundation, imparted an historical sense of perspective on the underlying principles that govern land use. This contrasted enforced zoning laws of recent years which have driven the constituent components of towns apart, to the historic pattern of an interconnected sequence of streets. Defining both the historic town and their new Urbanist contemporaries is a critical radius is the five minute walkable radius, equating to some 400 metres. This is considered to be the maximum range within which people will walk before seeking public transport.Ê
Taylor pointed out: 'New towns despite much stigma are nothing new. They were first started by David the first in the 12th century to provide market areas for traders and typically comprised a movement corridor and market with aÊwell defined edge, wide high street and feu plots running back forming good block dimensions. The 18th and 19th century witnessed hundreds of new towns proposed on a grid iron plan with a High Street and square at the centre. Not all of these towns took off however.Ó Taylor continues: 'That other great wave of new towns in the 20th century differed in being predicated upon the fttishisation of the motor car, worshipped in its own right, has resulted in a cruel aspect with the absence of people.Ó
The hum drum banality and under achievement of many recent housing interventions was cited as a factor in a lack of ambition. 'The low density cul de sac system leaves no public realm to speak of, save for a dog relief stretch.Ó Amongst a rostrum of design innovations promoted by the Foundation are bringing industry in from peripheral trading estates to the heart of the community, quiet by night they make excellent neighbours and ensure that local traders have a captive audience all day long.
Building distinction through architecture is now the key consideration for a successful town, off the shelf modernism and Victoriana have been criticised in equal measure for contributing to a sense of placelessness. Greater consideration of local context, history, landscape and materials will be required if future towns are to demonstrate genuine distinctiveness, particularly their centres as Leon Krier intoned: 'A beautiful town centre is a necessity a beautiful outskirt is a luxuryÓ.
These interventions need not necessarily be substantial to make a genuine impact however as Geoff Crowley, managing director of Highland Colour Coaters explained by picking up on ÔThe Tipping Point' first published by Malcolm Gladwell in 2000 and a best seller since then.
The book postulates the 'broken window theoryÓ which explains how a single broken window in a neighbourhood, if it's not repaired, sets a precedent which can soon snowball with other windows being broken. The situation can then snowball with graffiti, vandalism and squatters. Tackling this problem at inception, 'the tipping pointÓ, is clearly much easier than the associated fallout that can result. Gladwell goes on to say that ideas, products, messages and behaviors spread like viruses. Pointing out the 'rule of the fewÓ, otherwise known as the 80/20 rule, it's now widely accepted that a small number of influential people lead what the masses do.
Accosted by security on a fact finding mission to Glenrothes, Crowley was troubled by more than just the ever extending arm of the law but also the officers response: 'I don't live here, I only work hereÓ. Clearly this raised all sorts of issues relating to a need to promote identity and engender a sense of belonging. To promote a sense of pride Crowley proposes tackling rusty steelwork as a means of forming that all important first impression. By promoting the use of colour in the environment emotions can be uplifted from the omnipresent sea of grey which afflicts so many towns.
To better channel this sea of professional insight a series of afternoon workshops were arranged, coincidentally held at the same time as the Prince's Foundations own Enquiry by Design event, designed to afford delegates opportunity to contribute in an open session of debate, drawing and thought. This is not the end of the story for either location however and investigations will be made into how both Glenrothes and New Cumnock can make use of the days findings to launch bids for a slice of the Scottish Government's £60m Town Centre Regeneration Fund.
Four towns to the fore
An idealised vision of what could take place in the four towns of Mauchline, Auchinleck, Cumnock and New Cumnock is being outlined by the Prince's Foundation at a week long 'Enquiry by DesignÓ event.
The process launched as part of its consultation to build an new town at Knockroom, outside Cumnock, invited local residents and stakeholders to take part in a series of events; where they could input into how their towns and communities might be developed. The process could provide a model of how residents in other towns might be actively engaged in terms helping to define the future of their communities. Some of the Enquiry by Design feedback is noted below.
Cumnock
In Ayrshire Cumnock falls a perky second to Kilmarnock in retailing clout and is by far the largest settlement in the local conurbation.
However its local shopping centre was described as poor. Plans to re-develop the town centre, however are causing concerns.
The council has slated an office scheme to go ahead first, but residents believe retail should be prioritised. But even then calls are being made to ensure that local landlord Tesco do not squeeze out individual traders in any future scheme. Any development has to build the town's status as a regional centre however.
New Cumnock
New Cumnock was felt to have the strongest communities despite or perhaps because of witnessing the greatest decline.ÊA 1950s mining estate is receding and the community were retreating with it back to the historic high street which is itself troubled by dereliction, decay, lack of amenity and the presence of a major trunk road with associated HGVs. Re-design efforts focussed on the castle and Afton St to consolidate derelict land and define and strengthen the existing street's 'missing teethÓ. Community focus would be provided around the church and community hall by creating a square denoted by distinctive asphalt at the key point.
Mauchline
Mauchline's liveability was considered high but this disguised real deficiencies in shopfronts, signage, pavements and hard landscape. As the urban planner put it: 'If Mauchline had tourist ambitions, it is going in the opposite direction.Ó Skips and recycling bins disfigured the perimeter of the town in a wilderness with no clear footpaths or signage from car parks to the town centre, visitors are left with no idea of where to go or indeed what spaces and assets await them.
There was not a single vacant shop in the town, thought to be Scotland's largest where such is the case but there remain infill and gap sites requiring attention along with a burn which could be transformed into a green corridor.
Auchinleck
Auchinleck's main asset is its train station which should have frequencies increased to one an hour from one every two hours. The town square was felt to be neglected with uncomfortably narrow pavements but surrounding ancient woodlands which dot the landscape could be utilised for leisure pursuits. Direct competition with Cumnock could prompt TESCO to abandon Auchinleck for its bigger brother, leaving a smaller more central Metro outlet and fuelling local rivalries. TESCO would present a prime site which could become a garden centre, a key hub for Dumfries House or a Burns interpretation centre.
Back to June 2009