High five
14 Nov 2008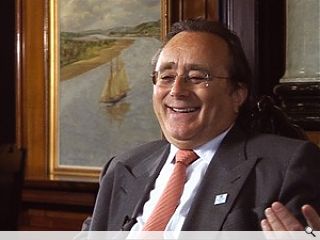 Jumeirah hotels, the Dubai based purveyor of all things luxury, has been given the green light to set up shop in Glasgow's red light district. The towering property aims to engulf competitors with luxury that defies categorisation.
Amidst widespread economic gloom a beacon of hope has emerged from the Argyle International Hotel courtesy of Charles Price, CEO of Progress Property Developments (PPD) and Guy Crawford, CEO of Jumeirah Group, who have announced that Jumeirah, the Dubai-based luxury hotel group and operator of the world famous Burj Al Arab, will run a new five-star hotel in Glasgow.
Glasgow City Council are publicly voicing a desire to see 3,000 premier hotel rooms constructed by 2011 and the 160 rooms and 85 serviced apartments of Jumeirah's second British hotel, designed by Ian Simpson Architects, will go a long way to achieving that goal.
Guests will enjoy a range of leisure facilities, which include an impressive infinity pool, Jumeirah's signature Talise Wellness spa, gym, rooftop cocktail lounge and several restaurants and bars. Extensive business and conference amenities will be supplemented by a 630-seat ballroom and a dedicated club lounge. Given the present economic turmoil this news couldn't have come at a better time for Glasgow and demonstrates an ambition for the future unshackled by the travails of the past and present.
Prospect spoke to the driving force behind the plans, Glaswegian entrepreneur Mr Charles Price. Price is moving to take advantage of an anticipated upturn in fortunes brought about by the 2014 Commonwealth Games which will see Glasgow explode onto the world stage.
In addition to establishing Glasgow's pre-eminent hotel Price has also tabled a bid for the east end Games site which would see construction of a further 200 bed hotel alongside two new office blocks adjacent to the proposed National Indoor Sports Arena, both designed by Ian Simpson architects. These will house the new headquarters for Sport Scotland and a media centre for journalists covering the championships.
These moves have elevated Price's standing in our Power 100 to merit inclusion in the top 20 which can be read
here
.
The scheme was earlier described as "six star", now a "deluxe five star". What accounts for this difference?
Well no, basically it was the media and others looking at it which described it as six star. There is no six star classification anywhere in the world at the moment, it's in the eye of the beholder. If people think it's better than the normal five star fare then we've accomplished our purpose and aims. I think it will be, I think one day there may even be a new classification in the world starring of hotels but the designation that's been given to us as something special will apply to this building.
What timescale are you working to?
There is no specific date yet but there will be one shortly and we will announce it. At the moment there is a lot of preliminary work going on, todays signing in the background with a technical services agreement. That means we can get on and do the final designs of the actual interior, we've done a lot of them already and start to appoint the professional team, some are appointed, there are some more to be appointed getting contractors, specifications etc. So there is a lot to do but sometime next year we will be on site.
Do you have funding in place?
Not an unexpected question! We have our funding arrangements in place, not only for this but our other developments over in east Dalmarnock. I can't give you specific details because I'm also one of the approved bidders for the Commonwealth Games Village and that's involved in it. So at this moment in time I'm not able to disclose any details but as you can see from the look in my face (smiles), I am quietly confident that even in the present circumstances we will have money available to develop.
Robert Fox, the owner of Biggars pawnbrokers on site, has been holding out for a higher pay out. How will this be resolved?
A compulsory purchase order has been issued and that will resolve itself in the not too distant future.
Do you see rival hotels, notably 236 Broomielaw and Bothwell Plaza, as direct competitors? Are you involved in a race?
I think that every hotel has a particular niche, Jumeirah have a particular approach to others even in the luxury field, competition is healthy and I hope that everybody raises their game and I hope that these hotels will be a major success because it helps us be successful.
What proportion of inspiration for this project comes from the heart and which from the head?
I think the two happily coincide. It was a commercial decision carefully researched, it's very nice to be in a city that you were born in and come back to it, but it's purely coincidental that we've had this building on a portfolio and expanded into the site. We saw an opportunity which others didn't see and we've proven that opportunity to be real and we'll build that into a major success.
Back to November 2008