Venice zenith
14 Nov 2008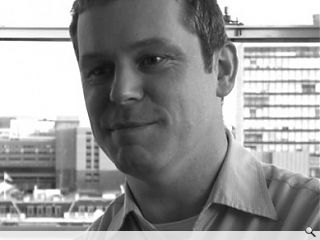 Gareth Hoskins is on a roll. He has not only topped the Prospect Power 100 poll, but is also fresh off the plane from the Venice Biennale where his Scottish pavilion made a major splash.
This years Venice Architecture Biennale is widely considered to have been a roaring success, thanks in no small measure to the work of Gareth Hoskins Architects in producing "A Gathering Space", an exhibition run in conjunction with The Lighthouse with £75,000 of funding from The Scottish Government.
This distinctive form on the Piazzale della Stazione Santa Lucia, directly opposite the main train station, evinced the best in Scottish architecture as a functional and aesthetic response to the need to provide a public space and auditorium. This space set the scene for a series of events that aimed to tie together trends in place making and regionalism in architecture, evidencing the tangible difference that architecture makes to our lives.
Gareth Hoskins describes the scene: "You arrive in Venice by train or water taxi, round the corner under the Calatrava Bridge and then literally there's this sculpture right in front of the station. A surreal experience as the last time we saw it was in a builder's yard in Motherwell. It was designed in sections no bigger than 10m so it could fit in these containers, everything slotted in. It was taken out on a lorry, then taken into Venice on a barge and craned on. The colour is quite striking, you've got the white stone of the station, thirties modernist stream lining, really contrasts with the blue of the canal and warm orangey larch."
Unfortunately the Scottish weather also paid a visit to the show, just as Zaha and Jencks were finishing their talk black clouds came rolling in, "it was absolutely torrential" recalls Gareth. Sadly the structure had not been waterproofed causing rivulets of the wet stuff to penetrate the wooden frame.
Every cloud has a silver lining however and Hoskins is keen to extend the longevity of his creation, saying: "The structure all comes apart so it can be brought back. The Lighthouse are in discussions about bringing it back to Scotland so hopefully it will have an afterlife. It was designed as a temporary structure, I don't think it would cope with the climate of Scotland for too long."
But how do you begin to tackle a design challenge such as this? Hoskins reveals: "The most challenging part of the brief was how do you make a formal auditorium with an informal seating area? The undercroft you don't really see tucked under the steps, but with an audience in front of you, it's a sort of half auditorium because you're enclosed, with this great view of Venice as you're sitting around talking. All you can see are the heads of curious passers by and footsteps of people above your head. David Narro the structural engineer made this thing fly.
"We get the office together every Friday lunch time, everybody comes with some thoughts and ideas. We could see grouping and trends, a lot of circles and things like that. It literally took on this triangular piece that proved to be the initial catalyst. The designs have stayed very close to the original sketches. I think the whole idea in a way was to replicate the Concert Hall steps or the Spanish steps, sitting and waiting there meeting friends.
"One thing that really came off well was that because of the triangular plan of the structure the steps actually fan as well, you get this curve that links up to the top, which is really quite surprising because everything is so straight, the curve just rises up inside it. It's really beautiful, almost looks like an optical illusion, like the steps are at an angle with this wave that goes up inside of it."
A Gathering Place was designed to fit within a wider theme of 'Out There: Architecture Beyond Building', but this was subject to a very wide interpretation and some just completely ignored it. A rammy had already erupted earlier with leading Scottish architect Alan Dunlop becoming embroiled in a war of words with the British Council over a perceived London bias of the British Pavilion. Political sensitivities were such that A Gathering Space could not even be referred to as the Scottish pavilion.
Hoskins says: "The British pavilion held a very good exhibition, a lot of people thought it was very dry, all about the state of housing in Britain. Not particularly engaging with the theme but it was actually a very interesting exhibition. Yes, it had been commented on a bit for its London focus. In a way that was quite nice actually because we found A Gathering Space being adopted by the wider spread of Britain. We had a RIBA event staged at it, I think partly because RIBA were keen to engage with that wider public, that was quite an interesting reaction to the exhibition that worked very well for ourselves."
So what benefits has the exhibition brought to Scotland? Gareth evinces: "I think in terms of profile there was lots of people out there and lots of people saw it, everywhere you went Scotland in Venice was playing on plasma screens. What it means in the bigger sense of things is there are lots of Scottish practices working abroad particularly Gross Max, doing more work outside of the UK than here. It's not just about Scotland being out there, it's about folk in Scotland who are commissioning buildings and architecture in Scotland going out and seeing what other people are doing. On the world stage the UK and London in particular have big names that have been exports for many years."
The venue will also be the setting for the launch of The Lighthouse Architecture Series of monographs on 11 September. The first of these looks at Gareth Hoskins Architects as the practice marks its 10th anniversary. Over the next five years the monographs and associated programme of exhibitions will celebrate the achievement of a new generation of architecture practices, throwing a spotlight on their work as they emerge onto the international stage.
Gareth explains: "The Lighthouse are trying to promote Scottish practices, a very fortuitous coincidence for us when this coincided with "A Gathering Space". What a platform to be doing it on! We were lucky to get on that list quite quickly rather than 10 years of angst doing house extensions. There's quite a nice fraternity in that we'll phone Malcolm, he's done a study on this… there's something quite nice about the scale of Scotland that you can get on the phone and ask. There is a good camaraderie.
"The Monograph just rolled into the launch of the Gathering Space really. It's a surprisingly big venture doing a book, I don't think we'd appreciated quite what was involved, the books only a selection but even that's a Herculean effort to get it all together. We wanted to get away from the standard monograph of here's an introduction here's every project we've ever done. There was a lot of debate about the structure and content of the exhibition. We talked very much about this premise of global architecture being dictated by computers and technology. A lot was driven by the fact that architecture has very little sense of place to it now, it became the topic for a lot of conversations at the Biennale. Hugh Pearman was brought on board to bring a bit of objectivity to it, provide a bit of an overview and commentary about Scottish identity as well. You wouldn't believe the debate that went into the front cover, we were keen to have somewhere that had a sense of place to it and also people in it."
Having run in the Lighthouse the exhibition of Gareth Hoskins work will continue at the RIBA Gallery, London, from 30 January to 1 March.
Transport crash
Not everything has gone Gareth Hoskins way however, loss of the Transport Museum commission remains a bone of contention for the practice and made for an awkward moment when Zaha Hadid (the competition winner) paid a visit to the exhibition.
Hoskins reveals: "I didn't speak to her about The Transport Museum, Building Design phone me every month asking my opinion about the costs rising, I bet they just want me to say, well if they'd picked ours it would be fine. Maybe I should say that one day. We consciously steered away from it. I met her literally just after she'd beaten us to the Transport Museum down in London, not sure she actually knew what the project was to be honest when I spoke to her. 'Oh, yes Glasgow where's that'? She didn't come to the interview, I think it was Patrick Schumacher. I still think our proposal was more place making than object making, Glasgow like their shiny things."
Bell toll
Meanwhile over in Glasgow's east end a prestigious commission for Bellgrove slipped through the practices grasp, falling into the hands of a partnership comprising Dawn Group, Page\Park, Studio KAP, Caddell2 and Zone Architects. Gareth says: "This was an endeavour with Urban Splash, developed with ourselves and Grant Associates, the landscape people. It scored the highest in terms of design quality which was a very strong aspect the council were pushing for the scheme. We were very pleased with that, it was just Dawns bid financially blew everyone out of the water. It was very interesting working with Urban Splash for the first time. I'd met Tom Bloxham the chair, when we both judged the RIBA awards a few years back we spent two days zipping around London in a taxi commenting on other peoples architecture and so we just got onto the phone to them, they'd never been to Scotland before and they came up stood on this site and said yes let's go for it. So great fun to work with and in terms of their agenda in sustainability they are just light years ahead of many other developers. We'd have conversations about taking out all the wet systems in flats, radiators, heat exchangers and investing the money we'd save on all that on the elevations. Did I hear that right?"
Not so square
Working in collaboration with Comprehensive Design Architects for Stockland Halladale Gareth is overseeing the flagship St Andrew's Square property.
Two new structures preserve the integrity of the A listed Forsyth building and B listed Kinnimouth & Paul building. A series of external fins provide a degree of sun screening and render the façade solid when viewed obliquely to meld with neighbouring stone. On upper levels a glazed façade is indented against a changing rhythm of fins to create a dynamic pattern of loggias and shadowing.
Gareth reveals: "We're responsible for designing the envelope. Initially it was just about putting clothes on it but we can't really do that, we have to look at planning. It really took me by surprise how challenging these projects are to make into a piece of architecture because all of our projects before this have had very complex briefs, by the time you work them out your beginning to evolve a form and appearance and it's starting to tell you a story about the way the building works.
"On this project you're dealing with flexible office space and you don't necessarily know whether it's going to be subdivided or not because there is no tenant or clients yet so it's incredibly hard to make meaningful architecture. That's why you see so many of these huge glass boxes like that one on Bothwell street, the worst building in Glasgow, just dreadful. I see it's the home of Quantity Surveyors now. "
"You can begin to look at the broader urban issues around the square, the height and datums. Certain buildings pop up and create towers and events and we've tried to replicate that with the boardrooms and also at the corner where our building disappears, we've gone for a collection of buildings rather than one massive Aurora-esque building, a lump. That allowed us to deal with St Andrew Square, you've still got the pattern of original town houses and that allowed us to deal with a narrow vertical scale. We've rebuilt the corner, this dreadful little building which is always referred to as the collapsing corner. "
Demolition of the six buildings starts towards the end of the year with construction work following by summer of 2009.
Back to November 2008