DCM's New Offices
|
Send to friend
24 Jun 2008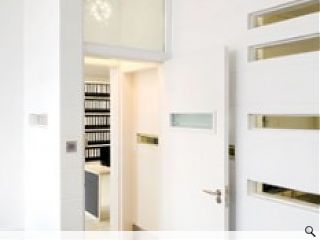 DCM's new offices sits above the Argyll Arcade, over looking Buchanan Street. As one of the contenders for the commission to redesign Buchanan Street in the mid 1990s they surveyed many of the vacant properties on the street. Ten years on they have returned to the same area, this time as a designer-developer. Norrie Innes, director of DCM, plans to simplify the business - concentrating on a handful of projects including the refurbishment of properties they own and a coffee company (ROCK COF) with a few small retail outlets.
Rock DCM own about half the floor space in the Arygll Chambers; they occupy the fifth floor and are in the process of refurbishing the top two floors. The building, which is B-Listed, had become run down, the lift stopped working five years ago and a certain inertia had set in thanks to a very complex pattern of ownership within the block. The block has a new lobby and lift and a proper management structure. Rock DCM's own office was previously occupied by George Panton the diamond jewelers. Designer, Jennie Ormond, found a new use for the jewellers' numerous safes (as coolers and filing cabinets). The design approach was to strip everything back to the basics, exposing the original structure and detailing and then adding some simple contemporary elements. All the furniture is bespoke, designed by Ormond and manufactured by Tom Young of Alderside engineering; the joinery work was done by DCM's own contracting staff.
The space consists of a main studio with offices. Innes' office includes a chill out room complete with black leather chaise long. Perhaps the most radical move is the creation of a gymnasium complete with bike, treadmill and punch bags. Horizontal windows provide views from the gym into the boardroom. If a meeting gets too tense a member of staff can be called in to do a round on the punch bag, jokes Innes. It's the kind of irreverent humour and slightly gallus creative energy that's been missing from the city in the new decade.
Back to June 2008