Koolhaas visits the Gartnavel to find new Maggie's centre site
|
Send to friend
24 Jun 2008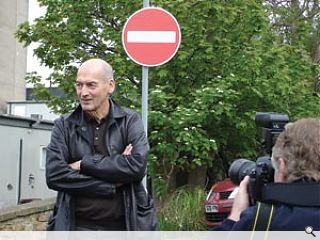 Rem Koolhaas, director of OMA, was in Glasgow recently to visit Gartnavel Hospital to identify a site for his proposed Maggie's centre.
Koolhaas spent a couple of hours with the client and the estates department of the hospital trust to identify a site close to the new Beatson Oncology building. Maggie's already have a centre on the site of the Western Hospital, but now need to move to follow the Beatson.
Koolhaas met and became a friend of Maggie Keswick Jencks while a student. Lily Jencks, Maggie's daughter, who has worked in Koolhaas's office in Rotterdam and is currently a post-graduate student in Landscape architecture, was among the group who toured the site.
Koolhaas and the client appeared to favour a site close to a Victorian hospital building which is currently empty and will be marketed by the NHS trust for residential redevelopment. Koolhaas was keen on the site because it provided views across the city and would make the centre visible, but also because there was some screening on the site, provided by mature trees.
Koolhaas, who has recently completed the CCTV building in China, said that he was interested in the scale of the project, not because it would be different to do something small, but because the character and the immediacy of the programme - which involved designing intimate spaces - would be a challenge.
When asked how he felt about the fact that the existing Maggie's centres had been criticized for being cold and clinical he said: "There are many ways in which people can be inspired, cosiness is one of them." He also said that he would be looking at how this latest building would sit in relation to the body of work under taken for the Maggie's centres to date.
The Glasgow Maggie's centre is supported by Walk the Walk, the charity best known for raising funds through the Edinburgh MoonWalk event in June.
Koolhaas last visited Scotland in 1968 as a student at the Architectural Association in London. At the time he recalls Scotland and England, were both bleak, but he was impressed by the "monumentality" of Glasgow.
Back to June 2008