Crowd Pleaser at the Festival Theatre
|
Send to friend
4 Jun 2008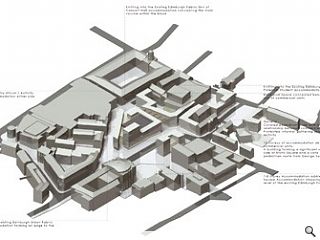 FESTIVAL THEATRE: Exemplar private/public proactive urban design initiatives: How do you make them happen?
This is an excellent example of how the Design Champion initiative successfully promoted the involvement of urban design skills within Edinburgh's architectural and design community. The Design Champion's aim is to broaden professional designers' involvement in Edinburgh's future and utilise the talents of architects, landscape architects, traffic engineers and others. The project is also a good example of proactive city making, rather than passive development control. Clearly, individual landowners cannot readily initiate proposals to improve their neighbourhood if there is no way of doing so.
In this case, the project began with Chris Masters, Chair of the Festival Theatre Board, approaching the Design Champion and asking for advice on possible development ideas. Architects Charlie Sutherland and Charlie Hussey were then introduced to the client and their proposal quickly demonstrated that with a more holistic outlook, the neighbourhood around the Festival Theatre could be transformed for the benefit of locals as well as the wider Edinburgh community. The concept now needs to be taken up by the city as it requires a reprioritisation of various roads and pedestrian routes. When this is achieved, the setting of the theatre along with connections to the university and other uses will be greatly enhanced.
This project must be followed through, if only because it demonstrates the capacity for sensitive urban design skills to mend and heal the civic realm. It also raises, in a proactive way, expectations of what is possible in Edinburgh. Beyond being an exemplary individual project, the methodology could be applied on the city tile basis to at least 20 or 30 locations. Though Edinburgh has an abundance of design talent, this is not currently matched by recognition that such skills could be harnessed to help the city itself attain a new level of urban design and place making.
Back to June 2008