Getting Haymarket Right
|
Send to friend
4 Jun 2008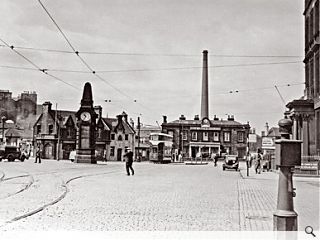 HAYMARKET: A complete new city district is emerging... does that city want this to be 'ad hoc, or proactively planned?
Though the Haymarket has always been central Edinburgh's westernmost station, it has until recently been almost a suburban stop. Lothian Road was the first railway station in the city centre until it moved to Waverley, and Haymarket was always secondary to Waverley. Recently, however, with Waverley becoming increasingly congested, the Haymarket has assumed a more prominent role. With the construction of the airport and the expansion to the Gyle, along with the building of the Exchange and other developments, including Fountainbridge, Haymarket's passenger traffic has gradually increased.
Now there is the potential for Haymarket to play a major role in the development of Edinburgh city centre. It is already Scotland's second busiest railway station after Waverley and this growth will continue when extra platforms are built, with the tram taking passengers into the city centre. Rail traffic at Waverley is hampered by narrow tunnels which leads to stacking back and delays in waiting for platforms. So getting off at the Haymarket is a real option, particularly for business travellers and the ordinary people of Edinburgh, who can then reach their destination by tram.
As office relocations to the West End continue, the Haymarket is rapidly becoming the centre of the city's new business district, making it the new Broadgate or Wall Street of Edinburgh. Yet this brings inevitable problems of transport congestion. Like Picardy Place, the Haymarket clearly was once a place and trying to retain a sense of this has been the Design Champion's main aim. But this is not easy, because bus, car and other transport planning carries on regardless, without taking other urban design issues into consideration. However, there have been many meetings to help resolve these conflicts - There was a specific Tram Charrette which focused on the Haymarket on 16 August 2006 to ensure that the different demands of planning this key nodal interchange could achieve some kind of balance.
There have also been a number of recent developments on adjacent sites. A very large scheme by Tiger Developments with architects Richard Murphy, Sutherland Hussey, CDA and Gross.Max. could add significantly to the Haymarket as a place, but only if it is coordinated with joined-up thinking on wider urban planning issues. The location of the tram stop was a major part of the early Design Champion initiatives with local urban designers. To date, while work on the tram continues, the resolution of all these matters is still a challenge, but we are hopeful that we can arrive at a good outcome. Here and at Picardy Place, the Design Champion has played a major role in creating the urban design framework, even if we have to get hands on to actually draw up and help with proposals. We are pleased that Ed Pearce from Tiger Developments has commissioned Sutherland Hussey to look at the wider Haymarket in a strategic urban design way, this is the type of work which reinforces the notion of city tiles.
Back to June 2008