Temple boosts disable access
|
Send to friend
29 May 2008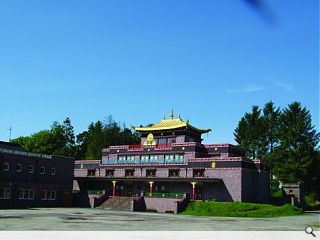 The Samye Ling Temple is one of the ten most visited places in Scotland. Set in a picturesque valley on the banks of the river Esk, it is a centre for Buddhist teachings and attracts thousands of visitors a year. It is home to a community of some 100 people, both monastic and volunteers, who maintain the centre's activities.

Open to people of all faiths and religions, the temple is an icon of local interest and education. Visitors are welcome for day tours or short breaks and invited to look round the centre. There is a diverse selection of courses to participate in, which include drawing, painting and Tai Chi. With the temple being so busy, disabled access is an essential requirement. It also has responsibilities under the Disability Discrimination Act (DDA).
First becoming law in 1995, the DDA aims to end discrimination against the less able. The act gives less able people rights in the areas of employment, education, access to goods, facilities and services, and buying or renting land or property. Extended in 2004 and 2005, it is a vital consideration in the planning and construction of public buildings and workplaces.
The development of legislation to improve the rights of the less able is an ongoing process. The October 2004 amendment requires 'service providers' to take reasonable steps to tackle physical features, which act as a barrier to less able people who want to access their services. Under the DDA, a service provider includes any business or organisation that provides a service directly to the general public, whether for payment or for free. This includes places of worship like the Samye Ling Temple.
This often means making building alterations to make disabled access easier. This could include putting in a ramp or lift to replace steps, or improving access to toilet and washing facilities. The Samye Ling Temple is accessed via a steep flight of stairs and previously, a long ramp was the only way up for wheelchair users. Pushing a wheelchair up it proved time consuming and exhausting. Time had come to replace it with a platform lift.
The Samye Ling Temple's requirements were complicated. The lift needed to fit into a tight existing space, but be big enough to accommodate the wheelchair user plus a carer. As it is for public use, it must be easy to operate. There are various factors to consider when purchasing a platform lift, so the temple set about approaching a major platform lift supplier for advice and a solution.
How far the lift needs to travel is important. There are different models available for short journeys (around 900mm) and long journeys (usually anything over 1½ metres). The Samye Ling Temple required a lift height of 1.8 metres. Lift dimensions must also be taken into account to ensure the lift fits in the allocated space. Some platform lift companies offer standard models, others will tailor-build to specific requirements.
The nature of the application is a key issue in lift selection. An office may opt for functionality over aesthetics, as how the lift looks may not be particularly important. However, the Samye Ling Temple is open to the public, so the lift must be visually pleasing. The building helps determine the type of lift required, for instance an internal or external model. The temple required a vertical lift with its own integral shaft.
After consulting the supplier, the temple opted for a popular market model that has a load capacity of 400kg and travels to a height of up to nine metres. The lift comes complete with its own shaft that features fluorescent and emergency back up lighting. It is LANTAC (Local Authority National Type Approval Confederation) approved, which means it has undergone rigorous safety checks and is compliant with building regulations. The lift also features a spacious 1100mm x 1500mm platform, which met the temple's specifications.
Controlled acceleration and deceleration at both landings mean no uncomfortable jolting. The lift also has the option of powered doors and a choice of finishes. A handsome lift, it can be adapted to suit any environment and its simple, ergonomic controls make it user friendly, ideal for public use. The installation was completed swiftly and seamlessly. With the new platform lift now in operation, disabled access at the Samye Ling Temple is much improved.
For more information visit www.movemanskg.co.uk
Back to May 2008