Radiant
9 Jan 2008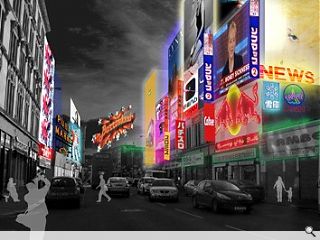 Can lighting change the way we feel about a part of the city? Should a lighting strategy light the city's best buildings or its worst? Are we over illuminating our public spaces? Is the preoccupation with safety leading to sanitised and anodyne environments?
The event, named City 24, was conceived by Willie Hanlon, a senior architect at Glasgow City Council to coincide with the Radiance lighting festival in November.
The purpose of the event was to discuss the city's lighting strategy and how it might be developed with architects and designers working in the city. Prospect was invited to chair the debate. Here is an edited version of the discussion to provide a flavour of the issues that are likely to be discussed and developed in the future.
Following the discussion the participants were invites to produce graphic images which explored the ideas we discussed in the round table. A selection of those ideas, which were protected in public as part of Radiance 07, illustrate this article.
Simon Smith, Radiance
This is the sixth year of the lighting strategy, early on in the process we did a lot of work to evaluate buildings in the city in order to decide what we should light. We looked at listing and history and public attitudes and we identified 154 buildings. By the end of this financial year we will have lit more than a hundred of them.
There are issues of maintenance and management of the buildings that we currently light as well as issues of development and sustainability, which is why we wanted to start a dialogue with designers working in the city. Is it appropriate to look at the inverse of the existing lighting strategy, to think about the spaces that link buildings and light them, to look at the incidental spaces around the city, like lanes and backcourts. Until now we have worked with artists, but is it time to look more at processes, at how the city operates?
Cathy Johnston, Development and Regeneration, Glasgow City Council
We are keen to integrate the lighting strategy into the mainstream, to ensure that when designers are working in the city they are thinking about the lighting strategy and how the perception of and the identity of the city changes.
Gerry Grams, Glasgow City Council, Design Adviser
There are two types of lighting, lighting for effect and lighting for necessity and they don't necessarily go hand-in-hand. I think its worth asking whether they should, whether artists should be involved in the functional lighting.
Jonathan Speirs, Speirs Major Associates
There are some examples where places have managed to get the artist and the mainstream lighting provided to work hand-in-hand, but in most places it is often tokenistic. One of the things that I found disappointing about Glasgow's lighting strategy was that it tended to be about lighting buildings, not the spaces that people move through. Lyon is an interesting place to look at, some of the lighting there is beautifully executed and some schemes are not.
One plaza at the back of the city hall is fantastic, but when you put the light metre down in the middle of the square the light reading is zero. The square is as big as George Square, and they have lit the walls and the fountains and the cafes are full of people. There is another plaza close by that is lit like a football field, no-one is there, people gravitate to the square with the low levels of lighting.
So we should look at reducing general lighting levels. One of the problems with Glasgow is that the highways guys dictate ridiculously high levels of light for reasons that I don't really understand. It's important to create a balance, but darkness is a fantastic thing.
Ronnie Dukes, Strathclyde Police A Division
Public places are safest when you have surveillance, people living around and overlooking spaces. In dark areas where people cannot be seen they can get up to no good. If you light a corridor, the people in it feel safe, but it depends on what you are doing. If you are lighting a car park you want it well lit, if you are going to a social activity you want it darker, a balance is needed.
Adrian Stewart Do-Architecture
It seems that throwing loads of light into key corridors is less risky, but there is then a danger that things happen just one block away from the light. I think we need to take a more strategic look at things, to look at how we treat each other and how we drink. I thinks its important to be flexible, a good city isn't static, if we focus on safe corridors it could be a problem. We need to be flexible.
Gerry Grams
There is a danger that we sanitise the city, that we light every city in the same way and they all look the same. I think we need to find a balance between risk and safety.
Karen Nugent Page/Park
I think that corridors of light should always be there, they are necessity. I walk about the city at night and I expect to be able to use those routes. However, if we are going to spend additional money on lighting it should be in the other places, the background spaces.
Penny Lewis, Editor of Prospect
I think it's interesting that the discussion is focusing on safety and crime prevention. We have not discussed what our ambitions are for the lighting strategy or what makes the city beautiful. Are there dangers in seeing the lighting strategy in an instrumental fashion in understanding it as a crime prevention measure rather than a means to enhance the built environment?
Alan Pert, NORD and Strathclyde University
My practice has made a film of the activity at the barras over a period of 24 hours. It happened to be a Saturday in which there was the market, a band on at the Barrowlands and a Celtic Game. There are things going on all night, there is just one hour from 5am when the lights go out.
Alan Dunlop, gm+ad
The thing that I find interesting about the lighting strategy is the selection of buildings. I think it would be interesting if you could take the buildings that are detrimental to the identity of the city and light them. When you light the underside of the Kingston Bridge people are amazed by the structure.
Karen Nugent
I think it would be good to take spaces that don't work and use lighting to attract people to them. One thing that stuck me when I first came to Glasgow was that there is an invisible wall along the High street , bizarrely everything east of the High Street is the east end. Could the strategy have fingers of light stretching into the east end?
Penny Lewis
Is the city making the right decision about where it directs its energies with the lighting strategy. Should we focus on areas that already have a certain public appeal and critical mass or users or look at forgotten and neglected places?
Jonathan Speirs
Instead of having permanent lighting and maintaining it, you could have a fund of money to create mini-radiances which you move around and take to different places, and you use to encourage people to look at building and places that they would not usually look at.
Adrian Stewart
There are artist that have demonstrated that you can do lighting in a very low-tech fashion, you can make an impact with tea-lights. I think the strategy should be to make the lighting very low-tech.
Jonathan Speirs
A tea light looks fantastic in a field, but it would be lost in George Square. We need an intelligent level of background lighting, we need to have a debate with the highways people.
Alan Dunlop
Secure by Design is the bane of my life at present. In Glasgow 'Health and Safety' has become more fundamental than the quality of a building. I am often in discussion with the police and they are not as sensitive as Ronnie here. I could talk about architectural quality to them and it wouldn't make any difference, because all they want to know
is, can someone climb onto that roof? As far as I am concerned if someone chooses to climb on to the roof of a building that I have designed and they
fall off I don't think I should be held responsbile for that. Until we can challenge that Health and Safety culture the idea of a broader strategy approach is limited. We are always designing out the 'Ned' element rather than doing something good.
Penny Lewis
Perhaps lighting designers and architects have a responsibility to argue that there is no such thing as a risk free environment. Such an argument and other ideas like the concept of switching off all of the lighting would encourage the authorities to think differently about lighting levels. Radiance could explore these ideas and perhaps act as a catalyst for innovation in the more general strategy.
The City 24 round table took place at the Lighthouse in October 2007 and the participants came from a range of disciplines with an interest in the built enviroment. Participants included; Simon Smith, Radiance, Cathy Johnston from Glasgow City Council Development and Regeneration Services, Alan Pert from NORD and Strathclyde University, Alan Dunlop from gm+ad, Adrian Stewart of Do–Architecture, Ronnie Dukes of Strathclyde Police A Division, Karen Nugent from Page/Park, Gerry Grams, the city's design champion, Jonathan Speirs, lighting designer from Speirs Major, Katriona McReynolds RMJM, Deborah Kell RMJM Arts Commissioning project and Rolph Roscher, from erz, landscape architects.
Back to January 2008