Shared Spaces
27 Sep 2007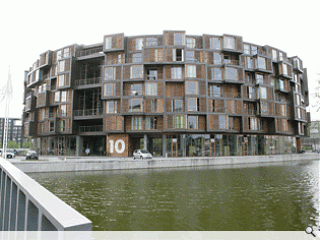 Prospect visited Copenhagen with PARC, Craigmillar's regeneration company, to find out about the design of 'shared spaces'. Photographs by Lewis Houghton

Craigmillar is one of Edinburgh's peripheral estates, built in the 1930s to house the families decanted from the Cowgate slums. In the post-war period, local breweries and coal mining provided plenty of employment but, in the last two decades, the population has dropped from 25,000 to 7,800. Today it is ranked fourth on the Scottish Executive's index of multiple deprivation, 33% of the population are unemployed or on incapacity benefit and the area has become increasingly isolated from the economic and social life of the city.
In 2004 the EDI Group and City of Edinburgh Council joined forces to create PARC, a joint venture company formed to undertake the regeneration of the area.
PARC plans to create 2,200 new homes for sale or rent, with other developers contributing 1,000. It will also create four new schools, a new library, a new town centre and 300,000 square feet of retail, leisure and office space. Broadway Malyan has recently been commissioned to design a new commercial centre for the area and John McAslan will produce a new school in the heart of the development.
The URC takes its name from the new public parkland, including recreational areas, woodland and allotments, which will cover a 150-acre site between Craigmillar and the Royal Infirmary.
In May, Prospect visited Copenhagen as a guest of PARC, the urban regeneration company charged with delivering a £180 million regeneration programme for Craigmillar over the next 12 years. The purpose of the trip was to visit 'homezones' or 'shared spaces' in both Copenhagen and Malmo in order to gain a better understanding of how this approach to the management of public space works in practice. PARC will be adopting a shared space policy in the Greendykes and Wauchope Square, two new developments in the centre of Craigmillar which are currently under construction.
Shared surfaces as a concept have been around since the 1960s and there are plenty of examples of development in Scotland where streets are shared between cars and pedestrians. However Wauchope Square and Greendykes are being designed to form 'homezones', where the entire space between buildings is treated as the shared public area.
This is the first of its kind in Scotland and follows the principles developed by Dutch engineer, Hans Moderman. Moderman designs places where pedestrians have equal priority of space, where cars stop and slow down for pedestrians, where children play in the street, and where traffic has access but a specific area for driving, or 'road', is not delineated.
Our first point of call was a landscape and urban design scheme called Prags Boulevard – a 2km long linear park created along a former road on derelict land on the south side of the city, providing a resource for both social and private housing. The park is elegant and well used, the stainless steel raised beds are particularly successful. However, the novel component of the scheme was not so much the design as the process. The project catered for a range of different generations and was carried out with active support from the local community council. Symbolic of the scheme's ambitions was the fact that heavy steel chairs were produced as part of the scheme and are left out for public use in the parkland. The idea was that people could call meetings, organise coffee mornings or get together for a concert in the space. Such projects are deemed to encourage local democracy.
Our second stop was Frederiksberg, a densely populated town on the outskirts of Copenhagen and the smallest municipality in Denmark. In an attempt to create a new centre, Frederiksberg's administration has spent 4.7 million Euros on a cluster of new linked public squares facing onto a library extension, a new high school and a college.
The project, which was designed by SLA – a multidisciplinary architecture and urban design practice (www.sla.dk) – was broken down into various elements, each with a different character depending on its function and relationship to surrounding buildings. It also provided an opportunity to see hard landscapes in which cars had access, but where pedestrians and cyclists dominated the space.
Our final Danish destination was Lyngby, a suburb outside Copenhagen where the local government has taken action to improve the quality of the local centre. They have re-organised the key traffic junctions, taking away traffic lights and introducing round-a-bouts and subtle calming measures using a variety of hard landscaping textures.
The group had an opportunity to visit SLA in their office and discuss their approach to larger urban design. SLA is trying to develop an idea of urbanism that does not rely on either modernist planning principles or new urbanist philosophies. As a result they are producing plans for new developments in which streets and pedestrian movement are key drivers, but in which the relationship between buildings and the scale of development is radically different from Denmark's historic settlements.
Although it was not an official part of the tour, Prospect dragged photographer Lewis Houghton around some of the new developments at Orestad, a new commercial and residential centre being built on the south side of the city. This area is being laid out according to more conventional planning principles, but has attracted some of the world's most innovative architects.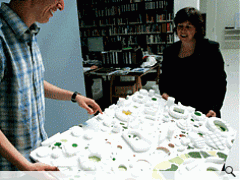 Back to September 2007