Experimentation
16 Sep 2004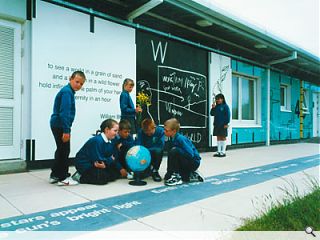 North Ayrshire Council's collaboration with artist Bruce McLean at Lawthorn Primary School generated considerable interest. Now the council is taking the approach a
step further at Dalry.
North Ayrshire Council builds one primary school a year from its capital programme. Since 1998, a team led by the artist Bruce McLean has been working closely with the council's architects to design these schools – not to "decorate" them with some artwork such as a mural or sculpture, but to work at a conceptual level to fundamentally re-think what a school should be. As the collaboration has progressed, the ideas, and the resulting designs, have become more radical.
Born in Glasgow, McLean has an international reputation as a painter and is Professor of Fine Art at University College London. He is perhaps best known to architects for his collaborative work with Will Alsop. His ideas on education and school design originated from studies he did with his son, Will, who trained as an architect, and the writer and educator Mel Gooding. In 1998, McLean's team was invited by North Ayrshire to propose a model for an experimental primary school, with support from the Scottish Arts Council Lottery Fund.
The design is based on the concept of what McLean terms "imbedded intelligence". Ideas, concepts and data should be projected through the fabric of the school building – enabling the children to learn as much from the school itself as from their teachers. Routes would tell stories, layout would suggest systems of measurement, and specific spatial relationships would inform the children about their local and global environment. Facts, figures, phrases and fables would be incorporated into the structure with local historical text and information.
Behind this development lies a long process of careful research and consultation with a range of experts, from design and educational professionals to the children themselves. Extended workshops used drama, visual arts, film and discussion to explore how children use space, what their ideal school would look like and how it would work – ideas that have been incorporated into the new school design.
These workshops are stimulated by the creative approach of McLean and his colleagues. Bruce McLean thinks and communicates through drawings and collages, Gooding in words and wordplay. They draw on association and chance as well as logical argument. It is clear that the freedom this engenders has opened up new concepts outside the normal run of architect/educator discourse.
The idea of "imbedded intelligence" was first realised at Lawthorn Primary School (completed in 2001). Designs for the school were presented in 2000 at a seminar in Edinburgh, during an exhibition of Bruce McLean's work at the Talbot Rice Gallery. The team's involvement at Lawthorn came at a late stage and was confined to the design of the exterior of the north wall. Christened "Wonderwall" or "the school as a rule", it was designed as a dynamic learning feature, expressing and celebrating the functions of the rooms behind the wall. The kitchen wall shows the activities and aesthetic of cooking – texts and images of recipes and ingredients drawn on glazed bricks. Similarly, the medical room is denoted by anatomical drawings and texts and the boiler house is fully glazed to exhibit the workings of the machinery. The whole length of the north wall is calibrated in metres and centimetres like a giant ruler, giving children a sense of distance and size, and the texts and drawings extend out onto the adjacent ground surface.
McLean's involvement at Dalry Primary has been much more fundamental. He has been an integral part of the design team from the beginning. Dalry is a two-form-entry primary school incorporating facilities to be used by the local community. The 14 class bases (or "houses" as they have been called) are placed along the indented south elevation, the large volumes of kitchen, dining hall and gymnasium-cum-theatre to the north, entrance, side. A central spine of service rooms links these two blocks. Each seven-metre-square class "house" will have individual characteristics derived from aspects of imbedded intelligence – 14 different window designs with magnifying lenses, calibrations, colours, inscribed texts – and 14 sets of wall surfaces differing in their acoustic, visual and tactile qualities.
Adjacent to the central spine is a generous circulation space into which are placed special "houses" for more defined functions. A "showhouse" for displaying the children's work, a conservatory/environment house equipped to display and monitor the weather and the school's renewable energy resources, such as wind- and water-power and solar panels, a sound house for musical performance and listening, an art house, the book house, a library that spirals up through the roof into a glazed cone, and a "spaceship" containing all the school's ICT equipment, designed to excite children – "more like entering a brain than the dreaded IT room".
Radical ideas have also been developed for the school furniture and equipment. Artist Gary Woodley has designed prototype modular furniture, and teaching IT skills could be revolutionised by the team's suggestion that "one could design a kind of digital clay or putty, which could extend visual and tactile skills in a much more sophisticated way than the channelling through keyboard, mouse and screen". The resources of local skills and specialist fabricators have been examined with the intention of using them, where possible, for the construction of the school.
Dalry Primary is due for completion in 2006. It remains to be seen whether this plethora of provocative ideas can be pulled together into a coherent whole and then survive intact through the construction process. But there seem to be lessons to be learnt from North Ayrshire's experience.
First, the amount of time and resources necessary to enable the detailed brainstorming, consultation and development of ideas for one school in one specific location and community – would this be possible within the constraints of a PPP programme?
Secondly, the exemplary commitment of North Ayrshire Council in following through the design process to its conclusion, in order to meet the council's aim "to produce in Dalry a building like no other, that responds to and celebrates its locality both in its construction and use."
Thirdly, it is clear that the creative freethinking by McLean and his colleagues has been of fundamental importance in developing and carrying forward the radical new ideas embodied in Dalry Primary. Perhaps the incorporation of artists in more design teams might shake up the sometimes stodgy results of PPP.
The Scottish Executive aims to produce 200 new or renovated schools by 2006. The official guidance on implementing this programme appears to confine itself to procedural and programming issues or aspirational statements about "developing design quality" and "benchmarks". South of the border, the Department for Education and Skills and CABE jointly sponsor the "School Works" programme. This aims to improve school designs through workshops with teachers, parents and students, by publishing the results and by initiating innovatory designs. In Scotland, why is it left to one of the smaller local authorities and the Scottish Arts Council to try to put the Executive's aspirations into practical form? At the very least, one hopes that when Dalry Primary in completed the Executive will promote it as an exemplary school design process.
Written by Jim Johnson
References/Credits
All quotes from "Dalry Primary School" – a report prepared for North Ayrshire Council and the Scottish Arts Council by Bruce McLean and William McLean. 27 November 2003
Web site: www.primaryspace.net
Project Team:
Jim Leckie, Head of Service, Education NAC
Maureen Denningberg, Head Teacher, Dalry Primary School
David Watts, Architect, NAC
Irene Farish, Architect, NAC
Peter Tognieri, Architect, NAC
Bruce McLean, Artist/Teacher UCL
Will McLean, University of Westminster
Gary Woodley, Artist/Teacher, UCL
Robert Webb, xco2 Environmental Consultant
Mel Gooding, Writer/Critic
John Walter, Artist
Linda Mallett, Ginko Projects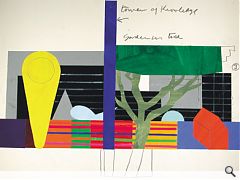 Back to September 2004