Glasgow\'s The Wright Business Centre and The Wedge feature in this issues Completed Buildings section
|
Send to friend
6 Jul 2006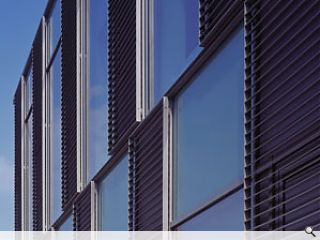 Project: The Wright Business Centre, Queenslie.
Architect: Elder and Cannon.
Location: Queenslie, Glasgow.
Client: Greater Easterhouse Managed ( GEM) workspaces.
Photographs: Keith Hunter.
The £3.8 million Wright Business Centre is a two-storey managed business centre operated by the community-owned GEM workspaces. The building has two floors of lettable offices and incorporates meeting rooms, a conference suite and a small café.
The client was looking for a great deal of flexibility in the design, so that he could adapt the building to meet the needs of future tenants. The scheme has been designed so that every other partition is moveable.
The building form is divided into three main components: a glazed block centred on a public atrium; a brick and aluminium-clad wing containing the majority of the office accommodation; and a single-storey conference block projecting to the south, which has been located to maximise views over the city. The entrance of the building is directly into the double-height atrium block; the linear block has open circulation routes running alongside the atrium. A small shared kitchen area opens out onto the atrium.
The steel-frame building was built by Morrison Construction, with Buro Happold acting as structural and service engineer. It is clad in a combination of brick, aluminium and curtain walling.
Project: The Wedge.
Architect: Chris Stewart Architects.
Location: Pollok, Glasgow.
Client: Greater Pollok Properties.
Photographs: Andrew Lee
The £3.6 million 'wedge' houses a new community resource for Greater Pollok Properties designed in collaboration with its tenants. The building contains meeting rooms, a café and community office facilities. The offices are used by a variety of community groups and enterprises including MSPs, Glasgow City Council, Greater Pollok Development Company, Pollok Credit Union and other local community organisations.
The site sits at the edge of a large traffic roundabout close to the town centre and is surrounded by four-storey local authority tenements. The wedge-shaped building is a response to the context. It rises from one storey to three, to allow views across its green roof for surrounding residents and is a prominent feature on the roundabout.
As a result of the external form the internal office spaces all have a different character. The long sloping roof is expressed internally providing interesting volumes and plenty of natural light. The steel structure is clad in zinc, curtain walling and render. The café sits at ground level overlooking the traffic interchange, providing an interesting and intimate space for general public use.
All office spaces are naturally ventilated with staff chill-out areas overlooking the three-storey glazed entrance foyer. The main contractor for the project was Kier; Arup was the structural and service engineer.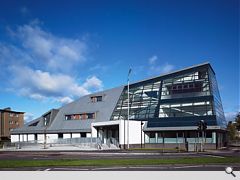 Back to July 2006