An injection of fun at the Royal Aberdeen Childrens Hospital
15 Oct 2004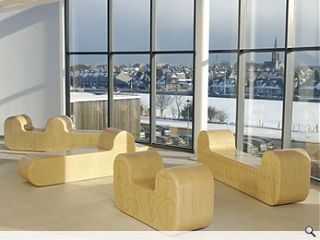 As part of a large-scale arts commission run by PACE, fifteen artists have brought a touch of humour and enjoyment to a visit to the new Royal Aberdeen Children's Hospital.
On the courtyard roof of the new Royal Aberdeen Children's Hospital, a family of strange orange creatures feast on a picnic of watermelon. The sculpture, by artist Lucy Casson, is one of many bizarre sights to be seen around the hospital, which was designed by local architects Mackie Ramsay Taylor and opened last winter. Casson was one of fifteen British artists to participate in the largest-scale commission of its kind in Scotland – a £600,000 project to bring art into the external and internal arrival areas, corridors, waiting and play areas and the courtyards of the hospital.
The scheme was funded by the Scottish Arts Council Lottery Fund, the ARCHIE Foundation, Aberdeen City Council and NHS Grampian. The arts strategy and commissioning of artists was undertaken by Edinburgh-based arts agency P.A.C.E.
A programme of research and a series of workshops involving all the collaborators (the artists, architects, Grampian Hospital Arts Trust, hospital staff and the Young Advisor's Group, made up of local children and young patients) had established that children have a higher capacity to enjoy visual art – even conceptual art – than they are often credited with.
To acknowledge this, the artworks are diverse, humorous and clever, and are as enjoyable to adults as they are to kids.
Amongst the exhibits dotted around the hospital's four public floors are a series of photographs, some funky furniture, and facts and figures about the human body splashed across the walls in colourful lettering. Artist Lucy Richards produced this signage, along with graphic designs for walls, columns and floors. Allan Watson's smooth wooden sculptures double as seats. Outside the building, there are tree sculptures by Dalziel and Scullion, a giant spiral wrapped in fibre optics by Jim Buckley, inspired by the famous "slinky" toy, and a kinetic water feature by Syd Burnett. Outside the A&E entrance, Ally Wallace's Space Place creates a jungle of brilliantly coloured poles.
Since it was established in 1986, Grampian Hospitals Arts Trust has provided around 4,000 original works of art in 45 locations, with the aim of improving the healthcare environment for patients, staff and visitors. The Royal Aberdeen Children's Hospital currently caters for around 75,000 patient attendances each year, and if these fun works of art help to make hospital visits a bit more bearable for the children, then it has been money well spent.
Photography by Mike Davidson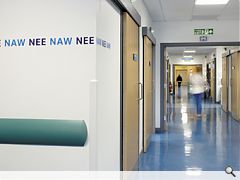 Back to October 2004