Future residential developments in Manchester city centre
19 Nov 2004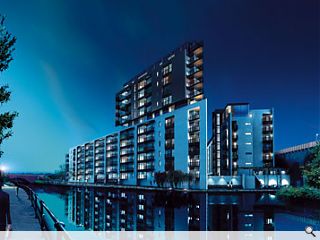 by Anna Chambers
Visit Manchester's fast-changing Castlefield area and you'll witness a busy hive of building activity. Glenn Howells Architects' Burton Place – 90 flats at Britannia Basin for Urban Splash – is nearing completion, standing at right angles to Timber Wharf, Howells' acclaimed earlier building. Close by, Liverpool architect shedkm's exciting Moho (modular homes) development, also for Urban Splash, is under construction, to be completed by spring of next year. The 102 one- and two-bedroom units have been built in a factory in Yorkshire and arrive on site as finished homes with all internal fixtures, bathrooms and kitchens, balconies, timber flooring and even furniture included in the price. They are then craned into place onto the huge steel frame. Urban Splash's Tom Bloxham feels that the modular build principles could be suitable for use all over the country and might even be a solution to the housing crisis in the South East.
Next to Moho, on Worsley Street, is Dandara's "The Base", designed by OMI Architects – a development of 104 apartments. Then there's Dandara's largest and most ambitious North West scheme, St George's Island. Designed by John McAslan + Partners, the £39 million, 434-apartment scheme is now on site and due for completion in 2006. Five blocks radiate across the "island" site between the Bridgewater Canal and Victorian railway viaduct. The blocks start at nine storeys in the west, rising to fifteen storeys in the east. Despite the slightly brutal appearance of the scheme, the apartments promise luxury, privacy and views, with communal garden spaces between blocks and a balcony for each home.
Across the road from Castlefield, Bellway Homes is soon to complete the third phase of City Gate, a vast scheme on Blantyre Street beside the St Georges Church roundabout. Designed by Altrincham-based architects Calder Peel Partnership, the development will eventually contain more than 300 apartments, commercial and leisure units and a medical centre. The scheme has one twelve-storey and two six-storey buildings.
As we speak, between two and three thousand apartments are being built within a square mile of the core of Manchester city centre, but are there really enough affluent singles and childless couples to occupy them? As the whole country starts to talk about the slowing down of the housing market, some experts believe there can't possibly be enough potential buyers to fill all these far-from-cheap apartments. The latest average house price in Manchester is now £107,515, up 8.7 per cent from the last quarter, with the cost of a flat even greater, at £128,952. "The market has definitely slowed," says Urban Splash's Communications Manager, Lisa Ashurst. "We are still getting just as many people through the door at the sales office and the money is still out there, but people are definitely being more cautious and are not converting as much as we'd like. However, we're pleased with initial sales at Moho, and we've had a steady flow of sales at the Budenberg development in Altrincham."
Robert Evans is Associate Director of Stephenson Bell, architect of the recently completed and award-winning Haçienda and of another future residential development – called "Vie" – of 210 apartments on Water Street in Castlefield. He also agrees that buyers are exercising caution but thinks the demand for city centre homes in Manchester will remain strong for some time to come. "Manchester hardly had any city centre homes at all until recently, so it has started off from a very low base. And although a lot of homes are being built, there is still only about a hundredth of what London has available in its city centre, and even less than what there is in Paris."
Writer and film-maker Phil Griffin isn't so sure. "I wonder if Urban Splash have had their first baby – are there any children at all in any of their city centre apartments? Tom Bloxham has the view that one- and two-bedroom flats are the way forward but I can't help wondering how sustainable this is, and I believe that something needs to happen to grow their client base." Griffin has more faith in schemes like New Islington, which incorporates social housing. "More affordable housing near the city centre will help lever out infrastructural systems. Until we get four- and five-bedroom family homes, we won't get the schools and libraries."
However, the signs are there that living outside the city centre could be the next big thing, especially if your wage packet isn't massive. Old Trafford-based Legendary Property Company, which has already improved run-down high-rise housing in Liverpool's Everton, is working on a scheme in Blackley, four miles north of Manchester city centre, to transform five 12-storey blocks into desirable yet affordable homes. One tower will be demolished to accommodate car parking and the remaining four stripped back, redesigned and redecorated. More reasonable prices, starting at just under £60,000, have meant that half of those sold so far have gone to first time buyers. At the upper end of the market, Urban Splash is also turning its hand to suburban projects like Norman Foster's housing in Altrincham. Splash is also establishing a presence in Yorkshire, with a new Managing Director appointed for the area, which could be seen as an attempt to spread its wings in case the North West city centre market does turn down.
Realistically, developments like Countryside Properties' Didsbury Point, which has used a more urban approach to suburban housing, with a mix of apartments and houses, are likely to grow in popularity. It is inevitable that some of today's affluent and design-conscious city centre dwellers will decide they want a family or a bit more weekend peace and quiet but still don't fancy the idea of living in a detached brick shoebox.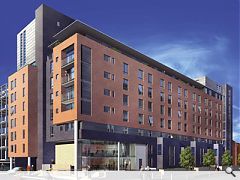 Back to November 2004