Review of CUBE\'s Mendelsohn exhibition
19 Nov 2004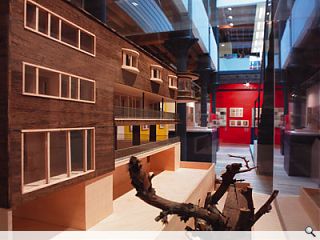 by Penny Lewis
It is ironic that the UK, a country that is not particularly fond of its Modernist heritage, has one of the best preserved of any of Erich Mendelsohn's buildings. The survival of the De La Warr Pavilion, the subject of ongoing restoration work by John McAslan, may have more to do with the sleepy character of Bexhill-on-Sea, located as it is at the heart of the Costa Geriatrica, than our
respect for Mendelsohn but we can still count our blessings.
Today, another blessing is that CUBE in Manchester has been able to host a significant German exhibition on the architect.
Erich Mendelsohn, Dynamics and Function was curated by Regina Stephan for the Institute for Foreign Cultural Relations in Stuttgart. It is a dense exhibition organised around building types. It suffers a little bit from being shoehorned into Cube but it seems churlish to complain when this is the only UK venue for such an important exhibition. Excellent models (built by students) and original sketches bring colour to the show. If you already have an interest in Mendelsohn or Modernism you should find the archival material fascinating. If not, you may have to work a little harder and get the catalogue. However, a combination of archive material, and contemporary photographs provides some sense of the context that Mendelsohn was working in, and the legacy of his work.
The catalogue has a foreword by Esther Mendelsohn-Joseph, his daughter, which talks about the significant influence of music, in particular Bach, on Mendelsohn's work, and a collection of essays by interested academics. It leans more towards a personal account of the man and his work than a rigorous theoretical account of Mendelsohn's place in the genesis of Modernism. However, the significant and turbulent backdrop to Mendelsohn's career (Modernism and the rise of Fascism) and the impressive archive retained by his family, despite their forced exit from Berlin in 1933, combine to produce a fascinating story.
The show gives the visitor a broad view of the pattern of Mendelsohn's life and work. His personal fortunes relate quite closely to certain building types. First, there is the Einstein Tower in Potsdam, a unique expressionist building that established Mendelsohn as a major player in the creation of a new language for twentieth-century architecture. Then a very productive period of commercial work in Germany, best symbolised by the Schocken department stores, that developed into larger scale city block commissions like the WOGA complex and Potsdamer Platz' Galeries Lafayette, followed. In 1933 Mendelsohn and his family left Berlin and came to England, where he worked with Serge Chermayeff on the fabulous De LaWarr Pavilion at Bexhill in Sussex and produced two private residences. In the second half of the 1930s Mendelsohn turned his attentions to Palestine, the site of the emerging Zionist state, where he was commissioned, often by his Berlin contacts, to produce major public buildings such as the Hebrew University and Haifa Hospital. In 1941 Mendelsohn moved the USA, where the majority of his commissions were for synagogues.
There is a world of difference between the work produced by Mendelsohn in Palestine, with its thick-set, stone walls with small punched windows and the extremely light, dynamic forms of the German commercial buildings. Despite protestations that the rules of the British administration in Palestine insisted on the use of local stone on all of their buildings and that Mendelsohn's work was contextual, it is clear that his later work had lost something. Was he a Modernist who reverted to Classicism or was he ever, at heart, a real Modernist? Mendelsohn seems to fall, or perhaps more appropriately rise, between two stools. He was not quite Modernist or Beaux Arts, perhaps a fusion of both. Looking at the most productive period of his life, the 1920s in Berlin, and at his early sketches, produced during the years of World War I, his work comes closest to Futurism. Mendelsohn's sketches are very often drawn from a frog's eye view to create a particularly dynamic sense of perspective; they provide few clues about structure but clearly articulate form. His concern is for form and space rather than plan and programme. Regina Stephan and Ita Heinze-Greenberg provide some very interesting material on Mendelsohn, such as correspondence with his wife Luise and sketches that describe Mendelsohn's ambition to develop a new language for architecture that combines rationalism and expressionism.
Exhibition: Erich Mendelsohn
Title: Dynamics and Function - Realized Visions of a Cosmopolitan Architect
Dates: Until January 29
Venue: Cube, 113-115 Portland Street, Manchester
Back to November 2004