Some of the country\'s flashiest home Christmas displays
17 Dec 2004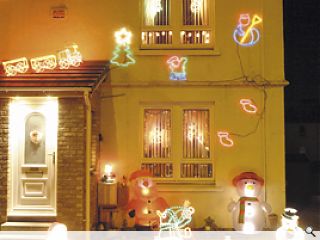 by Anna Chambers
photography by Basharat Khan.
If you happened to live next door to someone that lavishly decks their home with flashing lights , snowmen and reindeer every Christmas, you could be forgiven for feeling like a little bit of a party pooper in comparison. Even if you tried your best to get into the Christmas spirit, maybe by placing a modest tree in the window and a string of lights along the eaves, your efforts would still fade into the background. Perhaps that's how it all began in parts of America, where it is common to find row after row of houses decked with enough fairy lights to create light pollution strong enough to render the stars in a clear winter sky completely invisible. Maybe one person decorates his house like Santa's grotto, his neighbours feel the need to compete, and before you know it, Christmas mania has spread like a rash all over town.
The houses and gardens in this feature aren't in America, they're in Scotland – and they're becoming increasingly common right across the UK. Look at any local paper over the festive period and the chances are there will be a story about the most over-the-top Christmas display in town. Electricity suppliers must be rubbing their hands together in anticipation of the extra profit they'll make as an annual display of good tidings becomes more and more popular.
But what inspires these Christmas aficionados to spend so much money and energy? "To make people smile", "for the children" or "to brighten up the gloomy winter days" are common responses. Most use the attention their displays attract to raise money for charity. One man living near Stockport, who keeps his Christmas lights up all year round, does so as a shrine to his daughter, who died of cancer.
But for every spirited Santa, it seems, there's always a Scrooge waiting to object, and it has even been known for people to take their neighbours to court over Christmas displays. In 2000, David Rowlands of Irvine was challenged by fifty of his neighbours, who succeeded in their bid to prevent him from switching on his display of 8,500 lights, singing Santas, reindeer, a talking tree and many other festive friends outside the hours of 2–5 p.m. Their cause for complaint, they insisted, was not the lights themselves, but the volume of traffic the display attracted to their normally quiet cul-de-sac – around 60 cars per hour. Sheriff Smith wrote in his judgment: "The defender's conduct amounts to nuisance. The evidence of the pursuers was that each of them had chosen to buy a house there because of the quietness, seclusion and freedom of traffic and its associated noise." Mr Rowlands appealed against the decision, but lost.
However, this case is still an exception, as most people seem enthralled and amused by the efforts of the more eccentric Christmas lovers amongst us. I don't anticipate the bah-humbug brigade spoiling the fun just yet.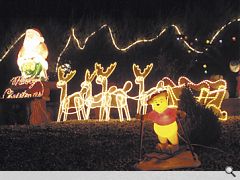 Back to December 2004