Edinburgh Housing – Retrofit, New Build and Future Strategy
Date: 17 Nov 2021 - 17 Nov 2021
Time: 18:30-21:00
Town/City: ECA Fire Station 76-78 Lauriston Place Edinburgh EH3 9DE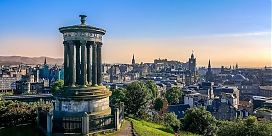 All about Edinburgh. Examples of retrofit work carried out, new build housing planned, and the Council's plans for the future.
As UK carbon emissions from homes are around 20% of the total, Edinburgh's housing can have a huge impact on the city's drive to lower emissions.
This event will look at the work done to date on existing buildings, with presentations and case studies from Changeworks and Home Energy Scotland.
This will be followed by a presentation by 7N Architects on newbuild and upgrade strategies they are involved with that link with the city's need for expansion yet still attain net-zero.
The evening will conclude with a presentation by City of Edinburgh Council – Housing Sustainability Approach. Following presentations will be an opportunity for questions from the audience to the panel on their thoughts on how housing can help meet the climate crisis while providing a just transition for all.
Back to Diary