Current Issue
The current issue of Urban Realm contains articles on: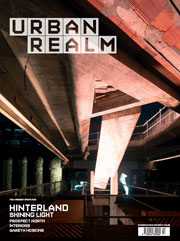 Procurement
Urban Realm takes a look at some of the most ludicrous lines of bureaucratic questioning put to them as part of an investigation into the growing mountain of red tape burying architects.
Interior Design
In our latest snapshot of the interior design industry we will quiz leading practitioners to give us some inside knowledge on what the future holds.
Japan
Eugene Mullan delivers observations from Japan in the latest in a series of travelogues, paying particular attention to a distinctive Far East approach to off-site and timber construction.
Drawing
The GIA's recent Alexander Thompson Scholarship drawing competition elicited a variety of responses on the theme of 'detail' but which piqued the judges interest? Urban Realm takes a look.
Lairdsland Primary
It's set new standards for schools delivery in East Dunbartonshire but what is it precisely about Walters & Cohen's work that has been so well received? Urban Realm rakes a tour around the canal side primary to find out.
Carbuncle Town
Ahead of the release of a new film documenting the Carbuncle Awards we pay a return visit to Denny to see what has changed for the better and what still needs to be done in the only town ever to request the prize.
BIM
We tag along at the first Hack Construct event to be held outside London to discover what can be achieved when technology professionals team up with construction experts for a weekend of beer, socialising and coding.
Cottonopolis
With Manchester now a hot bed of construction as the heart of the so-called 'Northern Powerhouse' we take a look back at the city's last period of ascendancy courtesy of photographer Darren Holden, when the rise of the cotton industry studded the landscape with a plethora of mills.
Gareth Hoskins
The untimely death of Gareth Hoskins has shocked the industry with the loss of one of architecture's brightest stars. Here we look back at Hoskins life and work through the accounts of those who worked with and knew him.
Back to Home