Current Issue
The current issue of Urban Realm contains articles on: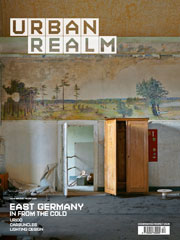 Architecture Meets Art
Architects may be frustrated artists but what artist wouldn't kill to have their vision realised in front of them? Both pursuits may employ very different mediums but they are also personal reflections of their creators imaginings. With that in mind Urban Realm took a look at what happened when some architects swapped pixels for paint.
Aberdeen
The central belt has long monopolised the carbuncle awards but when Aberdeen was shortlisted it proved that even the richest corners of the country aren't exempt. With the threat of a most dismal award in the offing urban realm travelled to the granite city to find out why its detractors are so agitated.
Helsinki Guggenheim
Helsinki's Guggenheim competition, one of the highest profile architectural contests in recent years, made headlines after drawing an unprecedentedly crowded field of 1,715 entries. We take a closer look at three home grown entries to see what might have been.
Glasgow Interiors
An unseen city lies hidden behind Glasgow's sandstone walls, one which has been largely overlooked by a tendency to instant gratification from architectural bombast. Dig a little deeper however and a different picture emerges, one filled with more intimate, sensual and serene spaces.
Lighting design
Natural light may be in short supply at this time of year but this absence gives artificial lighting a chance to shine. With recent technological advances improving efficiency and lowering costs we put the profession under the spotlight to see whether a bright future lies ahead.
East Germany
The 25th anniversary of the fall of the berlin wall came at a time of ominous signs of a rekindling of historic animosities but, despite the passage of time, much remains visible on the ground from the period although, in many instances, not for much longer.
Dunoon
As small towns across the country battle to hold onto their history local campaigning is becoming the deciding factor in their survival. That was certainly the case in Dunoon where a decaying hall was rescued by people power alone, but is this a template for others to follow?
Ben Nevis
Britain's highest mountain may have untapped tourist potential but how can this be realised without harming the very environment to which people are drawn? Here Smith Scott Mullan associates detail their solution, a mixed use masterplan for Leanachan Forest.
Design Pop-Up
For anyone seeking hands on product advice the prospect of an 800 mile round trip can be off putting. In an effort to bridge the gap between commissioners and suppliers a design pop-up event has taken to the road, making the switch from Glasgow to Edinburgh to showcase the latest innovations to the architecture industry.
Holyrood South
The latest addition to Edinburgh's burgeoning provision of student housing seeks to recreate medieval old town density but does this approach stack up today? Urban Realm paid a visit to the post graduate housing complex to dig a little deeper into the impact the sector is having on the world heritage site and wider city.
UR100
Urban Realm's New Year honours list doesn't just capture the state of the nation in purely physical terms, it also brings to the fore the creativity and design nous exemplified by a profession well versed in difficult circumstances. Over the following pages we document some key recent projects and name Scotland's best practices.
Back to Home