Current Issue
The current issue of Urban Realm contains articles on: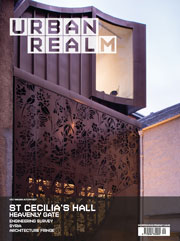 Engineering Report: Urban Realm peers under the hood of some of Scotland's top engineering companies as we ask what the future holds for the profession, graduates and our infrastructure.
Syria: Ravaged by war since 2011 attention is now beginning to turn to the enormity of the task facing the shattered country as it seeks to rebuild. We speak to Marwa al-Sabouni, author of The Battle for Home, to obtain an architects view of the task in hand.
St Andrew Square: Urban Realm pays a visit to Edinburgh's rapidly evolving St Andrew Square to see what CDA and Hoskins Architects have achieved on the site of the late, great, Scottish Provident building. How does its replacement hold up?
St Cecilia: St Cecilia's Hall has long been the second oldest music hall in the British Isles but it now boasts its newest addition courtesy of a £6.5m restoration project. We take a peek to see whether Page\Park have done it justice.
Gray Dunn: Mark Chalmers managed to gain access to the Gray Dunn Biscuit Factory, a Kinning Park landmark known to thousands of motorists prior to its recent demise, it had enjoyed a twilight period as a crucible for graffiti and street art but is now no more.
City Campus: It's in the running for a Stirling Prize but how well does the City of Glasgow College mega-campus hold up in real life? Peter Wilson surveys the to see what it can teach us about modern education provision.
Architecture Fringe: Urban Realm partners with the Architecture Fringe with some reflections on the events-led programmes work to broaden the professions voice to a wider audience. Through a mix of opinion pieces from different voices and we take a closer look at their manifesto for change.
UR Comments: Urban Realm recently staged a one-off recreation of our notoriously combative forums for a one off live event on stage, exploring the limits of free speech in a world where anonymity rules. Here's what you might have missed.
Back to Home