Current Issue
The current issue of Urban Realm contains articles on: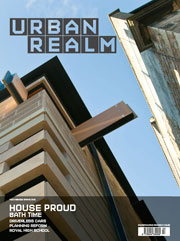 Carbuncles - Urban realm's decision to present Aberdeen with a carbuncle award this year followed a series of street protests organised by campaigners frustrated with a planning system which delivers schemes such as Marischal square and Glasgow's Buchanan Galleries extension. It sparked wider debate as to how fit for purpose the profession now is and calls for further reform to give people the voice they increasingly demand.
Kirkcaldy - Hutchison's Flour Mill, an unusual piece of 21st century process architecture, is a rare example of new dockside industrial construction and the first mill to be built in Scotland for 30 years. Mark Chalmers takes a look.
Theatre Royal - Page\Park's flamboyant intervention in Glasgow city centre has got tongues wagging with an ostentatious use of gold but is the drama best left on the stage? We take a look around.
Tower Blocks - As tower blocks take their bow from city skylines with increasing rapidity some fret that we may lose touch with an important period in our history. Here Miles Glendinning talks about the launch of a new ECA archive documenting such structures.
Sauchiehall Street - The rapidly evolving make-up of Glasgow City Centre is prompting a reappraisal of some of its best known areas but does this represent a step forward or backward? Amidst the spread of pound shops and a giant extension of Buchanan Galleries Sauchiehall street has never looked more precarious. With that in mind Urban Realm pounded the streets with the design team appointed to arrest its decline.
Shields Centre - Nationwide consolidation of GP surgeries into neighbourhood health centres is providing a bountiful supply of work for architects, but is their impact equally as healthy for patients? Urban Realm checked into Anderson Bell + Christie's Shields Centre to see if it is just what the doctor ordered.
Hart Street - If an Englishman's home is his castle how do you go about designing a retreat in a city defined by an existing fortification? For Richard Murphy the answer is a stone clad town house that exalts in ripping up the new town rulebook.
Royal High - It has lain derelict for the better part of 50 years but now hopes are riding high that its future may have been secured. Urban Realm assesses the likely impact of Gareth Hoskins scheme on the building and wider city.
Driverless vehicles - With the first trials of driverless cars now taking place on UK roads how might universal personalised transit affect existing mass transportation? Do they hold prospect of an inherently safer and greener environment? Urban Realm investigates.
Register Lanes - Edinburgh's back alleys are being placed front and centre for the renovation of a neo-classical landmark on St Andrew Square. Is it a worthy successor to Advocate's Close?
Back to Home