Current Issue
The current issue of Urban Realm contains articles on: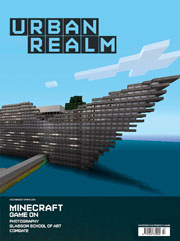 Procurement
A recurring theme to communicated to Urban Realm is that of procurement, principally how the current strictures can be amended/ripped up to create a more level playing field. Does the independence debate offer an opportunity to start afresh?
GSA
Urban Realm has been granted a sneak peek behind the scenes at the Glasgow School of Art to investigate the process behind its procurement, who was paid what and does Steven Holl's vision stacks up against the original Mac competition?
Employee Ownership
When Page\Park first mentioned transferring to an employee ownership model their advisers gave them one option, to sell up. Unperturbed they've proceeded to embrace the path first trodden by Collective Architecture seven years ago... but is it a model for others to follow?
Architectural Photography
A host of top architectural photographers step out out from behind the lens to reveal the tricks of the trade and give their perspective on what lessons the profession can give to architects.
Solar - sponsored by Forster Energy
With many believing that wind power has reached saturation point on land in Scotland Urban Realm takes a closer look at an energy source many have seen little of since September, the Sun.
Fashion and architecture
An examination of historical trends in architecture and fashion tracking trends on one alongside the other through the 1960s and 1970s up to the present day to answer one of life's great unanswered questions... flares or straight trousers?
Cowgate
Urban Realm takes a look around the newest corner of Edinburgh's Old Town that's been 12 years in the making. But has it been worth the wait?
Derelict Glasgow
Flush from the success of their recent exhibition documenting vacant land and derelict buildings around Glasgow the group reveal what fires their passion for buildings on the edge whilst documenting some significant recent losses.
Minecraft
It's already taken the videogame world by storm but now Minecraft is making its presence felt in the architectural community. We take a look at the implications for a new generation of architects exposed at a tender age to the joy of building and ask what implications the technology could have for planners.
Sculpture
Star of Caledonia designer Cecil Balmond speaks to Urban Realm about his new book, Crossover and talks about the creative processes which inspire his work and the implications of Scottish independence on national identity.
Union Street
Aberdeen's Union Street is in dire shape but one man thinks he has the solution to turn its fortunes around. Seeking to stimulate broader debate on the city's failed planning processes John Halliday has taken matters into his own hands with plans for an 'umbrella' over the thoroughfare. We give our verdict on the plan.
Design Pop Up
Urban Realm drops into a month long design pop-up at Glasgow's Italian Centre to investigate some of the emerging trends displayed by seven companies displaying their own wonders to the architecture and design community.
Back to Home