Current Issue
The current issue of Urban Realm contains articles on: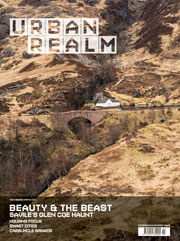 UR 100
Here it is. After months of scouring the country we've pulled together the most comprehensive snapshot of Scotland's architectural community yet assembled, the Urban Realm 100. It's a collection of the familiar, and the less so, drawn from a plethora of practices old and new but united by their shared demonstration of strong design.
Asylums
They are perhaps our most ghostly architectural typology, crumbling and forgotten in remote corners. But Britain's asylums are also some of our most evocative buildings, especially so as they become modern day romantic ruins. Here we take a look at two of the most impressive; Gartloch and Sunnyside.
George Square
George square has been described as Glasgow's living room, a place to relax and watch the world go by but in reality it is a chaotic, cheap and overly commercialised space. That being so are the people responsible for this mess really the best placed to remedy it? Many think not. In a bid to establish what's gone wrong and how Glaswegians can reclaim their premier civic space Urban Realm carried out our own polling to see what people are clamouring for the most.
Skye
Skye may not be the first locale to trip off the tongue when discussing modern architecture but that could all be about to change courtesy of a spate of dynamic new housing to emerge on the island from the likes of Dualchas and, most prominently, rural design - whose most recent creation has just completed a stint on grand designs. Here we explore how this most traditional of places has embraced modernity.
Ibrox
The latest Glaswegian tower block to bite the dust did so with a whimper, not a bang, but its impact has been no less striking. As the long arm of Glasgow Housing Association continues to reshape the skyline we take a look inside Ibroxholm Oval in its dying days.
Olympia
A spate of new libraries to open their doors in recent months show that, internet or no, the demand for print is still strong. In the first of a triumvirate we take a look at Bridgeton's Olympia, recently reopened by Clyde Gateway, before historian Robert Currie takes a closer look at the changing nature of cinema going down through the ages.
Noreen & Kenneth Murray Library
Architects Austin-Smith:Lord have turned the library typology inside out with completion of their latest project, at the university of Edinburgh. Delivered on a wafer thin budget it shows just what can be achieved even in chastened economic circumstances.
Sir Duncan Rice Library
Aberdeen has been making waves for all the wrong reasons lately from Menie to union terrace gardens but in one small corner a landmark has emerged that is worthy of the name. We assess what lessons the educational hub might teach the wider city.
Wind Farms
If all the air exhaled in the increasingly acrimonious debate over wind energy could be harnessed to power our homes the looming energy crunch would be licked. Sadly with such a prospect as distant as fusion we need to make do with the technologies to hand. But are they (and the policies which drive them) up to the task?
Back to Home