Current Issue
The current issue of Urban Realm contains articles on: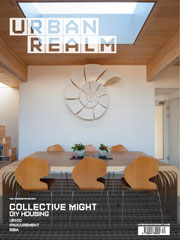 UR100 – Our final act of 2017 has been a year in the making but promises to be worth the wait as we unveil our century of architecture practices who have done most to reshape our built environment.
Hawkhead Centre – Urban Realm drops by Page\Park's custom-built hub for the visually impaired which proves that beauty isn't just in the eye of the beholder - but in the tactile response, spatial quality and facilities offered.
Park of Keir – With Judy Murray's Bridge of Allan tennis academy scrapes past planning following a tortuous consultation process we gauge the merits of the scheme itself alongside the weighting applied to community involvement.
Russia – Dr Jonathan Charley narrates the changing face of Russia as a Putin plan to build a 'New Moscow' takes shape. With photography from Chris Leslie we document the dying days of some 8,000 'Kruschev' flats as they await the wrecking ball.
RIBA – Urban Realm catches up with newly installed RIBA president Ben Derbyshire to find out more about his goals for the most powerful role in British architecture, spanning such issues as the opening of RIBA North, the future relationship with the RIAS and issues facing the profession post-Grenfell.
Rothesay – A crumbling Art Deco landmark on Rothesay is to be given a fresh start following news that a £14m fundraising drive to realise Elder & Cannon's transformation of the A-listed venue into a community hub has been successful. Chris Stewart investigates the buildings means to the island.
Housing – We take a look at the importance of design from a developer's perspective with a look at some upmarket residential builds, such as Glencairn's Juniper Green, which strive to push the envelope. Is this enough to raise the general standard of new build construction?
Back to Home