Current Issue
The current issue of Urban Realm contains articles on: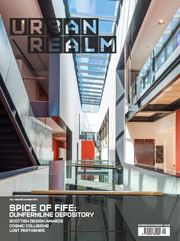 Scottish Design Awards - Urban Realm will be reporting in detail on the 20th anniversary awards, highlighting the category winners and delving behind the scenes at the judging to reveal who has made the biggest impact.
Barnton Quarry Bunker - With geopolitical uncertainty heightening Sean Kinnear dons a hardhat to explore a decommissioned Cold War bunker near Edinburgh. Currently being restored by a team of enthusiasts into a museum and education hub it is hoped this important slice of British military history can be reborn as a kooky events space.
St Andrew Square - From controversial beginnings Hoskins Architects and CDA have brought have finally completed the New Town's newest addition - but does it justify loss of the Scottish provident Building? Urban Realm is on hand to find out.
Housing Crisis - In the latest of a series of articles delving into Britain's housing crisis we speak to TV architecture ambassador George Clarke to find out more about his own off the wall rotating home solution as well as the newly formed Ministry of Building Information.
Dunfermline - The birthplace of Carnegie libraries has turned over a new leaf with the launch of an all new library and museum, a Richard Murphy designed cultural hub which this historic town hopes will transform its economy. We pay a visit to see what awaits both borrowers and browsers.
Sunderland - John Lord continues his tour of forgotten towns by paying a visit to Sunderland, one of eleven areas bidding to become UK City of Culture 2021, to glean fresh insights from a Brexit hotspot.
Employee Ownership - From Collective Architects to Page\Park the creative community has a long history democratizing business but with a new wave of companies now following in their wake; from ADP to Bennetts and Anderson Bell Christie, are such exception now mainstream thinking?
Landscape Architecture - With summer in the air Urban Realm once again embraces the great outdoors with our latest focus on landscaping to see what grounds for optimism exist for a profession at the heart of sustainability.
Lost Perthshire - From Dupplin to Murthly a dispiriting line of vast and ornate castles and country houses have been reduced to rubble over the past century. Addressing these in the context of cycles in history mark Chalmers draws parallels between Charles Brand of Dundee then and Safedem today.
Back to Home