Current Issue
The current issue of Urban Realm contains articles on: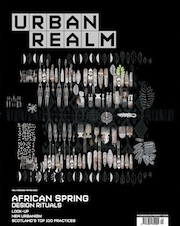 Shoreham - Mark Chalmers underwent a recent pilgrimage to a cathedral of concrete in Kent, Shoreham cement works - a hidden world which has cemented its reputation as an industrial relic.
Edinburgh Centre for Carbon Innovation - By all accounts the carbon reduction standards adopted in this exemplar refurbishment project are second to none. On a recent visit to the completed centre Urban Realm teased out some of the techniques and technologies which made it possible.
North Glasgow - Chris Stewart takes us on an architectural tour of North Glasgow, the city's least glamorous compass direction to highlight some of the problems and opportunities presented by its built heritage; from the recently demolished Springburn Burgh Halls to the soon to be restored Winter Gardens.
Recommended Practices - Sponsored by Stannah, Highland and Kingspan Insulation - Urban Realm reveals the results from one of our biggest ever surveys with a New Year rundown of some of the top 100 architectural practices at work in Scotland today - as recommended by peers and clients.
Charlotte Square - Work to reinvigorate a series of tired Georgian townhouses in Edinburgh's New Town world heritage site demonstrates a new way of bringing old buildings back to life. Here we investigate how Morgan McDonnell Architecture has married the 18th century with the 21st.
Nigeria - Paul Stallan recounts his experiences on a recent business trip to Lagos, Nigeria, where he is undertaking a preliminary master plan for the African University of the Creative Arts.
Civic Trust - A central theme of the civic movements recent annual gathering was how best to drive bottom-up engagement from communities by tapping into local enthusiasm, knowledge and skills. Here Alistair Scott explains how the organisation is adopting new tricks to tackle old problems.
New Urbanism - Fresh research conducted by Robert Adam into recent trends in urban design found that, in terms of urban form, new urbanism is a global type that is not place sensitive. Here one of its chief proponents defends the sector.
Lateral North - With the independence vote looming Lateral North investigate how Scotland might re-orient itself to the north amidst the multitude of opportunities presented by melting ice sheets/tourism/oil and shipping.
Back to Home