Current Issue
The current issue of Urban Realm contains articles on: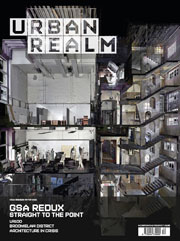 Polnoon
It was heralded as the dawn of a new era in housing provision but does the reality match up to the hype. John Pelan casts an eye over this key housing development to see what lessons its walls can tell us.
GSA
When fire ripped through the priceless innards of Charles Rennie Mackintosh's sublime Glasgow School of Art many feared the worst but the irony is that in losing one of the city's most treasured interiors we now know more about its creation and history than ever before. We look at the latest revelations.
UR100
Our annual survey of a century of practices promises to be the biggest yet. In uncertain times, it promises to deliver the definitive account of 2016's winners and losers.
Kilmarnock
Urban Realm plays a visit to Kilmarnock to assess the impact of the newly completed Kilmarnock Campus, assessing what this and the planned Halo Project foretell for the towns fortunes.
Cult of Gillespie Kidd & Coia
Mark Chalmers travels to Denmark & Sweden to look at the parallels between local architectural hero Sigurd Lewerentz looking at the legacy of this prolific architect.
Cathedral Street Campus
It may have narrowly missed out on a RIBA Stirling Prize but the Michael Laird/Reiach & Hall Riverside campus has made waves far beyond the Clyde. We ask whether its bigger brother has what it takes to win the prize.
Sheffield
John Lord continues his travels around northern England with a stopover in Sheffield. Will a return to city living and a new retail quarter be just the medicine this former industrial giant requires?
Forgotten Towns
With a freshly spruced up town hall and new public realm strategy being implemented the North Ayrshire town of Saltcoats. But will these built environment improvements tackle chronic ill health?
Back to Home