Current Issue
The current issue of Urban Realm contains articles on: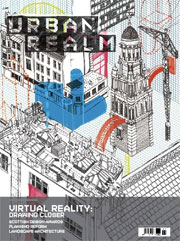 Scottish Design Awards - Urban Realm reports from behind the scenes of the Scottish Design Awards, documenting the buildings and practices to win big on the night, highlighting recent trends in the sector.
Seaside Renaissance - Chris Stewart investigates a recent renaissance of traditional seaside holiday venues, looking at proposals to resurrect both Rothesay Pavilion and Dunoon's Queens Hall and whether they can revitalise their respective towns.
Virtual Reality - Urban Realm looks ahead to the looming arrival of consumer VR and the likely impact this may have on communicating design and the architectural process itself. With it cheaper to build in virtual space might the days of bricks and mortar be numbered?
Eric Parry - Urban Realm speaks to the eminent London architect about the importance of context in design. Is the ability to build streets and places a lost art and might the New London Vernacular herald a return to no-nonsense architecture?
Landscape - We take a look at the field of landscape architecture once more by delving into the work of leading practices to see how the discipline is evolving.
Planning - A spate of controversial planning decisions have prompted calls for a shake-up of the system , prompting the RTPI to pursue a fresh drive to improve the system. Urban Realm looks at what is being proposed and asks where it might lead us.
TedX - Ahead of the Festival of Architecture Tedx speakers give their views on how Glasgow and Scotland can lead the way in the fields of health, innovation and science whilst strengthening communities.
Homelessness - Paul Stallan takes a look at the issue of homelessness and how the concept of 'wellness' can be served by architecture and whether consolidation within the NHS estate can best serve the health of patients.
Back to Home