Current Issue
The current issue of Urban Realm contains articles on: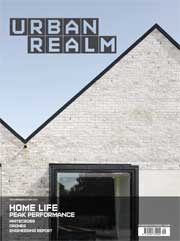 Drones
The rise of UAV's is lowering the barrier to entry for aerial photography, handing architects a new tool for surveying and planning purposes. But such uses merely scratch the surface of what is possible in a rapidly developing field, as we discover.
Big Chantelle
She's already shaken up Urban Realm's online comments but now Glasgow's most outspoken architecture critic puts the world to rights in her own inimitable style with a treatise exhorting architects to rebel against the 'lefty architectural modernist brigade' armed with their white render and zinc.
Ronald McDonald House
Keppie are seeking to prove that commercial success needn't come at the expense of compromised design credentials with the unveil of Ronald McDonald House, the first in a new wave of design-led projects that taps into the current trend for quality brick. Urban Realm takes a look round.
Whitecross
Following the demise of Sir Tom Farmer's bid to develop a new town on the site of Manuel Brickworks at Whitecross, Falkirk, Mark Chalmers pays a visit to what was the largest brickworks in Europe to pick over what has been lost and developa wider concept of 'sustainability'.
Seaside Towns
Chris Stewart investigates a recent renaissance of traditional seaside holiday venues, looking at proposals to resurrect both Rothesay Pavilion and Dunoon's Queens.
Engineering Report 2015
For the latest in our in depth looks at the engineering sector Urban Realm investigates what can be done to raise fee levels and nurture the next generation of engineers whilst looking at some of the professions greatest feats of the past 12 months.
Scotland Build 2015
In this special preview of Scotland Build 2015 Urban Realm takes a look at the key exhibitors, products and workshops to look out for when the expo gets underway in earnest this November.
Population Pressures
Alistair Scott explores the challenges presented by an ageing population, specifically on housing and how future housing must change to accommodate the elderly.
Education
Ian McKee of GLM Architects delves into the thorny wicket of education as a looming employment crunch looks set to wash over the construction sector. Looking at industry, schools and government and focussing on training and apprenticeships Mckee will investigate how a new generation can be enthused by a career in construction.
Back to Home