Current Issue
The current issue of Urban Realm contains articles on: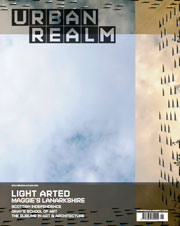 Independence
Urban Realm will be dissecting the results of the referendum on Scottish independence to see what ramifications they have for the construction profession. Will architects and others now engage more forcefully in the political process to ensure their voice is heard?
New Gorbals
It has been heralded as an exemplar project which points the way to a new era of public housing. Urban Realm takes a look round to see what lessons can be learned to bring down housing waiting lists whilst dragging up standards.
Grays School of Art
Mark Chalmers speaks to the widow of the architect behind the demolition threatened Gray's School of Art in Aberdeen to obtain her thoughts on the legacy of the Miesian steel and glass building - set to be sacrificed to make way for a campus redevelopment.
Art & Architecture
Paul Stallan takes us on a visual journey through a sequence of buildings and baubles which have caught his eye, shattering preconceived notions of beauty. Querying the universality of beauty.
Best Engineers
Urban Realm reprises its round-up of the best engineers at work in the country today with a topical question and answer session as we seek to identify what can be done to nurture and grow more home grown talent.
Neuro Science
Alan Dunlop develops insights gleaned from his work at Hazelwood School, Glasgow, to explore the impact of neuroscience research on architecture, exploring how human responses are shaped by the built environment from our body clocks adapt to how our sense of touch responds to texture.
What's in a name?
Urban Realm speaks to those behind the newly launched AHR Architects, recently spun-off from architecture giant Aedas, to assess what the future holds for a firm seeking to put the corporate world behind it and renew its focus on design.
Maggie's Lanarkshire
Reiach & Hall invited Urban Realm round for tea at their newly completed Maggie's Lanarkshire, the penultimate such centre to be built in Scotland it has been designed as much for its landscape as its architecture.
Fountainbridge
Ewan Anderson of 7N Architects expounds the latest thinking on Edinburgh's Fountainbridge, outlining a continental approach to development which places the emphasis on connections and building a sense of place over the short term considerations which presently prevail.
Back to Home