Current Issue
The current issue of Urban Realm contains articles on: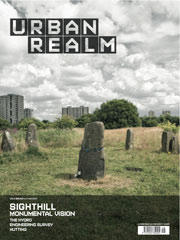 Antarctica - A look at what's hot at the South Pole as a new breed of research station helps scientists acclimatise to Earth's remotest, driest, coldest and most extreme environment.
City Centres - Ewan Anderson of 7N gives his opinion on recent regeneration efforts in Glasgow City Centre, showing how lowered budgets needn't translate to lower ambition.
Nigeria - Paul Stallan recounts his experiences on a recent business trip to lagos, Nigeria, where he is undertaking a preliminary master plan for the African University of the Creative Arts.
Engineers - The latest in a series of industry reports sees Urban Realm investigate the recent 'turning point' in the engineering sector over the past few months as practices shift from a recessionary to an expansionary footing. How will this affect the future direction of the sector?
Atria - In a rare sign of life in the commercial market BDP have completed work on Atria Edinburgh. Urban Realm paid a visit to see how this final piece of the jigsaw in the Exchange district is slotting into place.
Hydro - Urban Realm has been granted exclusive access to the Hydro Arena ahead of its official opening in a matter of days. Find out whether the effervescent whose performance on the outside is just as impressive as those taking place within.
Hutting - Chris Stewart puts his summer holidays to productive use by assessing the impact of holiday architecture on our landscapes, homing in on a favourite haunt - the Carbeth Huts.
Sighthill - The largest regeneration project to be undertaken in Glasgow this side of the Commonwealth Games is planned for the north of the city. We assess its potential to recalibrate the city's centre of gravity northwards.
Birmingham - Birmingham's mammoth £188m library has opened its doors to the public but can it justify the exuberant price tag and do physical libraries still have a place in today's digital world?
Wasteland Collective - A look at the work of a diverse community of artists and designers grappling with the issue of 'Wastelands - What are they and what could they be?'
Waterworks - When waterworks no longer work what then? Leslie Howson takes a look round some recent examples of re-use to see how new life can reinvigorate old structures.
Back to Home