Current Issue
The current issue of Urban Realm contains articles on: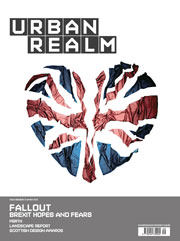 Brexit
A narrow vote for Britain to exit the EU sent shockwaves through the construction sector as business grapples with the potential consequences and a fresh bout of constitutional uncertainty. With many reliant on sourcing staff, investment and materials from the continent the worry is that all may stall amidst the current confusion.
Growing Awareness
Growing Awareness, a new book distilling current thinking on urban and rural landscapes serves as a bold template for the creation of a green and blue network to rival transport and utilities. We caught up with its authors to find out what this would entail.
Perth
The recent closure of Perth of McEwens department store has highlighted the challenges the city faces. Will the upper Tay Crossing, city deal bid, Thimblerow development and other projects be enough to put this closure, not to mention the city halls fiasco, behind it? Mark Chalmers investigates.
Port Dundas
A recent renewable energy competition at Port Dundas, Glasgow, has elicited a trio of outlandish designs but will they usher in the winds of change or is it simply peeing in the wind? We take a look at the merits of each scheme to see whether any might power an energy revolution.
St James Centre
The demise of retail in a digital age has long been heralded but in Edinburgh the sector is to make a gallant last stand with an £850m redevelopment of the former St James centre to create 1.7m sq/ft of new floor space. Here we take one last look at the ageing edifice as it makes way for a new era of retail therapy.
Berwick
It is one of the most remarkable and complete historic towns in Britain and a cultural hotspot - so why is the local community so divided and unhappy? John Lord reports from Berwick-upon-Tweed.
Wood for Good
Peter Wilson explores the use of timber in house building by drawing together the outcomes of four conferences on the subject themed on prefabrication, self-build, solid timber and innovation.
Sighthill
We take a look round the newly regenerated Sighthill area of Glasgow to see what happens to a high rise community post demolition.
SDA
Urban Realm showcases the latest batch of winners from the Scottish Design Awards
Landscape Architecture
To coincide with the onset of summer Urban Realm will dish the dirt once more on landscape architecture. Building upon past reports the piece will ground readers in the industry through a series of interviews and case studies that will outline the current lie of the land.
Back to Home