Interiors
Browse Products:
Products 1-2 out of 2 displayed.


Craig and Rose plc
Founded in 1829, *Craig & Rose* have been perfecting paint for over three centuries. Combining their unrivalled pedigree with state of the art manufacturing methods, they have developed a broad range of colours and finishes to suit all types of architectural needs. *Product** Ranges**:* Primers, Glazes, Varnishes, Floor and Wall paint, Oils and Paint finishes.
Phone: 01383 740 011
Email: trade@craignandrose.com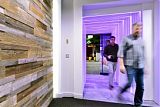 As timber specialists, we always look for new ideas and innovations that translate into industry leading products. Our range of interior wall cladding has been developed to inspire interior...


Back to Suppliers & Products Directory