Roof Lights
Browse Products:
Products 1-6 out of 6 displayed.

Lareine Engineering Ltd
Phone: 01501 731 600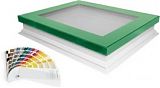 FAKRO DEC and DEF flat windows offer the choice beteen a domed or traditional flat profile window.Thermally efficient triple or quadruple-glazed units can be ordered, the DEF U8 offering an...

The FAKRO preSelect range offers scope to switch from top hung to centre pivot operation simply by use of a switch in the frame.This mode of operation is one of many for which FAKRO holds patents....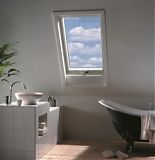 FAKRO centre pivot windows are the FTP-V (natural pine), FTU-V (white PU-coated pine) and PTP-V (PVC). All benefit from features such as the automatic air vent to save heat loss, the TopSafe system...
The FAKRO FTT U8 Thermo is the first quadruple-glazed roof window to be available as a standard product. Available in 19 standard sizes beginning at 550mm x 980mm, it has a system of 5 seals, uses...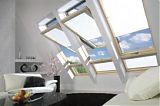 FAKRO roof windows with a raised pivot point enable the glazing span to be far longer. This is fully balanced so that, in every other respect the window is used in the same way as a centre pivot...


Back to Suppliers & Products Directory