IES Ltd
OPW HQ CASE STUDY
Brought in on a consultancy basis at the earliest stages of the design process IES Limited has worked closely with the Irish Office of Public Works (OPW) on the sustainable design of its new HQ building in Trim, Co. Meath, Republic of Ireland. IES also worked with the winning tender team, Messrs. Bennett (Construction) Ltd during the later stages of the process.
Tel: 0141 945 8500
Web: www.iesve.com


Phone: 0141 945 8500
Email: training@iesve.com
Website: http://www.iesve.com
Address: Helix Building
Kelvin Campus
West of Scotland Science Park GLASGOW G20 0SP
Other products from IES Ltd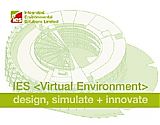 IES LAUNCHES ON-LINE TRAINING FOR ITS 2006 PART L1 AND PART L2 SOFTWARE Following the highly successful launch of its 2006 Part L software, <VE Compliance>, IES Limited is delighted...
Back to Software